Testimonials
Submit a Testimonial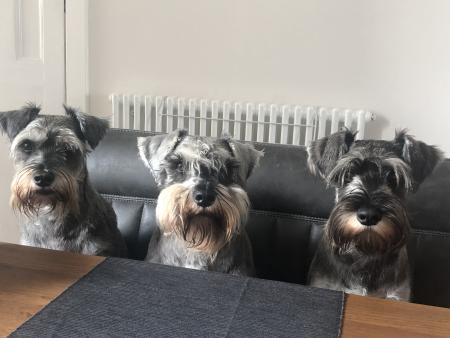 Donna Davies - 1st Sep '19
Swansea
Dear Hugh
We just wanted to say a big thank you for the wonderful 3 boys we have. Jack who is 7 this year, David who is 6 and Bobbie 6 months old all coming from your kennels. You breed such amazing puppies who are so happy, healthy and strong with amazing temperaments - we definitely would not go anywhere else, we were impressed from the time we picked up Jack 7 years ago and it was never a choice to go anywhere else when we decided to have another and then another!
Our 3 boys are amazing, all have different characters and personalities and all are very loving, they fill our lives with their unconditional love and affection. When we are out with them we often get complimented on how lovely they all are and we always tell people where they came from - we can't recommend you enough.
So thank you Hugh for our 3 gorgeous boys
Donna & Glyn Davies (Swansea)
Clare Hudson - 21st Aug '23
Wiltshire
Thank you Hugh for our gorgeous Molly, as first time dog owners she has been an absolute dream.
We have had her 2 weeks and she has slept through the nights since day 1. Molly has also picked up toilet training very quickly,
She is a very social , playful puppy and also loves time on her own in the crate.
We couldn't have asked for a better puppy from an amazing breeder.
---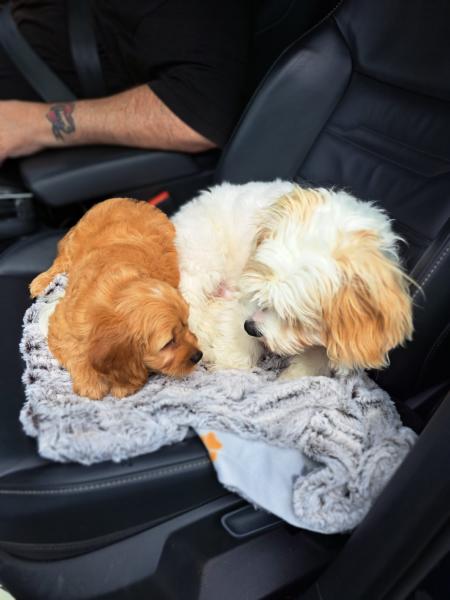 Sharon & Richard Alford - 6th Aug '23
North Devon/England
We have a Cavashon & a Cavapooshon from Brooknant Kennels & we can't pile enough praise on Hugh & his dog breeding skills. Our dogs are 2 of the most well rounded, beautiful, cute dogs you would ever wish to own. We named our dogs Jimmy & Cyril & if we had more room we would have another few. We would highly recommend Hugh & Brooknant Kennels as you get all the Vet/DNA checks done before you pick the puppies up.
---
Samantha Davies - 25th Jun '23
We have had two dogs from Hugh, Bella our Lhasa apso who is now 9 and cantona our Cavapoo who is 18 months. Both are brilliant dogs with great temperaments! Hugh was brilliant throughout and we got lots of pictures. We have recommended Hugh to family and friends who have gone on to have puppies from high aswell!
---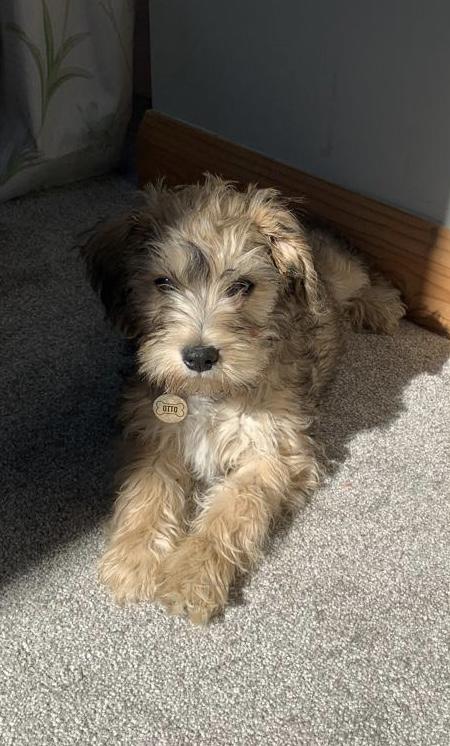 The Davies family - 1st May '23
Glos
We picked Otto up from Hugh about 6 weeks ago. He is absolutely beautiful, Cavachon X mini Schnauzer. Delightful temperament, easy to train, an absolute joy. The set up Hugh has is fantastic, such a great breeder who was recommended to us. We met Otto's mum and dad, and we have no doubt the start in life Hugh gives his dogs makes them such lovely pets. Thank you Hugh, highly recommended!!
---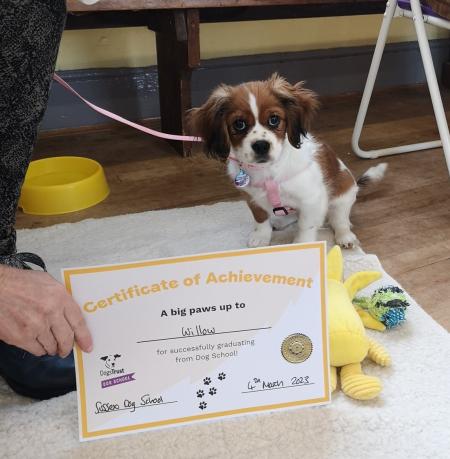 Debbie & Billy Lee - 4th Mar '23
West Sussex
Hello Hugh
Here is an update on our little girl Willow, she is now 15 weeks and growing beautifully. Her temperament is wonderful. She is so smart with her training and such a loving little girl .
We are so glad we found you and will never look back.
Debbie& Billy
---
Rosemary Lewis - 3rd Mar '23
Shropshire
Hello Hugh - Thought you would like to see this photo of Daisy, one of your beautiful Schnauzerlier puppies, now 6 months old. She has been delightful from day one. She is affectionate, healthy and very happy. Has proved easy to house train. She sleeps through every night without issue. Full of fun daisy is a really great dog, we love her. Thank you.
---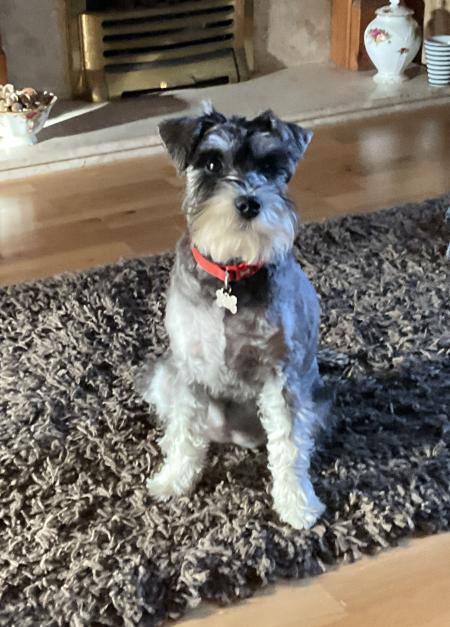 michelle john - 28th Feb '23
Pembrokeshire
We are so pleased with our little girl willow born September 1st 2023, she is such a lively character and has settled into our family well, many thanks to Hugh at brooknant kennels for an exceptional, outstanding and professional service .
---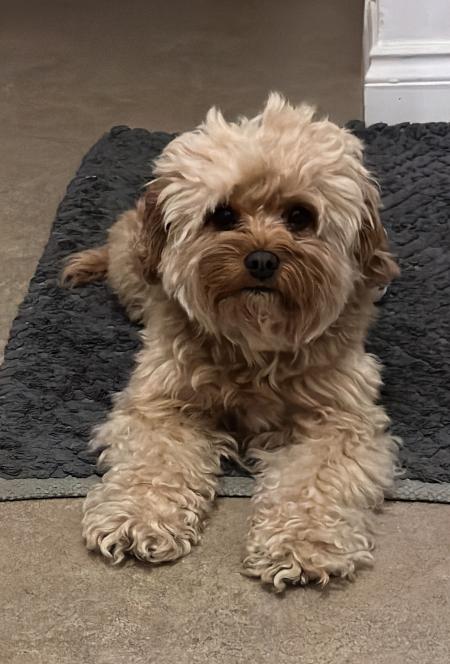 Mark Harrison - 12th Jan '23
Warwickshire
Well, it's been 5.5yrs since we met Hugh and got the most incredible Cavapoo girl, Lucy, from him… and to this day, she's brilliant and has only ever been to the vets for routine boosters! Our lives would be unimaginable without her, we cannot recommend Brooknant enough for such a healthy, happy little girl…
Thank you again
Mark
---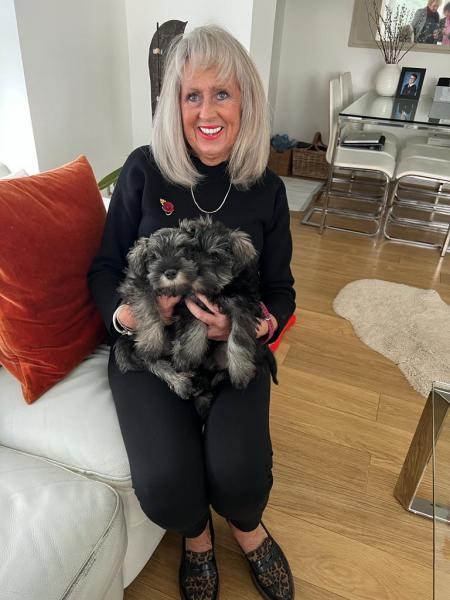 Alison and Gareth - 21st Nov '22
Wales
Hi Hugh
We are so pleased with our two schnauzer girls Tallulah and Bertha. As soon as we visited your immaculate kennel, we just knew we had chosen the right breeder.
Your knowledge and dedication to the pups was first class. We were so impressed with with the well fare of your pups, the play pen you'd made in order for them to have space and socialise and of course to give mum a rest.
You explained to us what was needed, as we were a little apprehensive taking on two pups. We hadn't had pups for years and our last two schnauzers were so laid back.
You welcomed us when we visited to see how our pups were getting along, and nothing was too much trouble for you. They are now registered with the kennel club, and their micro chip has been registered also.
We are now in possession of two well adjusted pups ( thanks to you). They've slept every night, and are very mischievous. Just like puppies should be. I really don't know where they find every bit of earth, or plastic, or whatever they can get their paws on. I've lost half a stone yippee!!!! Chasing them around when they've taken my slippers etc
They've had their second injection, and the vet was delighted with their progress, which is all down to you.
I've had so many visitors since I've had them. It's "D day" on Friday and I'll be able to take them out, and I'm so looking forward to that.
Once again thank you Hugh for trusting us with your delightful pups. Alison and Gareth.
---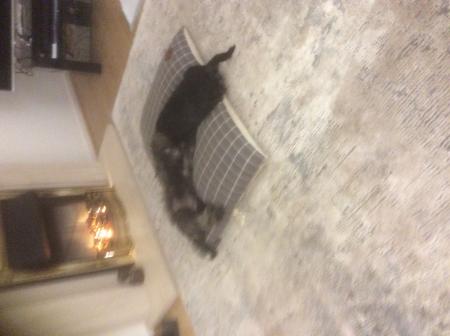 Alison and Gareth - 15th Nov '22
Wales
Hi Hugh
We just wanted to say thank you for our two gorgeous, mischievous pups. Tallulah and Bertha.
We are delighted with them.
From the moment we visited Brooknant, we knew we had chosen the right breeder and kennel.
Nothing was too much trouble, and you Hugh were so knowledgeable.
The kennels themselves were impeccable, and the amount of thought you had put in to it was to be admired.
We visited twice, and you welcomed us, giving us all the information we required.
Your paperwork, emails, info about micro chipping and kennel club etc were spot on.
Now, due to your diligence they've been registered with the vet, kennel club, and have had their micro chip affirmed.
I was so worried about bringing them home, would they sleep, miss their mother, be comfortable etc, but I've slept every night, and so have they.
You so impressed me with the way you got them ready to bring home. Taking them of their mum for periods in the day, and creating a wonderful playpen for them with steps. I thought that was great, as to get to my garden, they would have to go down four steps. They were so well adjusted, and everybody loves them. I've had so many visitors, and lost half a stone in weight ( yippee !!)
Thank you so much Hugh. The vet was so pleased with them. I couldn't get therm in to the puppy carrier I brought them home in.
I'll keep in touch, and let you know how they're doing. Diolch
---
Show All Testimonials
Submit a Testimonial