Testimonials
Submit a Testimonial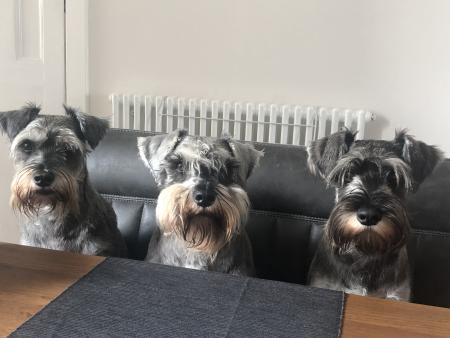 Donna Davies - 1st Sep '19
Swansea
Dear Hugh
We just wanted to say a big thank you for the wonderful 3 boys we have. Jack who is 7 this year, David who is 6 and Bobbie 6 months old all coming from your kennels. You breed such amazing puppies who are so happy, healthy and strong with amazing temperaments - we definitely would not go anywhere else, we were impressed from the time we picked up Jack 7 years ago and it was never a choice to go anywhere else when we decided to have another and then another!
Our 3 boys are amazing, all have different characters and personalities and all are very loving, they fill our lives with their unconditional love and affection. When we are out with them we often get complimented on how lovely they all are and we always tell people where they came from - we can't recommend you enough.
So thank you Hugh for our 3 gorgeous boys
Donna & Glyn Davies (Swansea)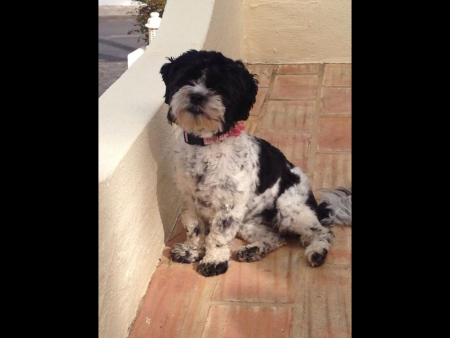 Kerry Jupp and family - 2nd Sep '13
Somerset
I just thought I'd let you know how Pandora is getting on; she's brought so much love and happiness not just our family but everyone she meets! She adores our youngest Jemima and has even turned our older two into dog lovers. The other dogs have been brilliant with her and she's best friends with the Labrador who constantly play with her. I must say although there's been bad press about online puppy purchasing, I couldn't have been more impressed with you and your set up. You may just have a few more visitors from this side of the suspension bridge! Once again thank you so much for making our experience so enjoyable and for responsibly breeding our latest addition to our pack. My phone number is with Hugh if you want to speak to me.
---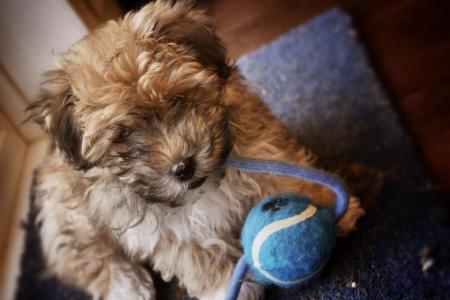 Adam - 16th Jan '13
Worcester
Hi Hugh, I would like to thank you for our little boy Ragu, from our first conversation through to picking him up your care and consideration made our first puppy experience a breeze and rested two very worried minds. Having searched and scoured the Internet with nothing but concern from who to purchase from we found your site and after reading your testimonials and seeing the care and effort you take we knew we were only going to buy a puppy from yourself. We were after a Yorkshire terrier x bichon frise and that meant waiting for months until one became available, a big ask from a very impatient couple :-) but we were set on only purchasing from your kennels! Ragu is such a well rounded and healthy dog! He is lively, adventurous and extremely loving. The 3 hour journey home was full of hugs and 8 weeks later we wouldn't be without him! Can't thank you enough for your advice and peace of mind you gave us through the whole experience! I can't recommend you enough to anyone looking to buy a puppy. We will be buying any future puppy from you. Certainly found a life long customer!
Adam, Jola and Ragu
---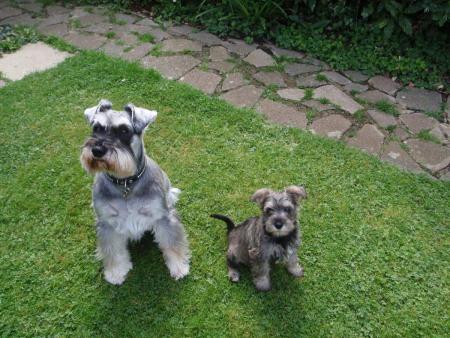 Hazel & Tony Andrews - 25th Aug '12
Essex
Dear Hugh, As you know we bought Freddie a miniature schnauzer from you in August 2005. Freddie has turned out to be a most wonderful dog. He is very obedient and was so easy to train. As Freddie is now seven years old Hazel an I decided to buy another puppy. Because we had been so impressed by the way that you kept your kennels we had no hesitation in contacting you again. Luckily when I contacted you in June you were expecting a litter. To cut a long story short you kept us informed as to the progress of the puppies, sending us photographs and. Regular updates. We asked you to pick a dog puppy for us which we were going to call Barney. We collected Barney from you on the 18th August and have now had him for a week. Freddie and Barney are already the best of friends. He is full of mischief as you would expect but is a lovely puppy. Hazel an I would like to thank you for all your help and also to compliment you on the outstanding condition of your kennels and the marvellous way your puppies are cared for. We have recommended friends to you in the past and will have no hesitation in doing so in the future. Hazel and I would not buy a puppy anywhere else. Thank you once again for breeding such a wonderful puppy.
Yours sincerely Hazel and Tony Andrews
---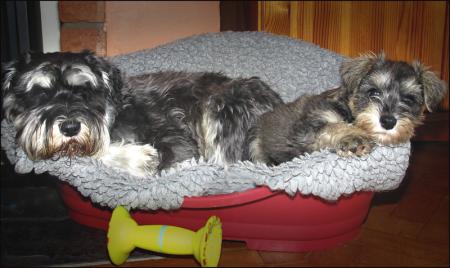 Dai & Caroline - 18th Aug '12
Fishgaurd
Hi Hugh and Family Just a few words to let you know that solo is growing into a fine and beautiful dog. He's full of mischief and gets on so well with Chewy and our cat Fudge, giving them 'hell' at times. We'd like to say how impressed we were with your kennels. Your standards, attention to hygiene, and the puppy's welfare is exceptional. We will not hesitate to recommend you to our friends. We are so glad that we saw your website after a long search for another Schnauzer. You are by far the most caring kennel person we have come across. You can be rest assured that Solo will be spoilt rotten.Many thanks, Dai, Caroline, Solo, Chewy and Fudge.
---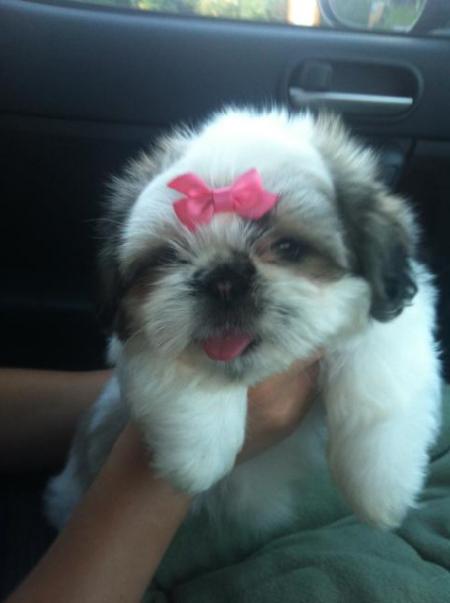 Sacha - 10th Aug '12
Bristol
Hi, just wanted to say a big thank you for my lovely new puppy she is doing great. She already uses paper for her toilet needs without any accidents (so proud). We have her booked in this saturday for her second jabs. She really is fantastic in every way especially with the children! My persian cat has adopted her and they play together throughout the day and she sleeps in her crate at night in her leopard print bed lol. I have attached some pics of her and will keep in touch as she gets bigger.
Thank you once again. Sacha
---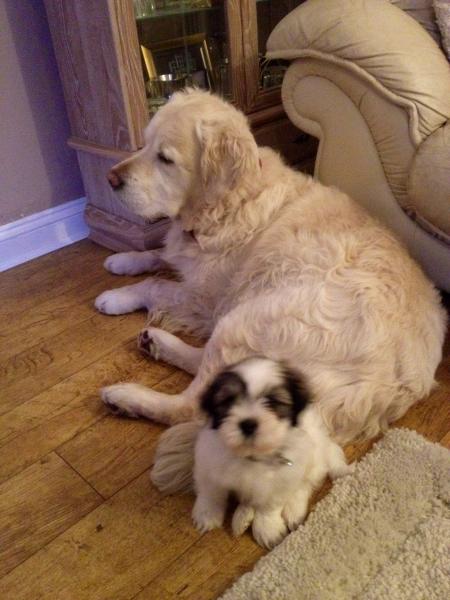 Geraint, Bev, Darien & Keely - 4th Mar '12
Torfaen
Just thought that we would let you know how we are getting on with our new Lhasa Apso pup (purchased on 28th January 2012).
Harley is doing really well and has settled in to our family, he is a happy little dog who loves his food and his walks. He absolutely loves our other dog a very large Golden Retriever and copies everything he does. For a little dog he has a big personality!!
My daughter found your website and chose the pup she liked the look of. We initially had some concerns due to some previous negative publicity regarding certain kennels in your area. However upon visiting your kennels we were immediately reassured once we had met you and your family, in such a lovely location. We were shown the puppies and their living conditions which were excellent and we met the parents of the pup. We were also impressed with how organised everything was, all the paperwork was ready, first few weeks insurance arranged, injections given and we were even provided with puppy food ,We would highly recommend you to anyone looking for a healthy happy puppy.
Our puppy Harley is a delight to have around and is full of life and a great new addition to our family.
---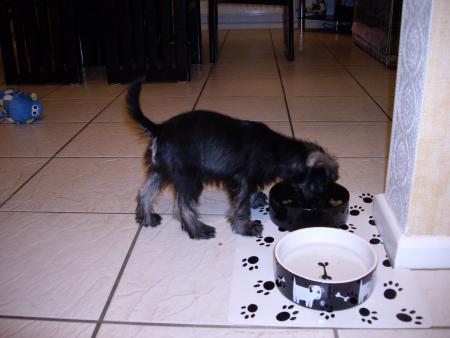 Karen Tebble - 22nd Feb '12
Lancashire
Hello Hugh
Look at my new home it's hard trying to find a particular toy when they are in every room! All these new friends and toys etc makes me tired.. I went to the vet for my second vaccination yesterday and got microchipped too, I was so good I did not even flinch. I am going back to the vets a week on Monday for a puppy party so I can get treats and meet other puppys. I will also be joining puppy class on wednesdays so I have a great social life.
Love from
Molly x
Hugh thank you so much for our little treasure she is delightful, I have recommended you to lots of people and whoever reads this please be reassured my pup was bought from a most caring kind owner. I viewed all the much loved and very well cared for dogs at Brooknant and can highly recommend it.
Kind regards
Karen Tebble
---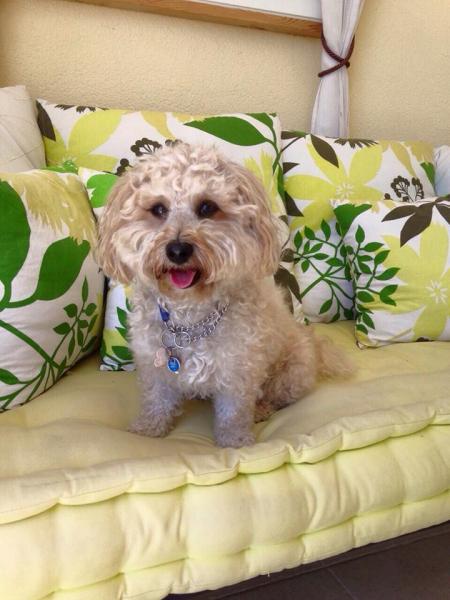 Astrid Danielle Morgan - 18th Feb '12
Cardiff
We were very impressed by the professionalism of your approach from the point of first contact, through to the collection of "Barti".
Your advice and follow-up were first class, along with the detailed information pack you provided, listing inoculations, feeding and subsequent vet visits. We should note that on Barti's first visit to the vet for a check-up, he remarked that he had clearly come from a caring and professional breeder.
Cleanliness and well-being is obvious for all to see at your kennels; so, on our experience thus far, we can only recommend Brooknant in the most positive terms.
Thank you very much Hugh it was a Pleasure to deal with you.
---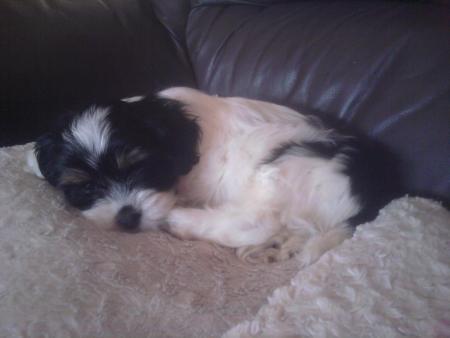 Tracie & David - 3rd Feb '12
Worcestershire
The breeder is very friendly and trustworthy.The Kennels are very clean and homely for the puppies.We travelled from worcestershire to Carmarthen to collect our little Megan.
I would recommend Hugh Davies (breeder) 100%.
---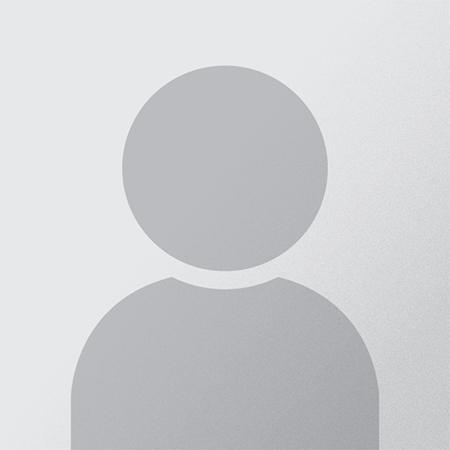 Robbie - 8th Jan '12
Just thought Id send you a quick email to let you know how "Sydney" is getting on. I've got to say that she is the best money I've spent in along time, and I know it's only been 4 weeks but we honestly couldn't be without her now! I've been taking her for walks and she's brilliant even off the lead! I'm amazed how quick she picks up commands.The only bad point is that when I was leaving the house on Thursday to go offshore I found it harder to leave Sydney than i did to leave my fiance! Ha ha she really is part of the family.
---
Show All Testimonials
Submit a Testimonial