Testimonials
Submit a Testimonial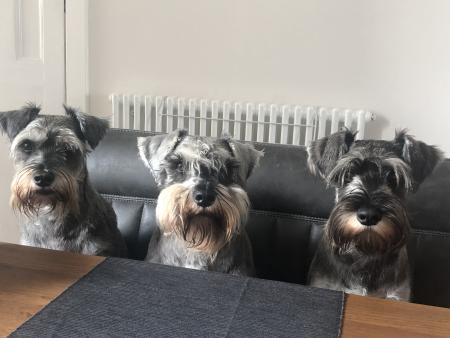 Donna Davies - 1st Sep '19
Swansea
Dear Hugh
We just wanted to say a big thank you for the wonderful 3 boys we have. Jack who is 7 this year, David who is 6 and Bobbie 6 months old all coming from your kennels. You breed such amazing puppies who are so happy, healthy and strong with amazing temperaments - we definitely would not go anywhere else, we were impressed from the time we picked up Jack 7 years ago and it was never a choice to go anywhere else when we decided to have another and then another!
Our 3 boys are amazing, all have different characters and personalities and all are very loving, they fill our lives with their unconditional love and affection. When we are out with them we often get complimented on how lovely they all are and we always tell people where they came from - we can't recommend you enough.
So thank you Hugh for our 3 gorgeous boys
Donna & Glyn Davies (Swansea)
Clare Hudson - 21st Aug '23
Wiltshire
Thank you Hugh for our gorgeous Molly, as first time dog owners she has been an absolute dream.
We have had her 2 weeks and she has slept through the nights since day 1. Molly has also picked up toilet training very quickly,
She is a very social , playful puppy and also loves time on her own in the crate.
We couldn't have asked for a better puppy from an amazing breeder.
---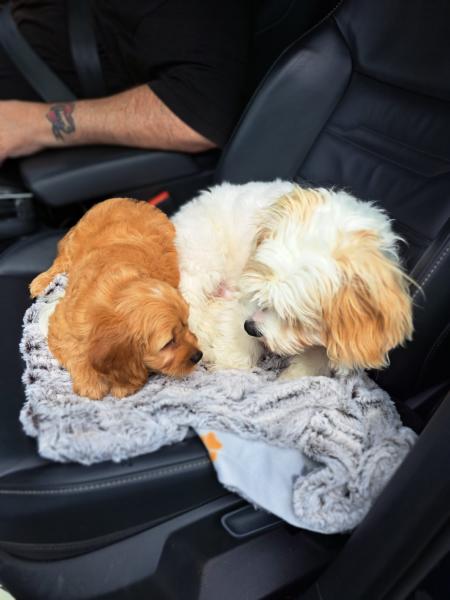 Sharon & Richard Alford - 6th Aug '23
North Devon/England
We have a Cavashon & a Cavapooshon from Brooknant Kennels & we can't pile enough praise on Hugh & his dog breeding skills. Our dogs are 2 of the most well rounded, beautiful, cute dogs you would ever wish to own. We named our dogs Jimmy & Cyril & if we had more room we would have another few. We would highly recommend Hugh & Brooknant Kennels as you get all the Vet/DNA checks done before you pick the puppies up.
---
Samantha Davies - 25th Jun '23
We have had two dogs from Hugh, Bella our Lhasa apso who is now 9 and cantona our Cavapoo who is 18 months. Both are brilliant dogs with great temperaments! Hugh was brilliant throughout and we got lots of pictures. We have recommended Hugh to family and friends who have gone on to have puppies from high aswell!
---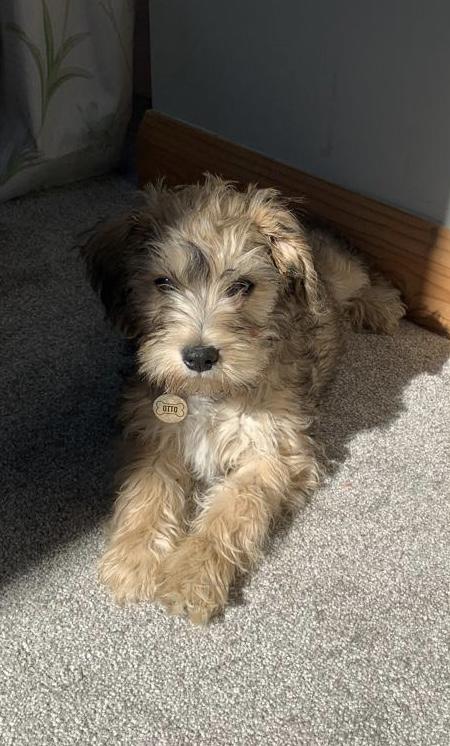 The Davies family - 1st May '23
Glos
We picked Otto up from Hugh about 6 weeks ago. He is absolutely beautiful, Cavachon X mini Schnauzer. Delightful temperament, easy to train, an absolute joy. The set up Hugh has is fantastic, such a great breeder who was recommended to us. We met Otto's mum and dad, and we have no doubt the start in life Hugh gives his dogs makes them such lovely pets. Thank you Hugh, highly recommended!!
---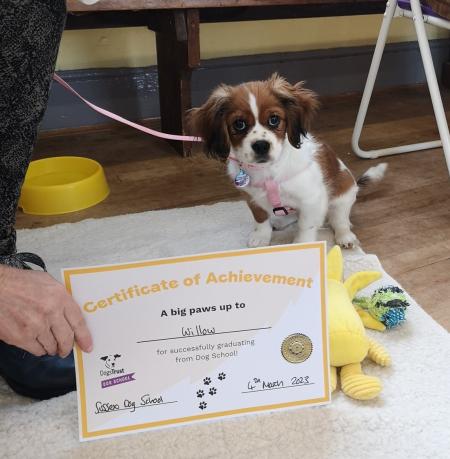 Debbie & Billy Lee - 4th Mar '23
West Sussex
Hello Hugh
Here is an update on our little girl Willow, she is now 15 weeks and growing beautifully. Her temperament is wonderful. She is so smart with her training and such a loving little girl .
We are so glad we found you and will never look back.
Debbie& Billy
---
Rosemary Lewis - 3rd Mar '23
Shropshire
Hello Hugh - Thought you would like to see this photo of Daisy, one of your beautiful Schnauzerlier puppies, now 6 months old. She has been delightful from day one. She is affectionate, healthy and very happy. Has proved easy to house train. She sleeps through every night without issue. Full of fun daisy is a really great dog, we love her. Thank you.
---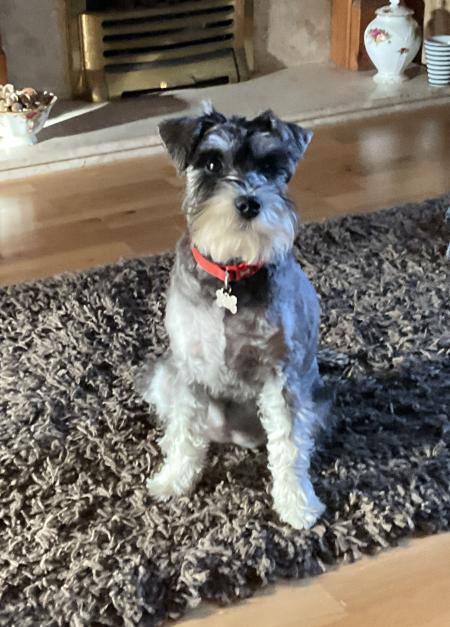 michelle john - 28th Feb '23
Pembrokeshire
We are so pleased with our little girl willow born September 1st 2023, she is such a lively character and has settled into our family well, many thanks to Hugh at brooknant kennels for an exceptional, outstanding and professional service .
---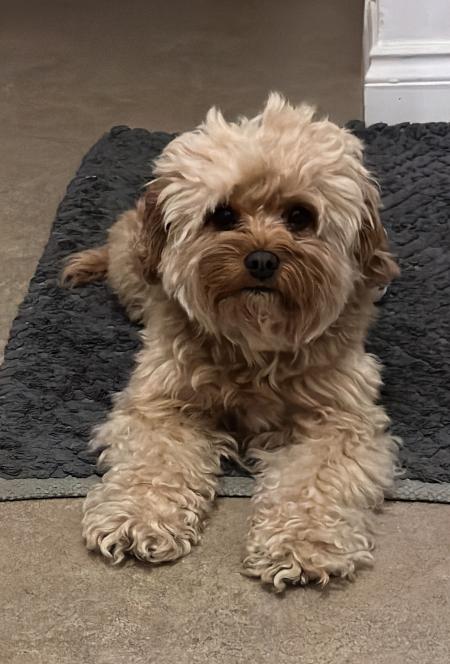 Mark Harrison - 12th Jan '23
Warwickshire
Well, it's been 5.5yrs since we met Hugh and got the most incredible Cavapoo girl, Lucy, from him… and to this day, she's brilliant and has only ever been to the vets for routine boosters! Our lives would be unimaginable without her, we cannot recommend Brooknant enough for such a healthy, happy little girl…
Thank you again
Mark
---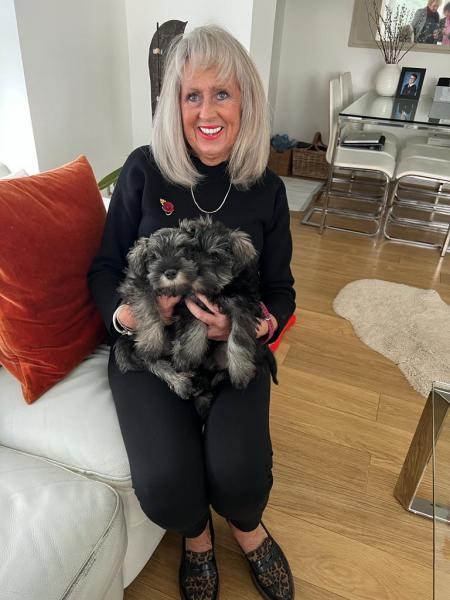 Alison and Gareth - 21st Nov '22
Wales
Hi Hugh
We are so pleased with our two schnauzer girls Tallulah and Bertha. As soon as we visited your immaculate kennel, we just knew we had chosen the right breeder.
Your knowledge and dedication to the pups was first class. We were so impressed with with the well fare of your pups, the play pen you'd made in order for them to have space and socialise and of course to give mum a rest.
You explained to us what was needed, as we were a little apprehensive taking on two pups. We hadn't had pups for years and our last two schnauzers were so laid back.
You welcomed us when we visited to see how our pups were getting along, and nothing was too much trouble for you. They are now registered with the kennel club, and their micro chip has been registered also.
We are now in possession of two well adjusted pups ( thanks to you). They've slept every night, and are very mischievous. Just like puppies should be. I really don't know where they find every bit of earth, or plastic, or whatever they can get their paws on. I've lost half a stone yippee!!!! Chasing them around when they've taken my slippers etc
They've had their second injection, and the vet was delighted with their progress, which is all down to you.
I've had so many visitors since I've had them. It's "D day" on Friday and I'll be able to take them out, and I'm so looking forward to that.
Once again thank you Hugh for trusting us with your delightful pups. Alison and Gareth.
---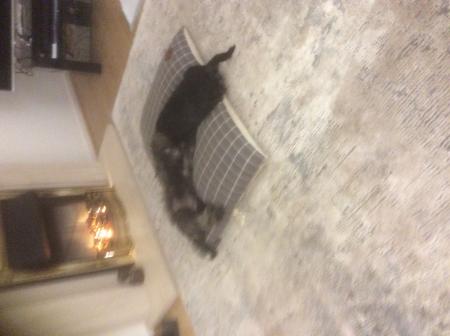 Alison and Gareth - 15th Nov '22
Wales
Hi Hugh
We just wanted to say thank you for our two gorgeous, mischievous pups. Tallulah and Bertha.
We are delighted with them.
From the moment we visited Brooknant, we knew we had chosen the right breeder and kennel.
Nothing was too much trouble, and you Hugh were so knowledgeable.
The kennels themselves were impeccable, and the amount of thought you had put in to it was to be admired.
We visited twice, and you welcomed us, giving us all the information we required.
Your paperwork, emails, info about micro chipping and kennel club etc were spot on.
Now, due to your diligence they've been registered with the vet, kennel club, and have had their micro chip affirmed.
I was so worried about bringing them home, would they sleep, miss their mother, be comfortable etc, but I've slept every night, and so have they.
You so impressed me with the way you got them ready to bring home. Taking them of their mum for periods in the day, and creating a wonderful playpen for them with steps. I thought that was great, as to get to my garden, they would have to go down four steps. They were so well adjusted, and everybody loves them. I've had so many visitors, and lost half a stone in weight ( yippee !!)
Thank you so much Hugh. The vet was so pleased with them. I couldn't get therm in to the puppy carrier I brought them home in.
I'll keep in touch, and let you know how they're doing. Diolch
---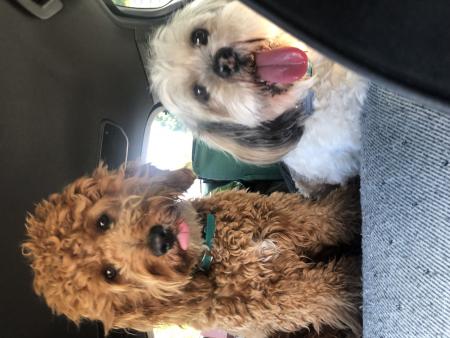 Samantha Davies - 6th Nov '22
We first met Hugh 8 years ago when we got our Lhasa apso,Bella. She has been the best dog with a lovely temperament. When we then looking to get another dog, the only place we would consider was Brooknant. Hugh was brilliant in giving us updates on our Cavapoo puppy, Cantona, he has fitted in so well to our family. You can tell Hugh really cares for the dogs and also allowed us to see the parents of our Cavapoo. Would highly recommend Hugh to anyone looking to get a puppy!
---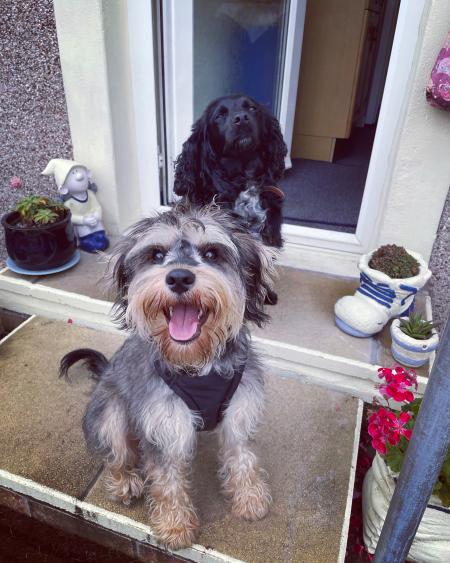 Rachel Stephens - 6th Aug '22
RCT
Cannot recommend Hugh enough. Albi is nearly 7 months old and is the sweetest, and most loveable puppy with just the right amount of mischief in him. King Schnauzer's rock! Thank you, Hugh. Hopefully, one day he can have a brother or sister but for now he loves his best friend in the photo!
---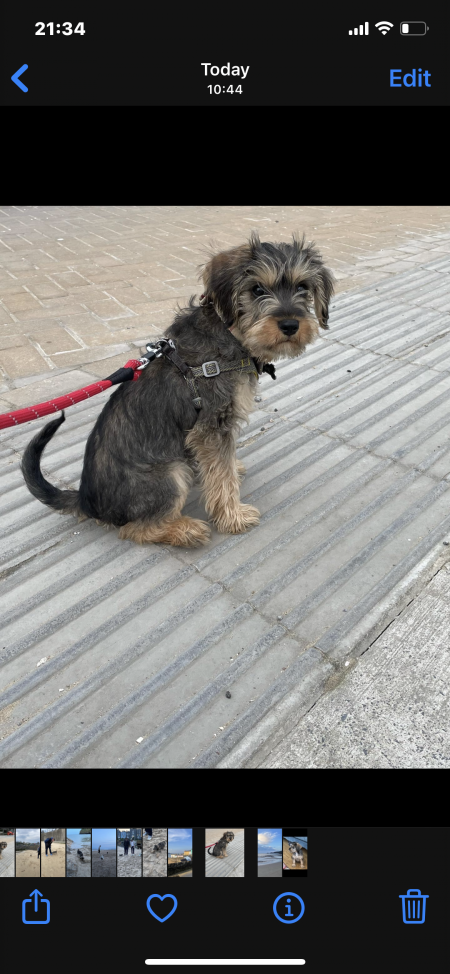 Rachel Stephens - 1st May '22
RCT
We would highly recommend Hugh if you are looking for a new member of your family. He was incredibly helpful and made us feel completely at ease with choosing our first puppy. Albi (king schnauzer) is a character; confident, intelligent and affectionate all rolled into one. We love him dearly. Thank you, Hugh.
---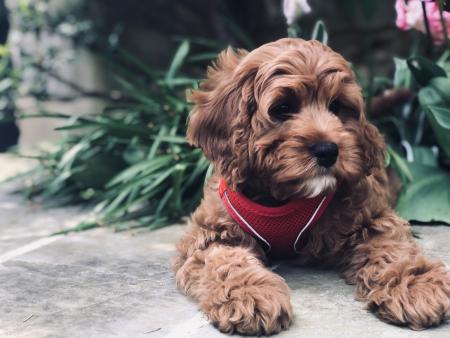 Emily and Phil Cooney - 21st Apr '22
Somerset
We cannot praise Hugh and Brooknant Kennels highly enough for the level of care and kindness they showed to us and to our lovely Cavapoo puppy, Coco. We were unable to collect her at the normal time and collected her at 12 weeks instead, Hugh had prepared her brilliantly and she has been calm and sweet (with super fun lively moments!) since pickup. We would have no hesitation in recommending Hugh and Brooknant above any other. You can tell from the minute you arrive at Brooknant that these are happy, responsibly bred dogs. Huge thanks Hugh and Family!
---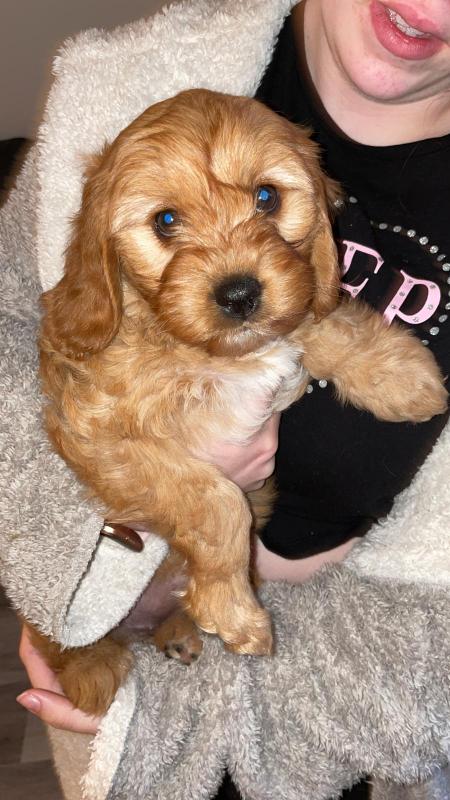 Jackie Stride - 6th May '21
Bristol
We are so pleased with Lola she has settled so well, she slept through from the first night. Has a lovely temperament . Hugh was great with any questions we had. Would thoroughly recommend Brooknant. Lola has been brilliant with her toilet training from day 1
---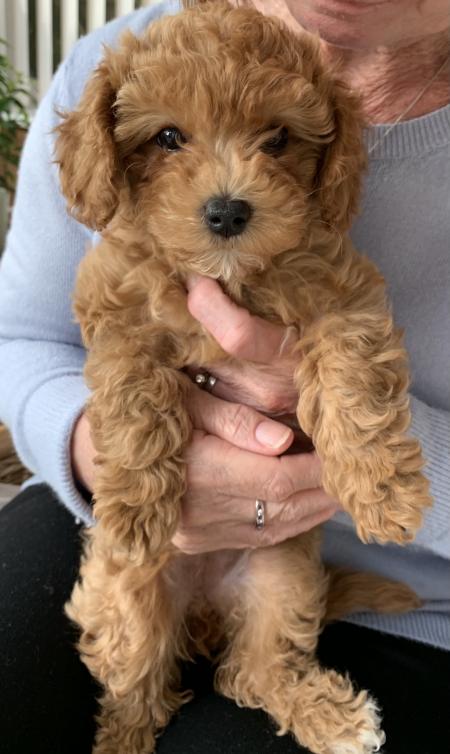 Deb and Dave Wellfair - 29th Apr '21
Wiltshire
We picked up our adorable little girl cavapoochon,Ruby, from Hugh two weeks ago.
She has been amazing, settled at night from day one and is already virtually house trained. Ruby is a loving, playful little girl who likes nothing better than to snuggle on the sofa next to us on her favourite blanket.
Thank you so much Hugh for giving Ruby such a wonderful start in life and always being available to answer our questions both before and after she came home.
Also for the videos and photos you sent every week.
We cannot speak highly enough of Brooknant, you are a 5 star plus establishment.
---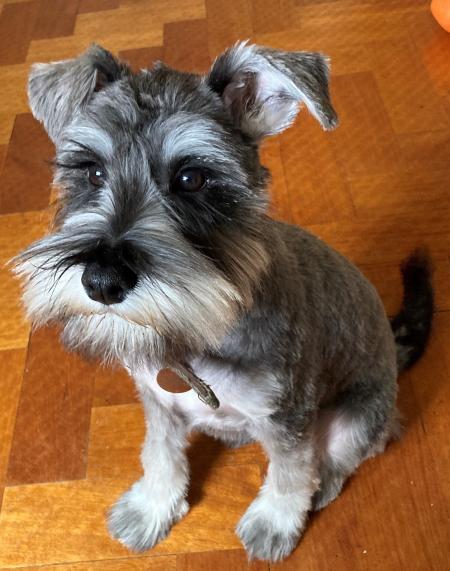 Laura S - 5th Mar '21
Cardiff
So we picked up our miniature schnauzer pup Ernie in January 2021 and he is just the sweetest natured, loving and handsome boy, we have loved him from the moment we set eyes on him. Hugh was absolutely amazing throughout the whole process, having not been able to visit the pups to choose our special boy, Hugh sent us lots of pictures to choose and asked us what we were looking for in a pup and made the selection for us and he got it spot on! We picked Ernie up at 8 weeks and he was exactly what we'd asked for. The communication from Hugh throughout those 8 weeks was amazing, pictures of Ernie were never a problem and he was always quick to respond to questions. Can't recommend Hugh and Brooknant Kennels highly enough. Ernie is turning into a little rockstar, he quickly settled into our home and everyone he meets loves him, he's such a sociable little chap and the best addition to our family, thank you Hugh for giving him such a great start in life.
---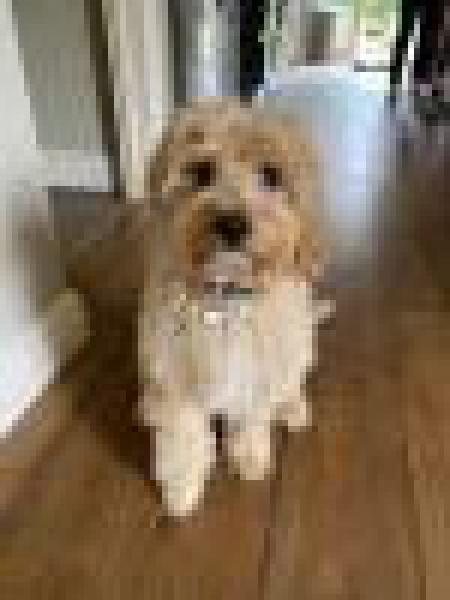 Angelique & Jeroen - 12th Nov '20
Surrey
Hi Hugh,
Just a quick update on Harley our cavapoochon, 9 months and a big boy now! He settled in really well, sleeping straight through the nights and has brought so much joy to our family! Even though the first couple of weeks are hard work, it is definitely worth it! The boys love him and all share their little one on one moments with Harley during the day. Thank you for taking care of him the first weeks of his life, he definitely had a great start at Brooknant Kennels!
---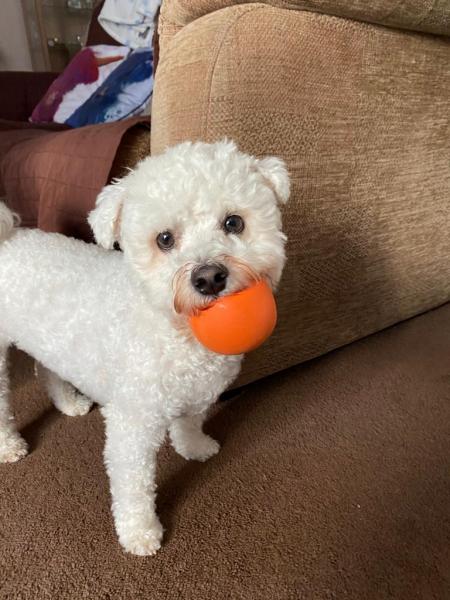 Michelle - 6th Nov '20
Torpoint cornwall
Hello Hugh just wanted to give you update on my little boy he is 4 in June next year he,s doing very well and spoilt by everyone thanks again Hugh he fill a big gap when my husband died
---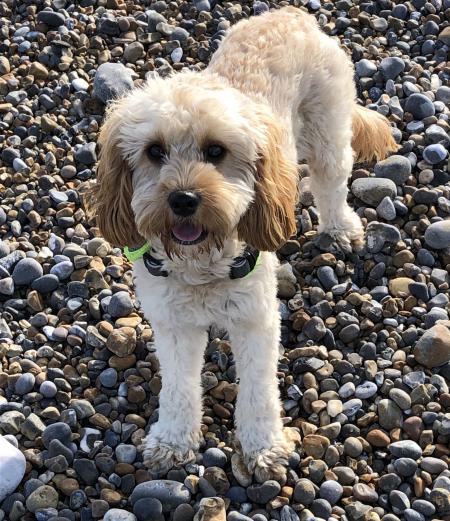 J Heaton - 2nd Nov '20
Hi uncle Hugh,
Just wanted to say I'm now 1! It's been a fun packed year and I've learned many things and am reliably informed that I bring balls back way better than my big sis who's a retriever.
My special skills involve sleeping, lying on my back, annoying my sister, barking at dogs on telly and burying bones under pillows for people to find later.
Thank you for everything you did for me when I was a teeny tinester and hope you are all the well.
Love Ruby xx
---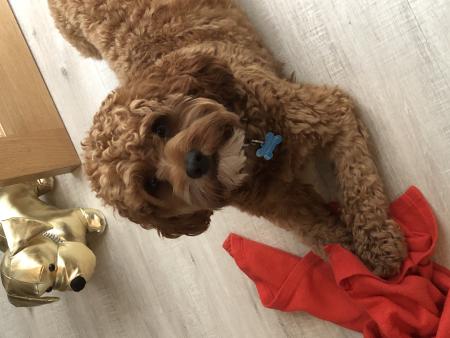 Alex Brownfield - 7th Oct '20
Staffordshire
We are so pleased with our boy Lenny who we collected from Brooknant in November 2019.
He has settled in brilliantly and We can't imagine life without him.
I would definitely recommend Hugh and Brooknant kennels.
Lenny is such a handsome boy from excellent parents.
---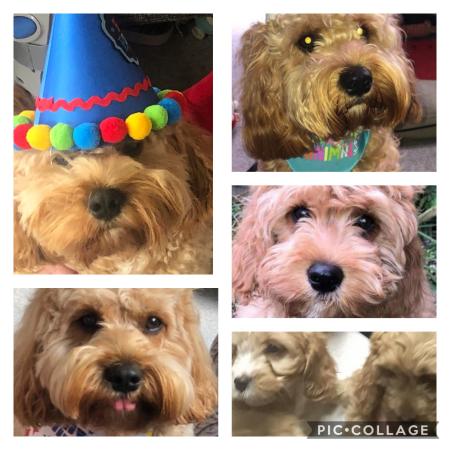 Paul and Leah - 24th Sep '20
Mid Glam
Reggie is 2 today!
Thank you so much Huw and Joy for letting this lovely little boy into our lives, we are besotted!
By far the best decision we ever made.
His Brother Archer is also in our family, and lives with my Sister! Definitely a dose of double trouble when they are together.
Reggie was picked up on 5th December 2018 at 10 weeks old.
Would love to see his other siblings.
---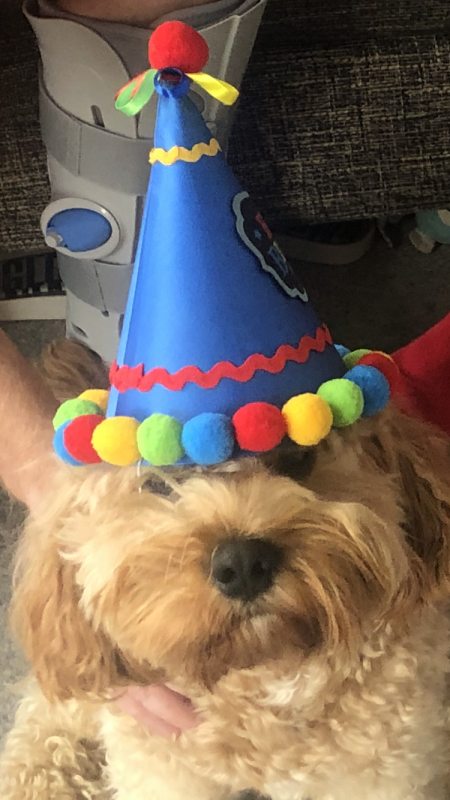 Leah - 24th Sep '20
Mid Glamorgan
My Reggie is 2 today! Can't thank Huw enough for letting this little boy into our lives. Best decision we ever made.
My Sister also had one of the same litter, he's called Archer.
Born on 24th September 2018, picked up 5th December 2018(10 weeks old and the last to to leave)
---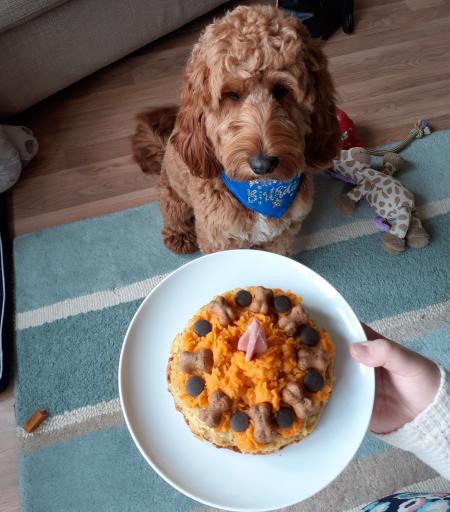 Tracey Slee - 23rd Aug '20
Just wanted to say that we have had our cockapoo, Max now for nearly a year and this week he celebrated his 1st birthday. He is such a fabulous dog with an amazing character, thank you
---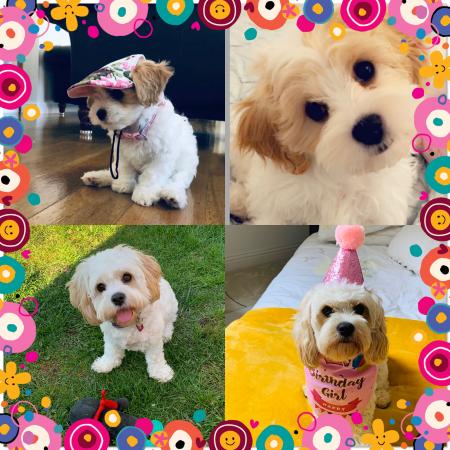 Charlie - 13th Aug '20
Kent
Hello Hugh,
This is Winnie, she celebrated her 1st birthday on the 8th of June! I can't believe we've had her for over a year now, wow how time really does fly! She is the best thing that has ever happened to me and my family. She has brought so much joy to our lives even if she is a little diva haha! Winnie has got so much energy, she loves playing ball, searching for sticks, stealing our socks and hiding them in the garden, going for walks and watching dog TV on YouTube! She is amazing with other dogs, shes so sociable, she absolutely loves people! Although Winnie can be a little pickle from time to time, she is always making us laugh and we wouldn't have her any other way! Thank you so much for everything, you really was amazing!
Best wishes,
Charlie
---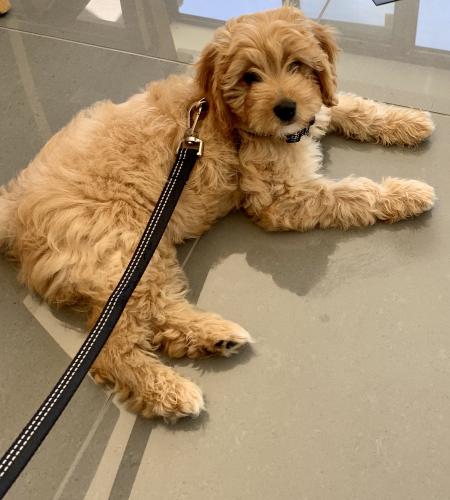 Rhys Williams - 31st Jul '20
Cardiff
Thank you so much, Hugh, we picked up our Cavapoochon Penny just over 2 weeks ago. She has such a lovely temperament and has settled into our family so well. This was our first puppy and have to say she has taken to toilet training with ease and sleeps through the night. She is a bundle of joy and we can't imagine life without her.
---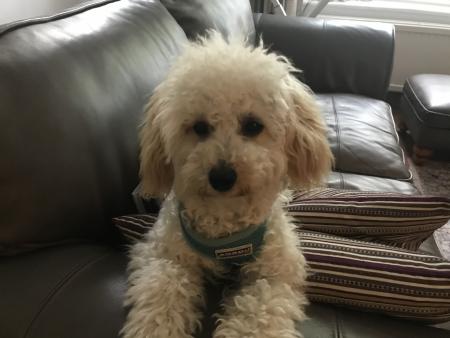 Chris Casey - 10th Jul '20
Weston-Super-Mare
This is Poppy, my ten month old Poochon. She has been the best company while I've been shielding. Everyone loves her and my neighbour was delighted to take her out for walks when I couldn't. Her children adore her. Poppy has the most lovely nature. She loves everyone. She is also a very funny little character who loves burying everything in the garden and often comes in with a black muddy nose. I can't imagine life without her. She's a delight. Thank you Hugh
---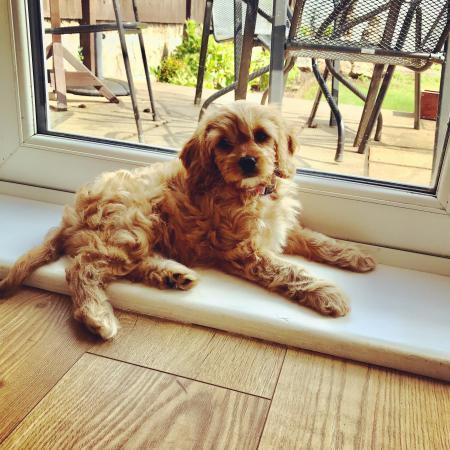 Andrew - 21st Jun '20
Cardiff
Just want to say a big thank you to Hugh! We picked up our Cavapoo puppy last week and she is absolutely gorgeous. She has the best temperament and has settled into our family perfectly. Hugh was really reassuring during the whole process, sending us weekly photos and videos of our puppy, given that we couldn't visit due to Covid-19. All paperwork was provided and Pepper has taken to house training really well. Thank you again!
---
Devan Hogan - 12th Jun '20
London
We could not be happier with our fur baby Buster the Cavapoo! He's the happiest pup in town and our family absolutely adores him. He's a well behaved and playful boy who took to toileting and crate training quite easily. He enjoyed his time at puppy school and absolutely loves meeting other dogs at the park. We could not recommend this breed and Brooknant Kennels enough!
---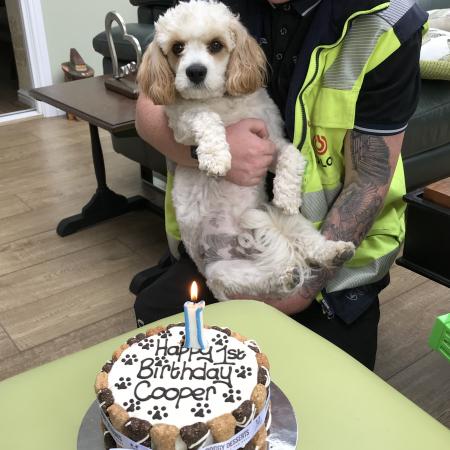 Keith & Claire Thomas - 8th Jun '20
Neath
Hi Hugh , Cooper is 1 year old today. How time has flown. Cooper has fitted into the family brilliantly and has changed our lives. He is so loving and affectionate and everyone absolutely adores him. Thank you for making it happen 12 months ago and we regularly recommend you to family and friends. Lots of love from us and Cooper. Diolch
---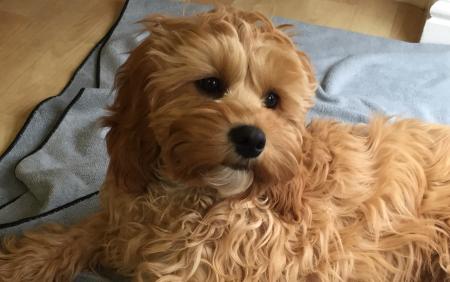 Claudine Meyrick - 17th Apr '20
Gwent
Hi Hugh,
Just wanted to say how well Milo has settled into our family he is a bundle of joy.This was our 1st ever puppy and have to say he as been so easy with toilet training and even slept the 1st night and is always happy and constantly wagging his tail at everyone we meet on our walks.Many Thanks the Meyrick Family.
---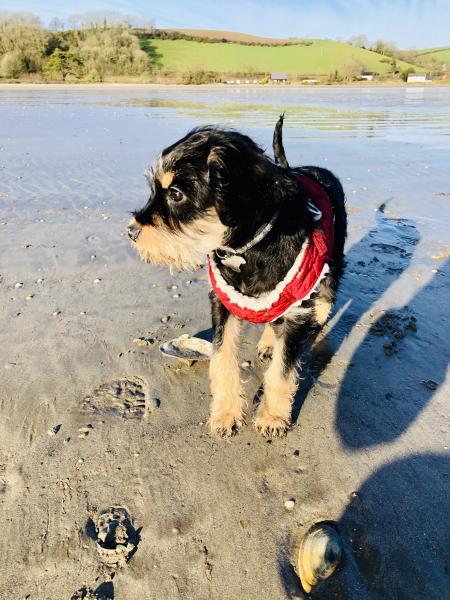 Angeliki Karatasiou - 1st Apr '20
Carmarthenshire
Dear Hugh
Our beautiful King Schnauzer boy, Django will soon be 6 months old!
He instantly became a member of the family and we love him to bits.
He is super cute, cuddly, playful and very smart.
We can't thank you enough for bringing him into our lives.
Love
Angela, Costas, Anna, Mary
Rhydargaeau
---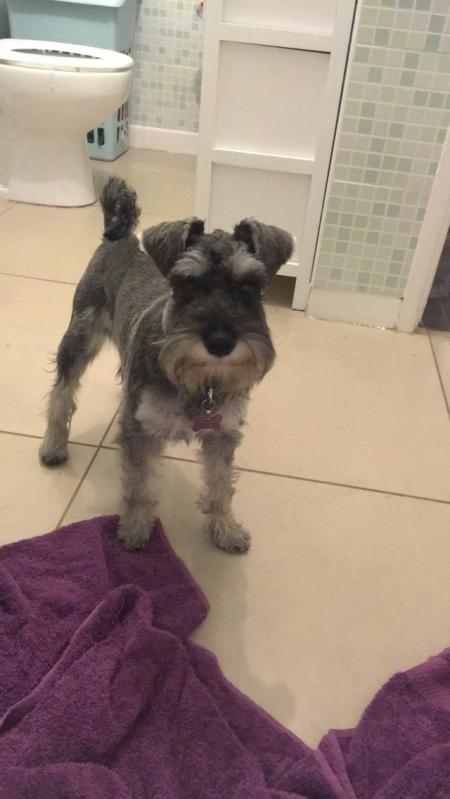 Cath Randell - 29th Feb '20
Mid Glamorgan
Dora our 6 month old mini schnauzer has changed our lives! An awesome pup from a top class breeder. Would throughly recommend Brooknant to anyone thinking of buying a pup. She had been weaned and well socialised when we picked her up. She enjoys every new experience and is of the most gentle but fun loving temperament. She is fit and healthy and we adore her!
Thank you Hugh
---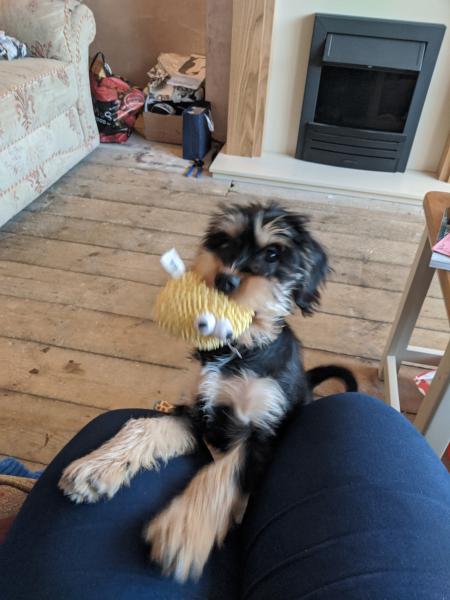 Katherine Bright - 3rd Feb '20
Bristol
Dear Hugh,
We have had Ernie, our King Schnauzer, for three weeks now and he is a lovely puppy. He is cuddly, playful and clever - everything a puppy should be! He's settled in very well and is taking to training very easily. He loves destroying his toys and playing with another family dog whenever they get together. He is on instagram as @KingErnieSch should you like to see any more photos of him.
Thank you your help and friendly service.
---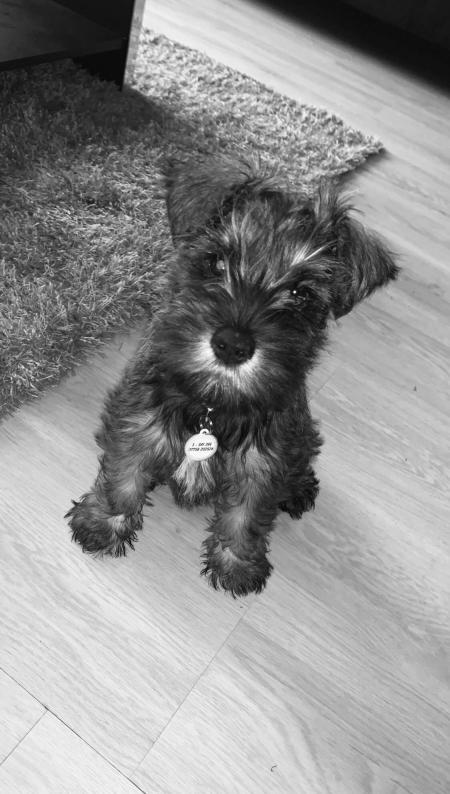 Johnny Parker - 19th Jan '20
Swansea
Recently picked up a gorgeous miniature schnauzer from Brooknant and we could not be happier... From our first visit through to collecting our new puppy and beyond, Hugh has been brilliantly helpful and accommodating... After having our puppy checked at the vets on two different occasions, both commented on how great shape and healthy our puppy is in... We went to Brooknant and saw Hugh on the back of recommendations and we are so happy we did as we now have an amazing addition to our family... Thank You
---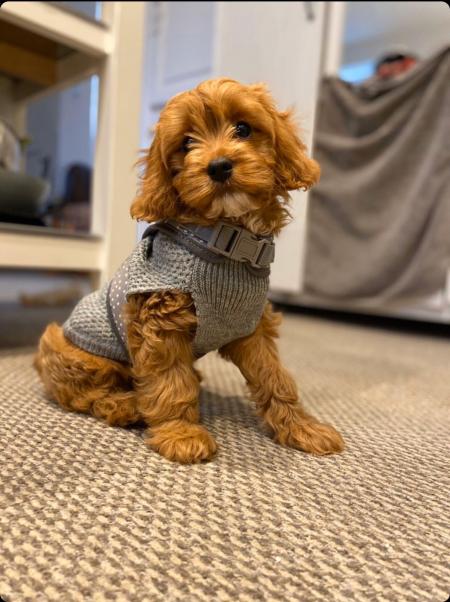 Gareth Dewhurst - 5th Jan '20
Pembrokeshire
We welcomed Buddy a Cavapoo to our family in December what a fantastic dog. All the family and everyone he meets they love him to bits. Would thoroughly recommend this breed as a family pet. Brooknant Kennels were excellent and very professional. If you are going to use a Kennels Brooknant should be top of your list.
---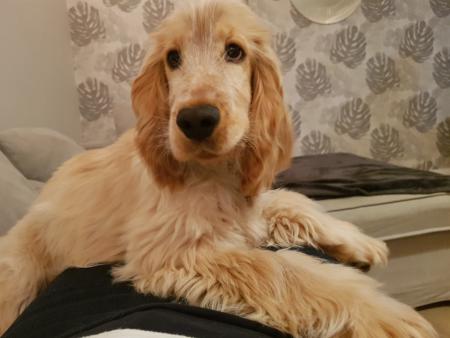 Corenna - 2nd Jan '20
Swansea
Henry is such a fabulous dog. He loves cuddles and kisses. Huw was really helpful and showed us around .The kennels were lovely and the dogs were happy and well cared for. Henry is such a joy
---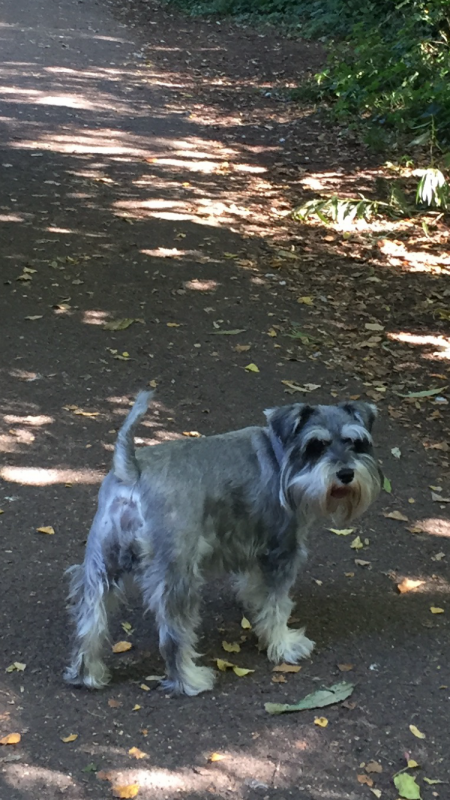 Angela Williams - 8th Nov '19
Hampshire
This is now Edward (puppy) coming up to 3 yrs old in March. He is the most adorable cheeky little man which brings me and the boys so much love, fun, laughter and happiness.
Thank you for a lovely miniature schnauzer
Angela, Declan and Logan x
---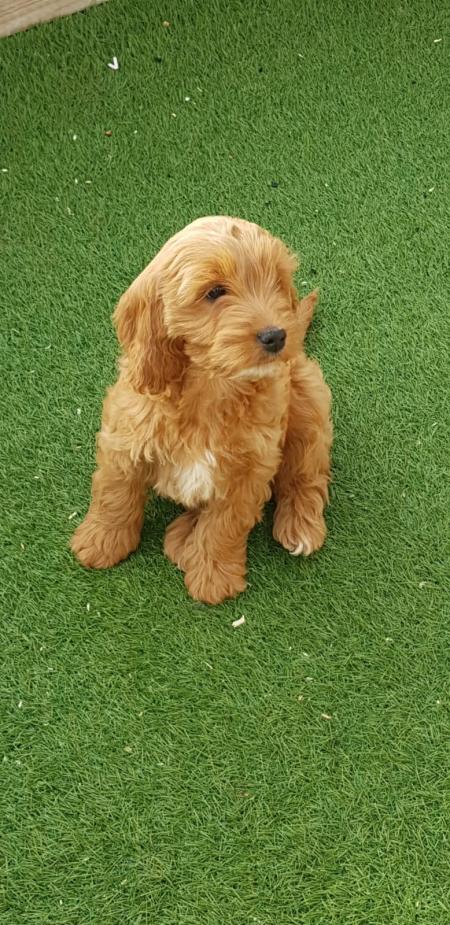 Tracey Slee - 6th Nov '19
Llanelli
Huw, we would just like to say, thank you for all of your help when we were choosing Max, our beautiful cockapoo who has settled in to our home very quickly. You were very helpful with the paperwork and with the transfer of the microchip. Thank you for opening your doors to us, enabling us to view the kennels and to meet Max's parents. We only wish we could have taken more puppies!!!
---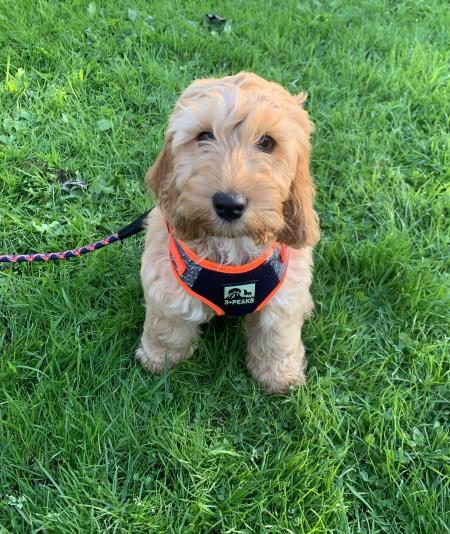 Leanne & Garry - 11th Oct '19
Carmarthenshire
Hi,

We wanted to thank you for Harris our beautiful Cockapoo and let you know he's settled in brilliantly. He's a bundle of loving fun and we couldn't have hoped for a better pup. Wherever we go with him people stop to say hello and tell us what a beautiful dog he is.
We wouldn't hesitate to recommend Brooknant, and we were really impressed with both you and the kennels from the minute we arrived. It was lovely to see your other dogs and Harris's mum and dad too, that was very reassuring and the place was spotless.

Thanks again, we absolutely love him!
Leanne & Garry
---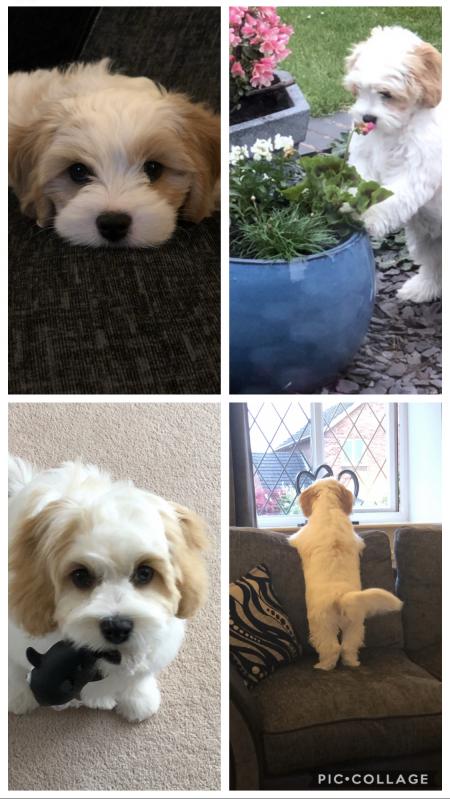 Lisa and Alan - 15th March 2019 - 16th Aug '19
Worcestershire
This is Rocky our Cavachon.
Well what a cheeky, loving, mischievous puppy we have. Rocky is everyone's friend, everyone stops to talk to him on walks commenting that he is like a teddy bear. He absolutely adores our Daughter (7) and he also loves her my little ponies and runs off with them. Everyday he makes us laugh. He loves looking out the window and the neighbours all wave to him. We have the best little puppy who is full of character and gets up to some sort of mischief most days...shoes are his thing lol.
We've had him groomed in the puppy cut and he is still as cute as when we first saw him.
I definitely recommend Huw to buy a puppy from and Rocky was so worth travelling for. The journey back was no problem, he sat on my lap all the way home and slept straight through the night from day 1.
---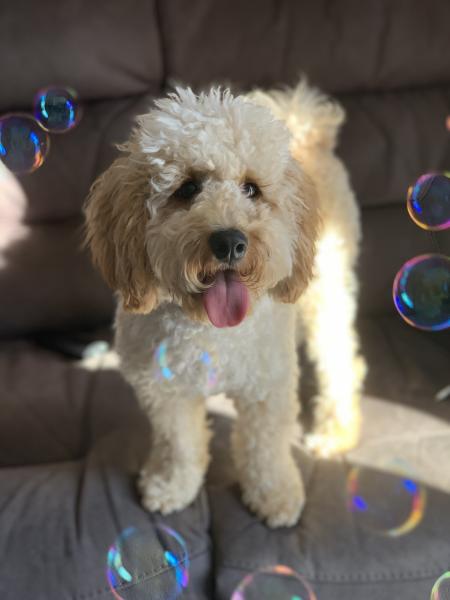 Louise - 11th Aug '19
Bristol
Rodney is a nearly 9 month old Cavapoochon and we can't imagine life without him! He is full of character and is extremely cheeky yet loves nothing more than a cuddle. Huw answered all our questions and provided all paperwork for our pup. Highly recommend!
---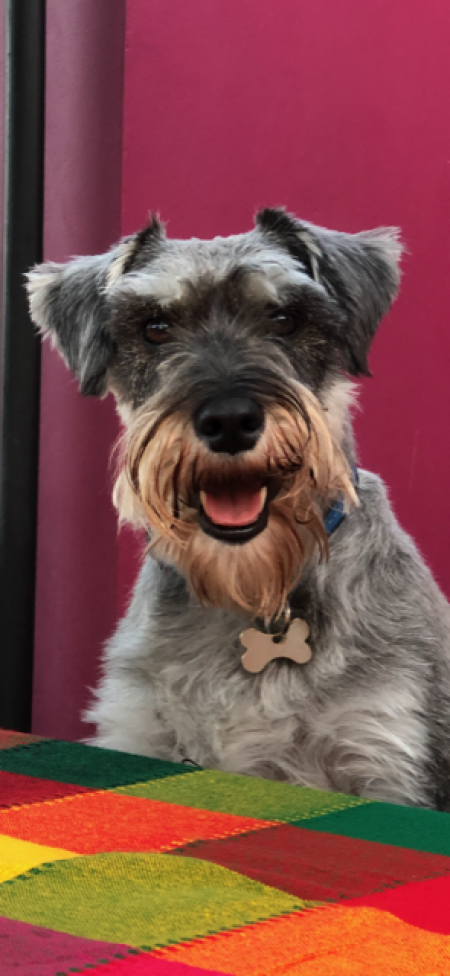 Paul Roberts - 30th Jul '19
Cardiff
Dear Huw, well it's almost 3 years since we collected 'Brooknant Bazilion' (Bazil) and I just wanted to let you know how's he's been getting on!
Bazil is awesome! He has brought my partner and I nothing but joy since the moment we collected him. He's funny, full of life and makes us laugh every day. We're never alone as he loves to be with us and has a tendency just before bed time to sneak upstairs and lie (as flat as possible) on the bed in the hope he can stay the night!
The regular walks help keep us all fit and he's proved relatively easy to train as he's quite good orientated.
I'd recommend a miniature schnauzer to anyone and everyone as the joy they bring is beyond measure. Without doubt the best thing we ever did..
Best wishes for the future and thanks for making our family complete...
Paul
---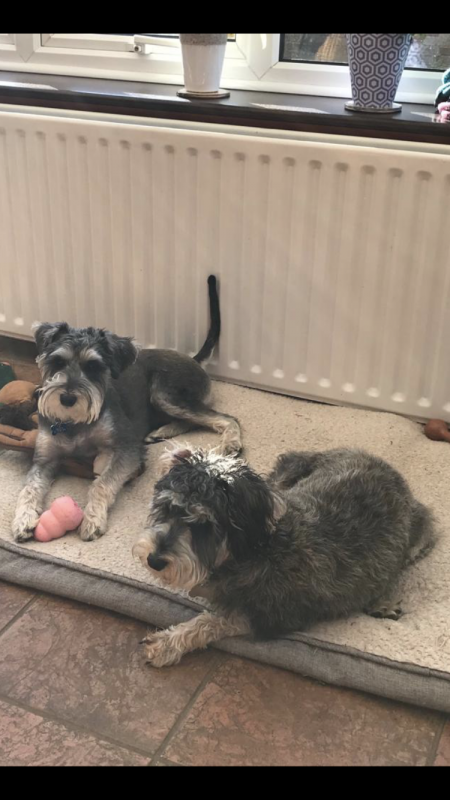 Liane marsh - 6th Jul '19
West Midlands/Bedfordshire
Hi huw, here is Jenson (on the left) and teddy his brother, celebrating their 1st birthday, they're full of character and energy but wonderful dogs (schnoodles), our families maybe be a few miles apart but we meet up every few months. Thank you again huw for our wonderful boys. Xx
---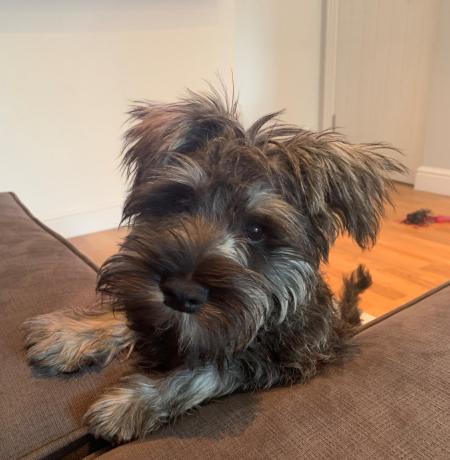 Bonnie Gibson - 3rd Jul '19
Hampshire
This is our new member of the family Bertie who is now 4 months old!
From the minute we collected him from Huw we new he was going to bring so much joy.
He is a loveable cheeky character who has brought so much love to our family. We can't imagine life without him.
---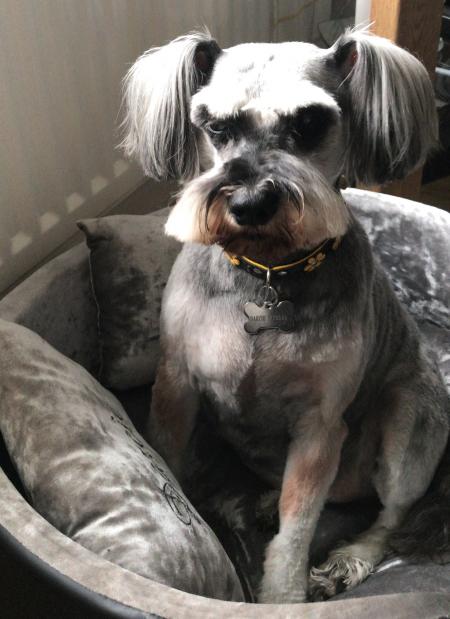 Sharran - 5th Jun '19
Lancashire
My little girl Darcie is 10 years old today ..... and 10 years of joy she has brought me
Thank you Huw
---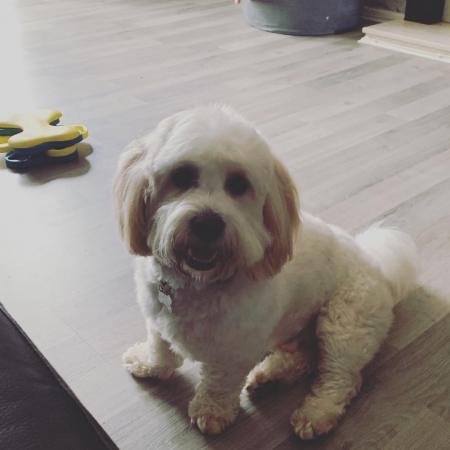 Jennifer - 14th Apr '19
Cardiff
We bought Elvis (Cavachon Puppy) in May 2018. Hugh was great and informative. Elvis was kept in great conditions and he was happy and healthy. Elvis is 1 now and we have had no issues with him. He is a happy playful dog who is friendly with kids and other dogs. He is a little character. I would recommend Brooknant Kennels.
---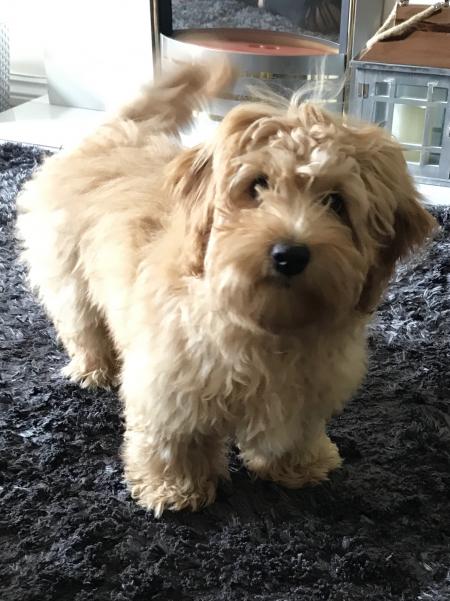 Lisa Clarke - 10th Mar '19
Merthyr Tydfil
This is Ollie the Cavapoochon who is now 4 months old and is doing very well. Ollie has settled in with the family and our daughters love him to bits. Ollie is very playful and loves nothing better than to play ball in the garden, run around with the many children in the family, and go for walks in the parks and fields. Ollie has bags of character and loves being the centre of attention and it's difficult to imagine family life without him.
Thank you Huw for your advice both before and after picking Ollie up. It was really important to us that we chose a good breeder who cared so much for the puppies.
---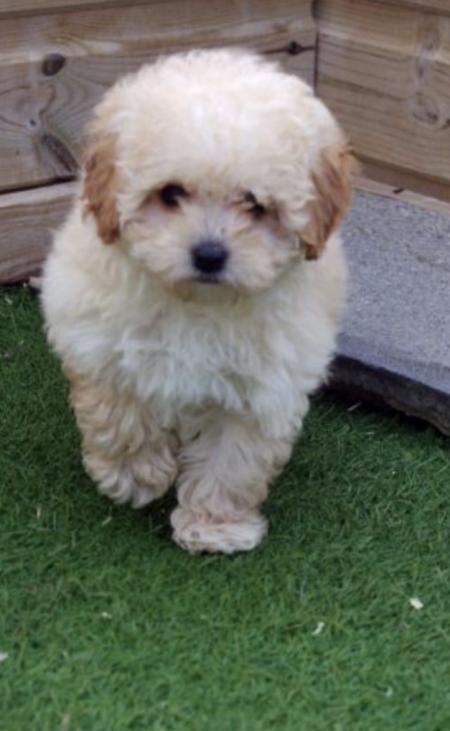 Jem Robbins - 8th Mar '19
South Glamorgan
Here he is WILSON. The gorgeous tiny cava poochon. He is absolutely fantastic, he has settled in so well, loves a cwtch.
Everyone he meets they all fall in love with him.
Hugh was great, excellent communication and an honest genuine man.
The kennels were spotless and paperwork with free insurance and puppy food was a lovely touch.
5* The Robbins family
---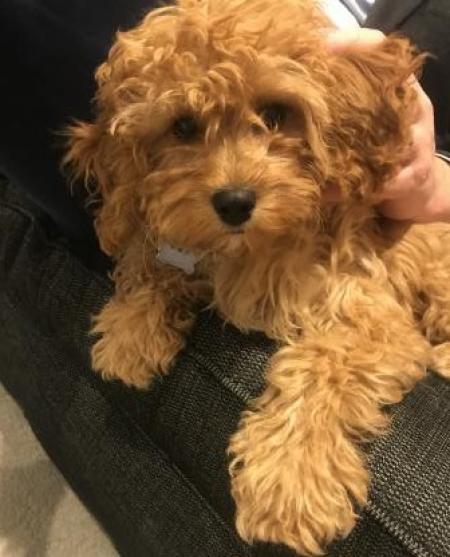 Sarah Hughes - 14th Feb '19
South Glamorgan
Here is Mabel at four months old! The whole family are loving our new member and we are all sharing the responsibility. She has been amazing and has been easy to settle her in. Thank you Huw for all of your help and advice and for answering all my emails over the last year! Sarah, Rich, Ronnie, Hilda and Arthur
---
Andy and Heidi - 28th Jan '19
Wiltshire
Can't believe that our beautiful puppies are 3 months old already! Bess and Burt have been little superstars right from the beginning and are doing great. They have settled into their forever home really well and love nothing more than running around the garden together chasing leaves. They are also partial to belly rubs and often sleep on their backs with their paws in the air. They knew and understood their names very early on and are just so content with being in our company. Training is also going well and they would just about do anything for a tasty treat. We just can't imagine life without them they certainly make our house a home.
So thank you Hugh, they are just perfect and you certainly played a huge part in that giving them the best possible start in the first 9 weeks of their lives until we picked them up early January. Thank you for all the advice too, we are very thankful to have found a breeder who not only is great at what they do but who also cares so much.
---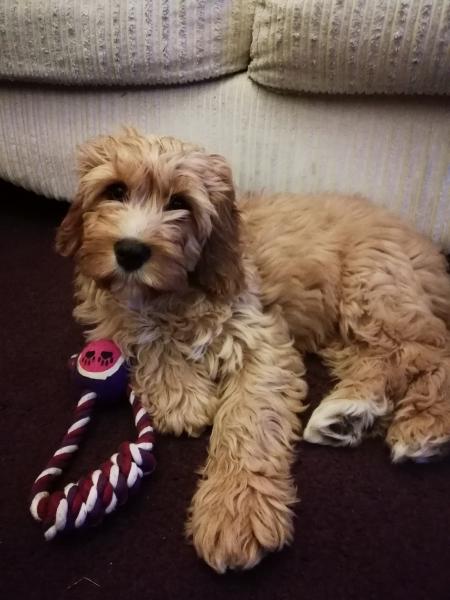 Gemma - 2nd Jan '19
Hampshire
We are totally smitten with our puppy Winston, we picked him up at 9 weeks on the 25th November and he has been a delight from day 1. He has settled in so well and has an excellent temperment, he always gets lots of attention wherever he goes! We wanted to thank you Hugh, for all of your help and advice throughout the whole process, you answered all our questions no matter how silly and made us feel completely relaxed at every stage. We don't think we could have found a better breeder or dog.
---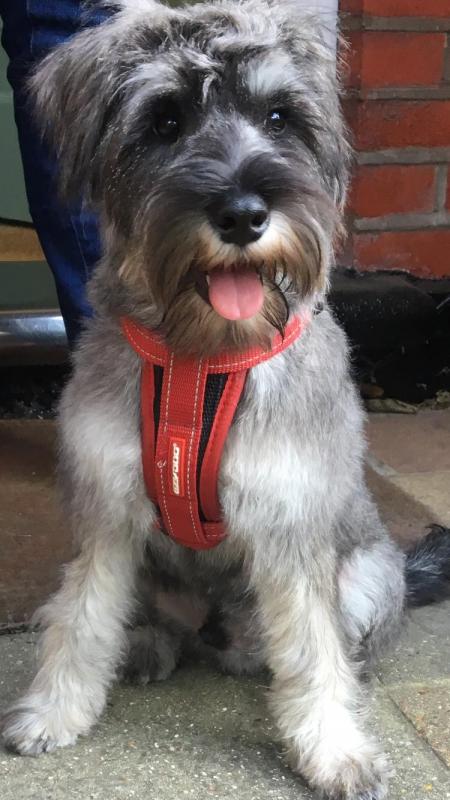 Jo and Mark Chapman - 26th Oct '18
London
Thank you Hugh for our lovely Pepper. He has settled in so well and was an instant part of the family. He has a lovely cheeky nature, is a very social dog and is settling into life in London. Thank you so much for all of your advice and help. The Chapmans
---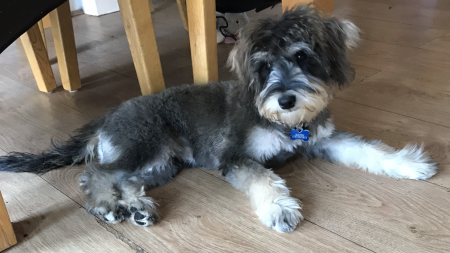 liane marsh - 19th Oct '18
Stourbridge, West Midlands
Dear Hugh,
Just wanted to show you how Jenson is doing, he's 19 weeks now, hes a cheeky chappy but very intelligent and not forgetting full of energy, he settled in straight away and fell in love with his big sister Ziggy, they go everywhere together, what a fantastic crossbreed (Schnoodle), We will recommend your kennels to all our friends when thinking of getting a puppy, we are so grateful that we found Brooknant Kennels, clean and well set up and ALL Puppies and Dogs were happy and healthy
Thank you once again Hugh xxx.
---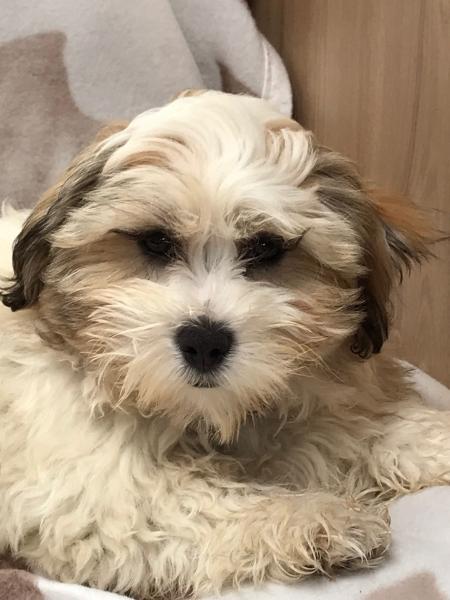 Bev & Geraint - 19th Sep '18
Gwent
Hi Hugh
Just thought we would update you on how our La Chon puppy is getting on, we finally chose a name and called him 'Archie'. We had previously bought a puppy from you nearly seven years ago, a Lhasa Apso, Harley. We decided to pay you a visit 05/08/2018 as we were in the area and had been thinking about getting another puppy. You introduced us to a beautiful litter of La Chon puppies, it was difficult to choose which one we wanted to take home but you were very patient and in the end there was something very special about the puppy we chose. Archie is a delight, he's so cute and he's like a celebrity wherever we go as there's always someone who wants to make a fuss of him and comments on his lovely long eyelashes! Archie a a playful, sociable puppy who has had a good start in his life with you and your family. Archie is getting on well with his big brother although he does tire him out as Archie is so curious about everything. We are very pleased with both of our dogs and I would highly recommend your kennels if anyone is thinking about getting a new addition to their family.
---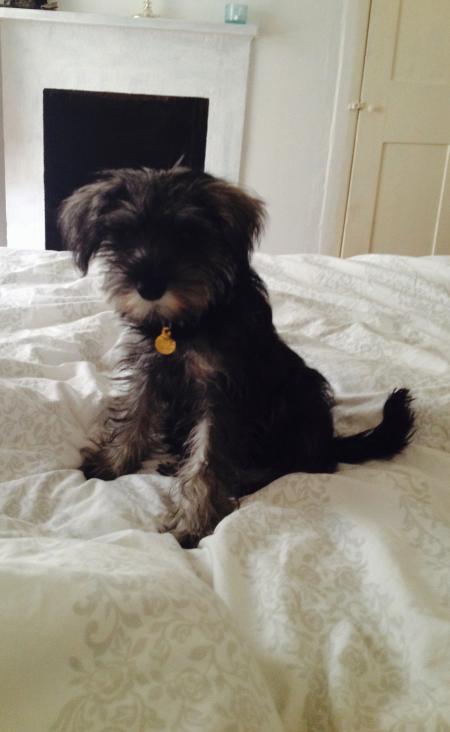 Eugene & Jennifer - 6th Sep '18
Hertfordshire
We picked up our little 'Lady' on the 7th July 2018 and we can't imagine what life was like before her. Lady was an absolute perfect angel on the 4.5hr drive home and settled in so well and easily once we got her home. She is the cutest, prettiest puppy in the world (we might be a little bias). She's healthy, happy confident and so very clever. She loves everyone she meets and even the 'not really a dog person' people think she's pretty special. We get complemented on how lovely she is wherever we go. We would totally recommend Brooknant Kennels to anyone seriously considering adding a four legged friend to the family. Lady had such a wonderful start to life at Brooknant Kennels. We are so grateful that we found Brooknant Kennels and Lady, thank you Hugh
---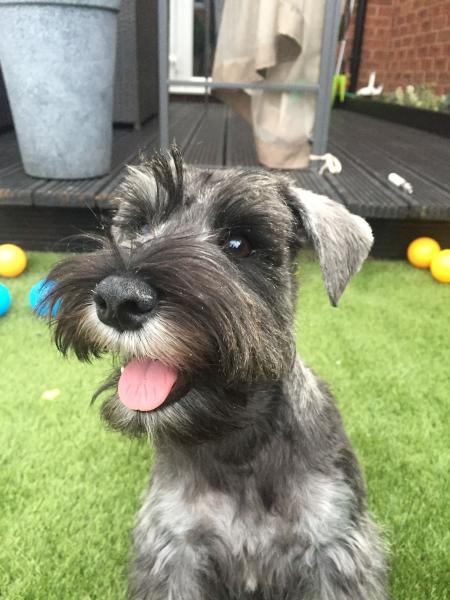 Jess Millington - 4th Sep '18
Nottinghamshire
My name is Dougie and I am now 16 weeks old. I am now living far far away from Hugh and my brothers and sister... but I am very happy and very healthy. I've been told I'm such a character and charmer and that I most definitely have a mind of my own. But my new Mum and Dad love me so very much (I'm spoilt rotten)
Hugh. Just want to say you are amazing very helpful and caring to all your extended family of pups and mummies and daddies. We are overjoyed with our new family member and cannot thank you enough for such a wonderful and happy puppy. After losing my Westie I never thought I could have another in my heart but Dougie the Miniature Schnauzer is the best medicine ever!!! Thank you and we have no objections to you giving our details to anyone wanting a second opinion on homing a puppy from you x
---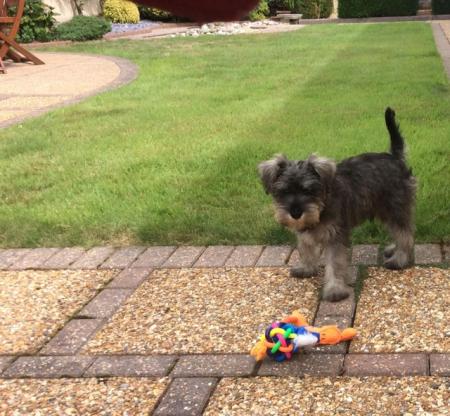 Chantal Dupont - 28th Aug '18
Guernsey
Dear Hugh
> Just wanted to show you how well our pup is doing. It's only been 2 weeks since we brought him home and he has settled in incredibly well. He is such an intelligent little fella with bags of energy but a strong determination to please us and do well. Even the cat is starting to admire him! Thank you so much for breeding such a superb pup. He is a constant joy to us and makes us laugh every day. We love him dearly. Thank you also for all your help and advice and we have already recommended you to friends, colleagues and family. Before long there may be a community of Brooknant dogs here in Guernsey
>
> Kind regards
> Chantal, Martin and Benji
---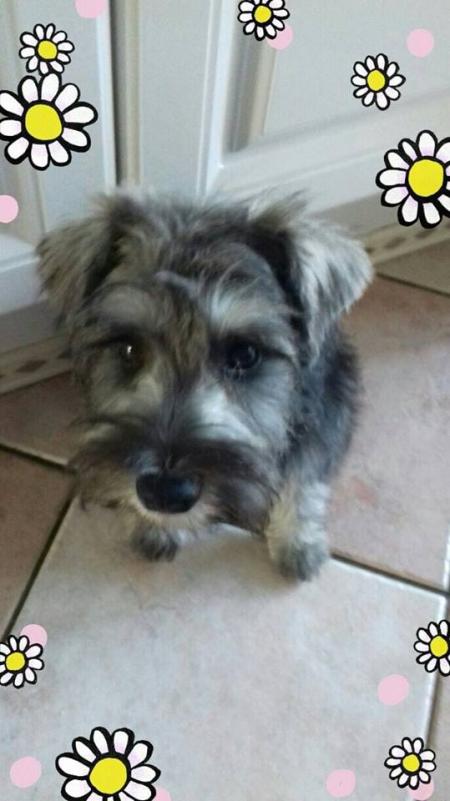 Chris & Geoff Cranwell - 17th Aug '18
Wiltshire
Hi Hugh. We thought you may like to have an update on our gorgeous Miniature Schnauzer Beau. He is now almost 14 weeks and coming along fabulously. He has a wonderful temperament, cheeky and very loving. We would recommend your Kennels to the highest degree to anyone. We can't thank you enough for this wonderful little boy who has become our whole world.
---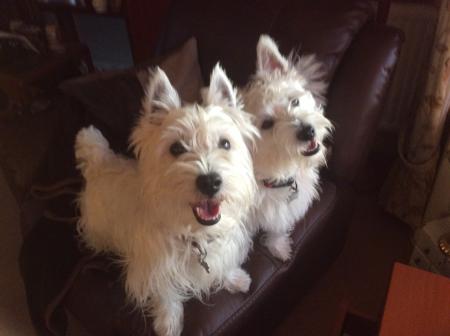 ELAINE GUDE - 15th Aug '18
West Glamorgan
We bought a handsome Westie from Brooknant in January 2017 & were so impressed with the standards & expertise of these kennels that we returned in January 2018 & purchased a beautiful Weechon. We cannot recommend Brooknant Kennels any higher, we did our research & were extremely impressed. We have two fantastic boys who are our world.
---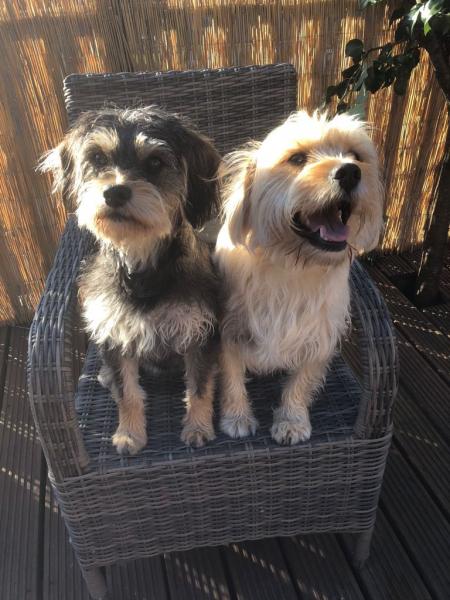 Rachel Brady - 4th Aug '18
Pembrokeshire
Hi Hugh - just dropping a line after seeing some gorgeous litters for sale on your website - so tempted but we have 4 already ! We have had Poppy our schnauzer x cavalier from you and Milo our Westie x Cavalier. They are gorgeous - fabulous temperament & would have a dozen more if we could x thank you
---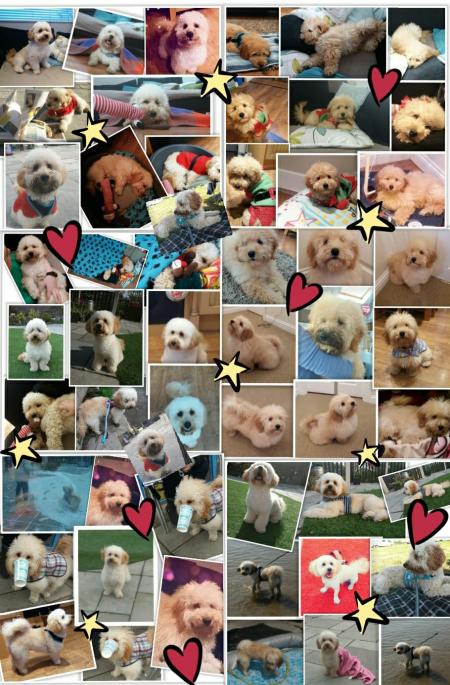 Louise Lewis - 29th Jul '18
Swansea
Hi Hugh..just to say our amazing cavapoochon Woody is one today..and what a busy year it has been! He is such a joy to have..so much fun. He loves going on walks and meeting other dogs..he also loves going to the groomers to be pampered, but most of all he loves lots of hugs and cuddles. He has made such a difference to our family.
---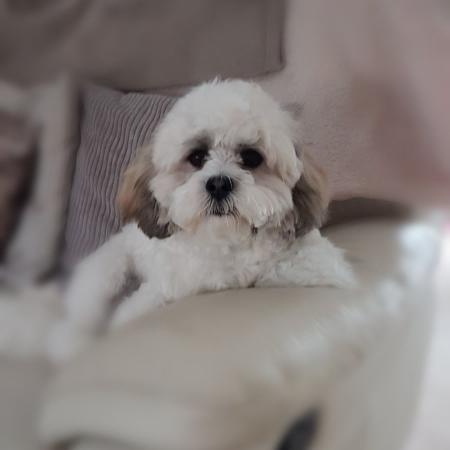 Gary and Jayne - 13th July '18 - 13th Jul '18
Newport Gwent
We purchased our Zuchon puppy Bella on the 22nd December 2017. She is a fantastic, healthy, so well behaved, friendly, little dog, a complete softy and loves everybody, a joy to own. She also very clever too, we would highly recommend Brooknant Kennels to anybody looking to purchase a puppy their kennels are spotless clean and all the puppies and parents are so happy and well cared for. Thank you Hugh for a wonderful puppy. She really is amazing.
---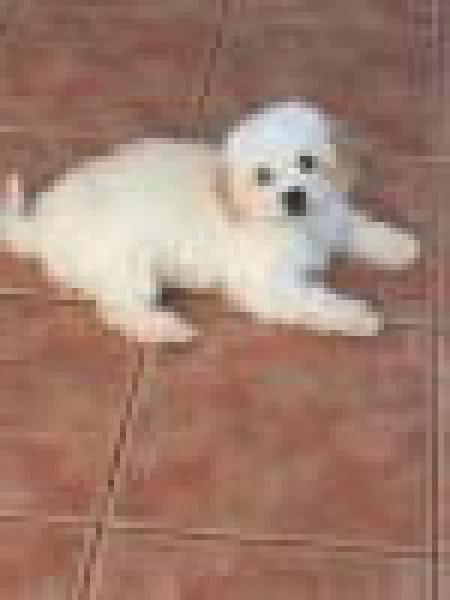 Gloria Seymour - 25th Jun '18
Bristol
We purchased our Cavachon puppy Cari from Hugh on 25th May 2018. She settled in very quickly is very intelligent, well behaved and very playful which shows that she is a very healthy puppy. The kennels were extremely clean and all the dogs and their puppies were happy and content and looked in very good condition. Hugh was excellent and gave us all the paperwork we needed plus one months fee insurance and some food for us to start her off with. Cannot recommend Brooknant Kennels enough. Thank you Hugh Cari is adorable.
---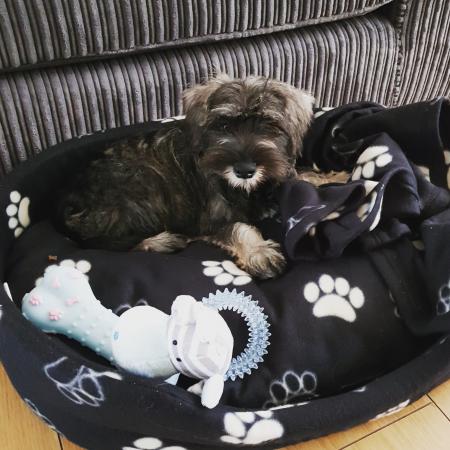 Ollie and Beth - 17th Jun '18
Caerphilly
Picked up our miniature schnauzer called Nigel on the 16th of June. He's settled in very well, he's a happy, playful puppy. Brooknant kennels facilities were outstanding, all the dogs looked happy and healthy. Hugh the owner was a pleasure to do business with, and was very helpful and informative. Would highly recommend to anyone looking to buy a dog.
---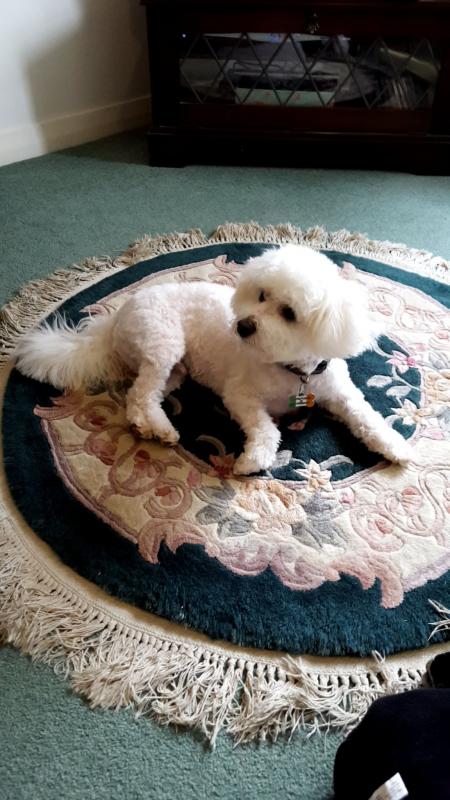 Michelle Loftus - 18th Mar '18
Torpoint Cornwall
Hi Hugh I picked up murphy a bichon frise puppy in August 17 just after my husband died thought I would give you an up date he's a great little dog very happy loving and wants to be everybody's friend and is great company now I am on my own thank you again hugh
---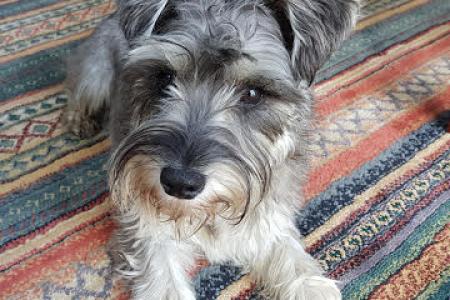 Samantha - 16th Mar '18
Bedfordshire
We picked up our Mini Schnauzer, Roscoe, from Hugh in September 2017 and he is simply a joy to own.
Roscoe has been easy to train, great off-lead in safe areas, he is so affectionate and funny with bags of personality! I don't know how we managed without him :-)
I highly recommend Brooknant Kennels.
---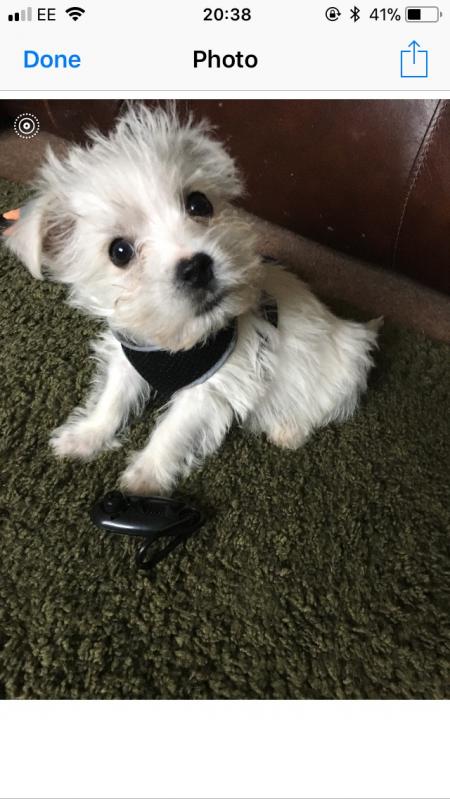 Joan Barnett - 3rd Feb '18
Neath Port Talbot
Hello Mr Davies, just to inform you that Oscar has been examined by my Vet and in his words "you have a very healthy puppy",he has updated his injections and I will be following their advice on regular worming and flea prevention.
On a personal note, little Oscar is very much an inquisitive and loveable terrier who is quite partial to a cwtch....certainly keeping me on my toes !!
Once again, my sincere
thanks to you , I would certainly recommend you to any of my friends who would be looking for a reputable and caring breeder.
---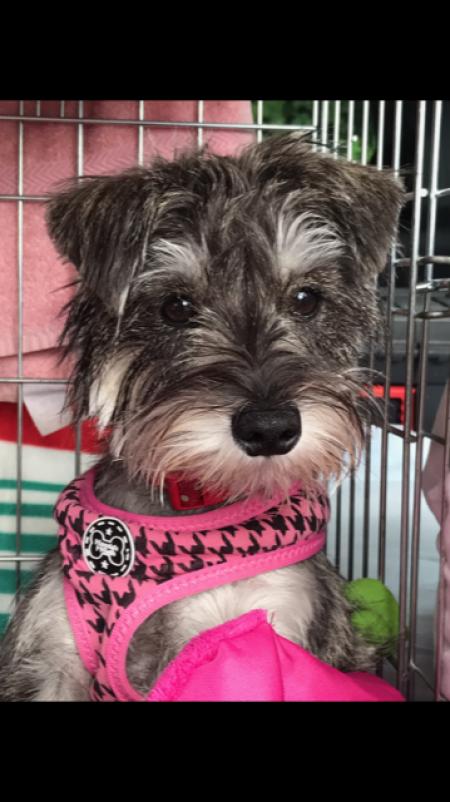 Donna, - 23rd Jan '18
Isle of Man.
I collected Fern in April 2017, born 15.01.17. She is fantastic and so well behaved. Temperament as described in the Greens Family review, possibly the same litter? A dream to own, no problems at all and so sociable with both humans and dogs. All my neighbours love her.
---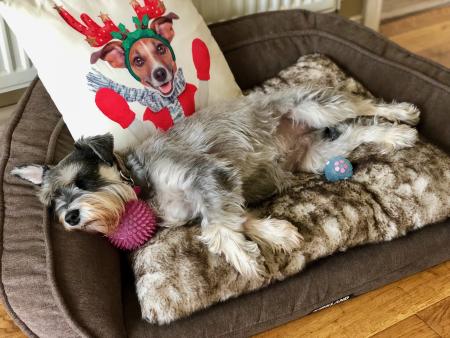 Jason & Kirsty Morgan - 13th Jan '18
Pencoed, South Wales
Fantastic service and a pleasure to do business with, we purchased Lola on 10th October 2015 and she has been a delight. We are happy to say that we are picking up our next Puppy tomorrow a Westie as Brooknant provide a quality service with great healthy pups. Thankyou once again
---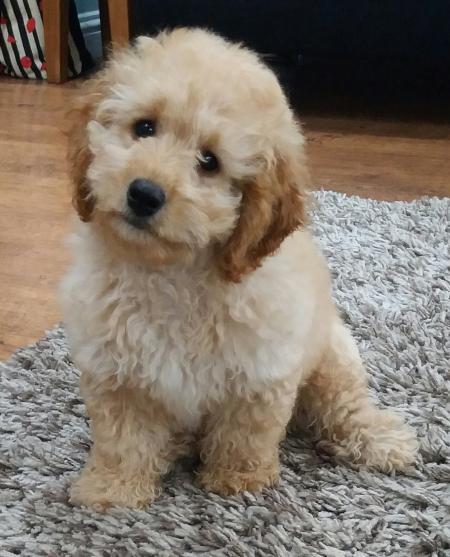 Louise Lewis - 30th Dec '17
Swansea
We collected our little boy cavapoochon WOODY in October. He is such a character...everywhere we go people stop us and make a fuss of him..some even take photos!! He is a little bundle of energy and likes nothing better than going out on family walks. He loves lots of cuddles and snuggling on your lap. We can't remember life without him..
---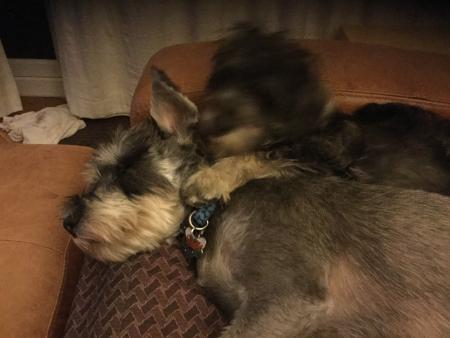 Deb Green - 22nd Dec '17
Cardiff
We collected a miniature schnauzer puppy (Frankie) from Brooknant in April this year. He is a right little character with a friendly outgoing personality and insisted on meeting and greeting every person and animal he met whilst out on walks and knew all our neighbours within days. He was easy to potty train and teach basic commands to and is good off the lead in safe areas. Frankie loved being in the company of other dogs so I started looking at maybe getting another dog as company for him in late September and kept an eye on the Brooknant website as all their puppies are gorgeous.
I had always wanted a schnoodle so when I spotted that Hugh had a litter I contacted him in October and travelled over that weekend and picked our gorgeous Noah. He is friendly, outgoing and really cuddly and a perfect companion for Frankie and fitted in with everyone in the family.
They two puppies get on so well, and even though they are six months apart in age they share their food bowls and even toys most of the time.
Am so grateful to Hugh and family for breeding such lovely puppies - we can't imagine life without them.
Many thanks
Green family
---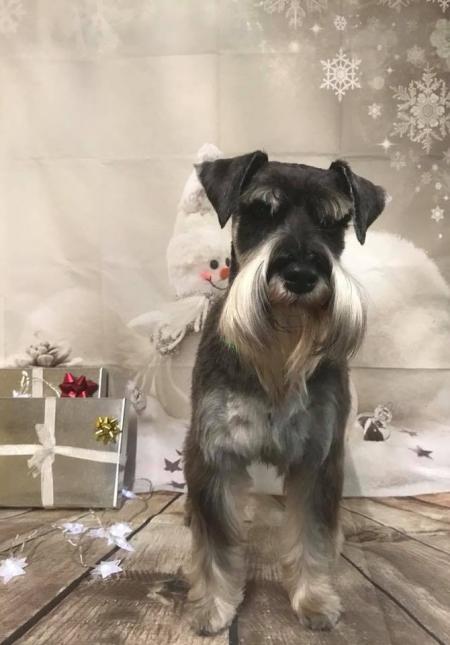 Liz - 17th Dec '17
Neath Port talbot
This is Ben's first Christmas, he is such a lovable friendly little dog, we would highly recommend Brooknant kennels to everyone. A very clean and safe enviroment for your pups first weeks and an owner that cares about his dogs.
Thank you once again Hugh.
---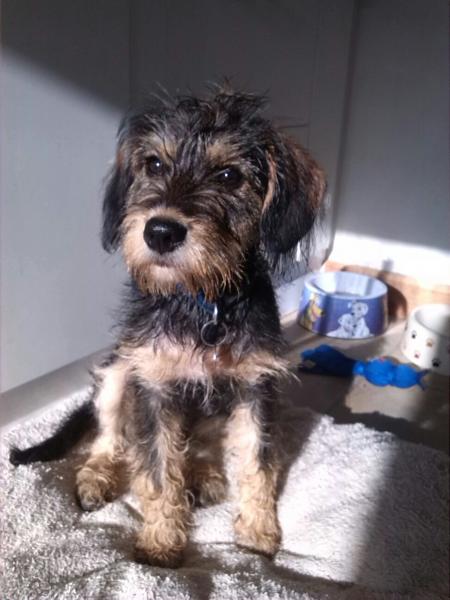 Simon Moody - 16th Dec '17
Hampshire
We've had Bramble, our Schnauzer x Cavalier for 3 months now and he's a wonderful, well socialised, healthy and fun puppy.Thanks Huw
---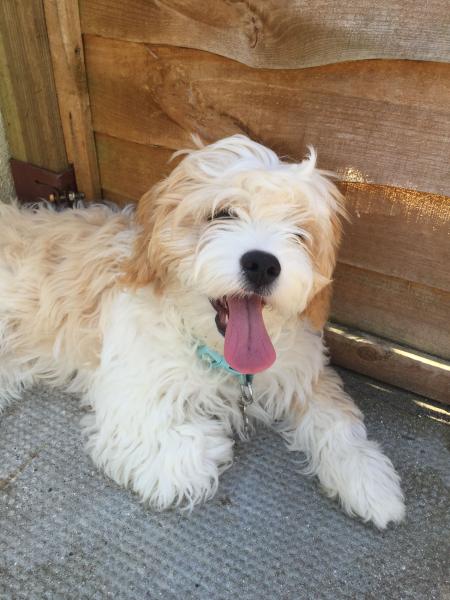 Charlotte - 26th May '17
Devon
I picked up Bella, Cavachon, on the 11th March, she has been with me now for nearly 3 months. She is amazing, she is so crazy, but an absolutely soft, gentle & loving puppy. She is so bright & so clever too! I would reccomendd Brooknant Kennels to anyone - their dogs are well looked after & all the puppies are amazing.
---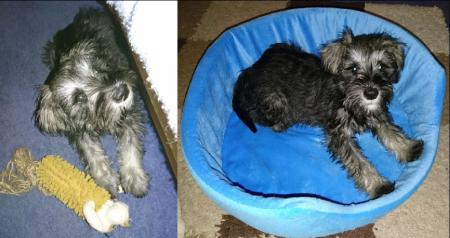 James - 31st Mar '17
Worcestershire
At the beginning of March 2017 I picked up young Pippa (mini schnauzer puppy), she has been very good. She is now 3 months old and settled in her new home as if she owns the place.... She has been house trained within 10days and only had about 8 accidents. She is already very good off the lead on walks and even more importantly very socialable with all other dogs and people she meets. Shes a great puppy. Many people comment on how well behaved she is for her age.
Pip is my 2nd mini schnauzer from Hugh / Brooknant kennels so feel I am able to really recommend him and the kennels.
Many thanks :-)
---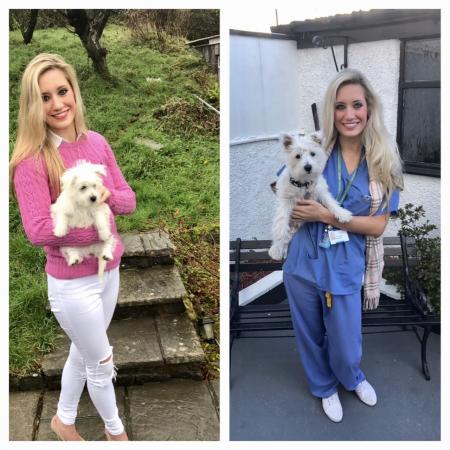 Mark Zavagno - 27th Mar '17
Teeside
Hi Hugh
Today is Archie's 6 month birthday and i wanted to share a 'now' and then 'picture'.(taken the day we collected him.) Archie is growing into the most beautiful, sweet natured Wee-chon and we simply couldn't have been any happier with our choice. His lovely character is a real credit to you and your Kennels and we would recommend anyone who is looking for a puppy to get in touch.
Thanks Mark & Harriet
---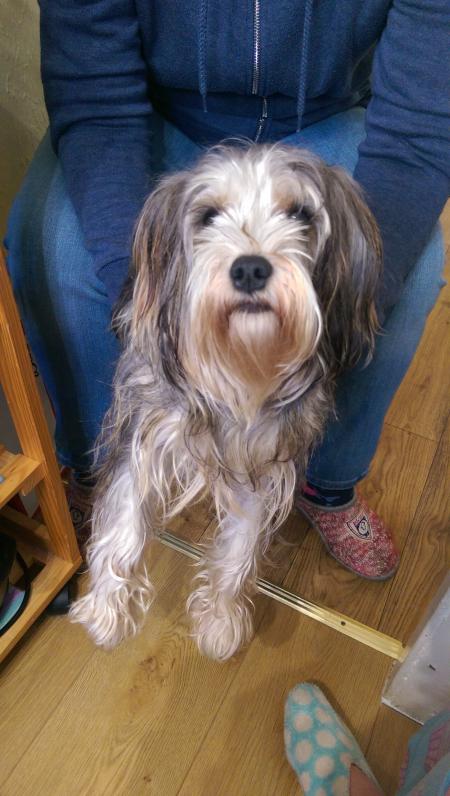 Jean dawe - 25th Mar '17
Devon
Willow our amazing dog we bought from you last year amazing with children funny character everybody's friend.
---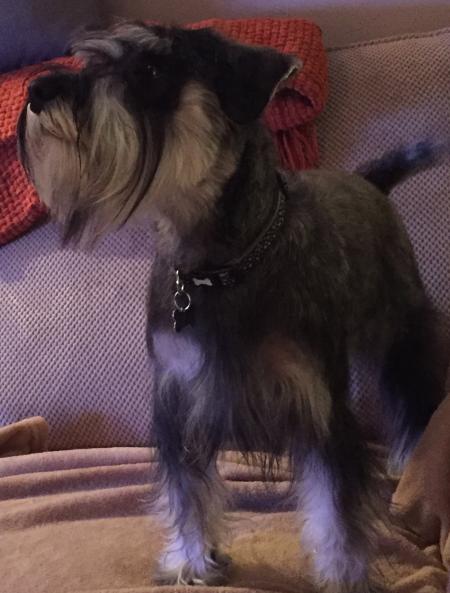 Lee & Sarah - 20th Mar '17
West Midlands
last May 2016 we collected our little miniature schnauzer Alfie from Hugh, he has been such a big part of our lives, he's funny and very loving I would recommend Brooknant Kennel to anyone who is looking for their perfect Pup. Alfie is now 1 year old and we are looking to find him a friend.
---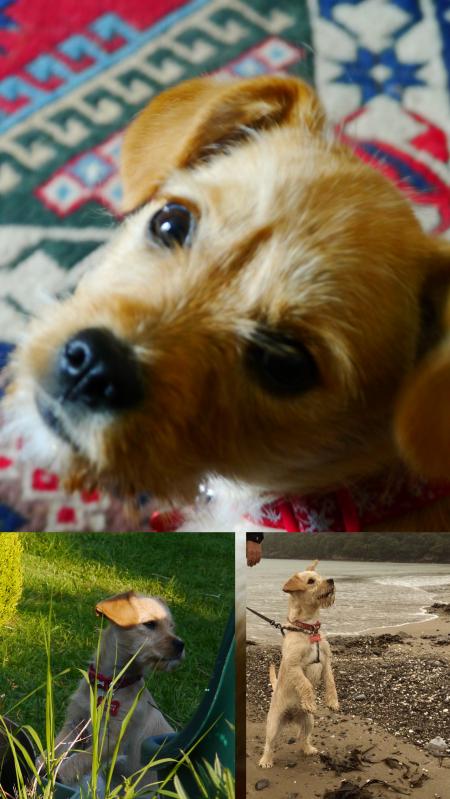 Carys Anne Evans - 20th Mar '17
RCT
Hi,
We Bought Harley Quinn March 2016, she has been a wonderful addition to the household. She enjoys long walks and lots of sleep. She is now able to walk off lead and is a great companion. She loves other dogs and is the life of a party. She is now over a year old and time has flown. She has grown fast and doing well thank you for the care you showed her for holding her back with Mam as she and her sister were so small.
---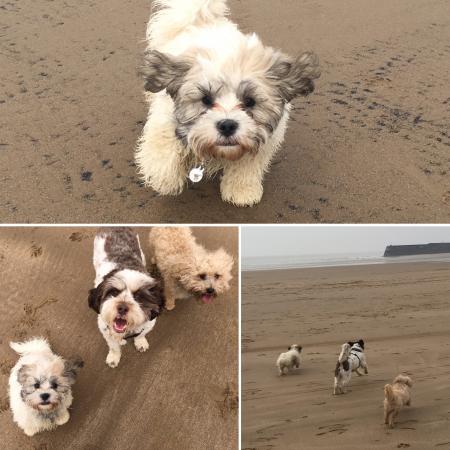 Astrid Morgan - 15th Mar '17
RCT, South Wales
Can't believe it's only been 3 months since we brought Rio our shihtzu-bichon pup home! From the moment we received our first picture of him from you at only a few hours old we were smitten and that feeling hasn't changed! He is a little rascal who loves walkies and food - he weighs almost 6kg already and is only 5 months old (the vet says it's all muscle thankfully!) Rio is the third Brooknant dog to join our family and they're all the very best of friends! Thanks Hugh for all your hard work... I'm sure at some point we'll be back for another!
Astrid and Nathan
---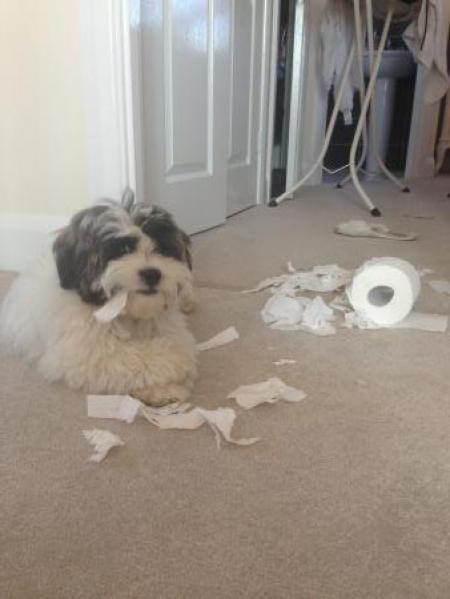 Kelly - 12th Mar '17
Gloucestershire
I collected my little Tilly from Hugh 4years ago, I still remember the day like it was yesterday. Tilly is a Bichon cross with a Lhasa and the best friend I could ever ask for. Her character is much more a Lhasa as she is very protective of me! She makes me laugh every day and has bags of personality!! I'm sure she is a human in disguise! I can't thank Hugh enough for raising her the first few weeks of her life and for the excellent support the weeks after I took her home! Highly recommend!
---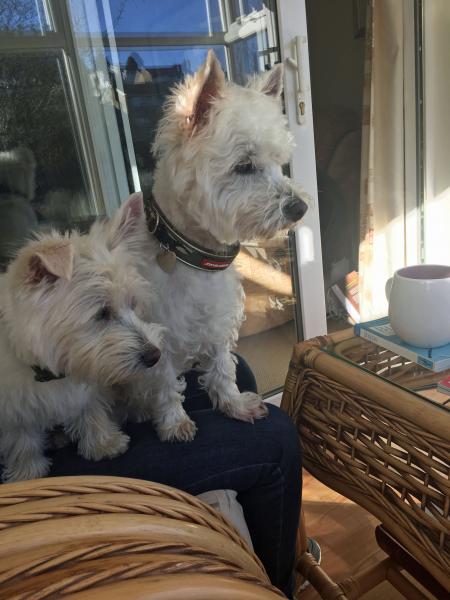 Sarah & Arron Hatcher - 11th Mar '17
Nottinghamshire
Hi Hugh! Just wanted to say how delighted we are with little George our weechon, can't believe he's almost 6 months old! Him and Buddy get on really well. Not quite sure who is boss yet but at least they get on well. We would highly recommend Brooknant Kennels. Came across them as we were specifically looking for a weechon puppy. We bought Buddy in 2014 and he is such a delight! 2 years later we couldn't resist getting a second and was pleased to hear from Hugh they had another litter! Although the drive is long (depending on where you come from of course) it is totally worth it when you get there! Hugh is extremely professional throughout and his service is great. All the dogs are very well looked after and such lovely temperaments. Thanks again Hugh all the best, Sarah & Arron (Nottingham)
---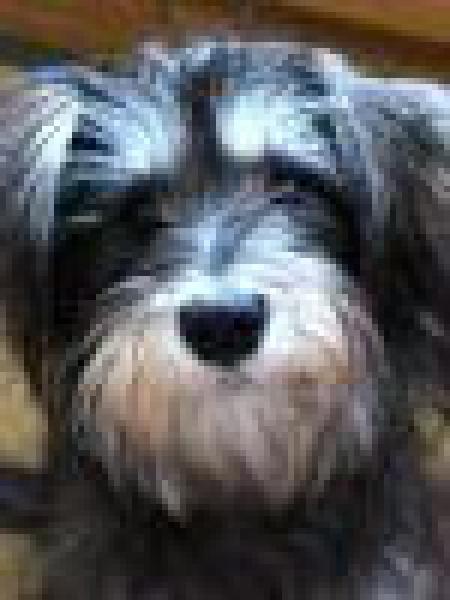 Lorraine and Ken Brown - 25th Feb '17
Carmarthenshire
Hi Hugh, just to let you know Blodwyn is 1 today , she has changed our lives totally , she's a lovely playfull dog, and friends with everyone a real pleasure to be around.
Your pups are a real credit to you and I would highly recommend you to everyone, thanks again Hugh
---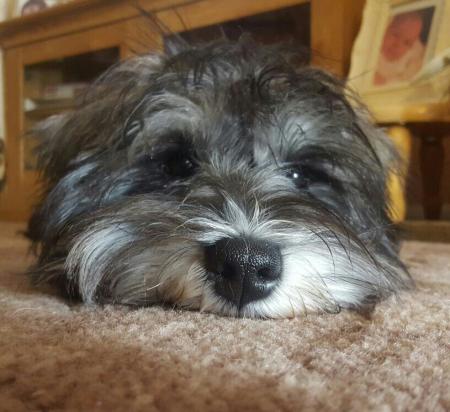 Marmite - 18th Feb '17
surrey
Hi Hugh
just thought you would like to know how I'm getting on..I'm now five months old weigh 7.64kg.
very happy in my home,get on with everyone..
Marmite will sit and stay on command, house trained by the third week of coming home. our vet is very happy with him. loves playing fetch.
definitely the best dission we made, has brought a lot of joy and happiness to the whole family.
---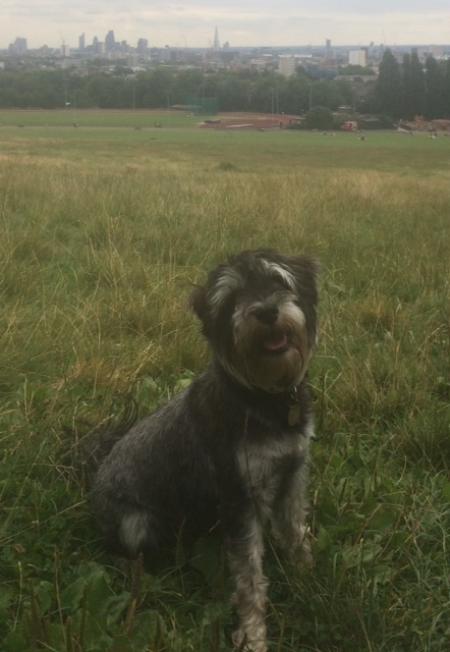 Jane Morley - 16th Feb '17
London
Dear Hugh,
We purchased Rudy from you in December 2015 and I just thought I would drop you a line to let you know how amazing he continues to be.
He is by far the most attractive Mini Schnauzer in these parts and continues to be the perfect dog - funny, intelligent, kind, sociable and very well behaved. He recently had his annual vaccination booster and was pronounced fit and well by our vet. He really is an absolute joy to have around. I would have absolutely no reservations about recommending you to anyone wishing to purchase a Miniature Schnauzer.
.
---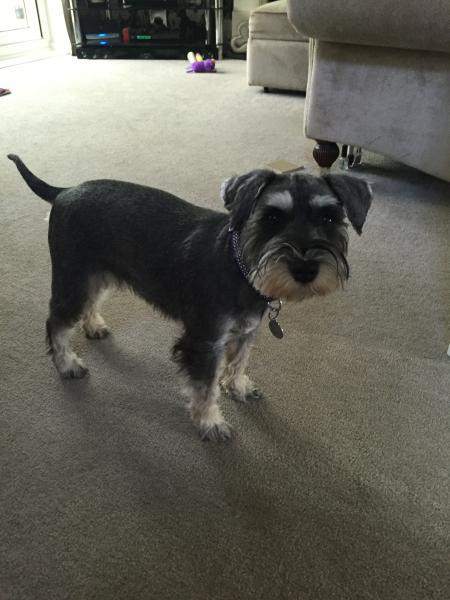 Karen and Andy - 4th Feb '17
Worcestershire
In August 2015 we met Hugh, who in an instant changed our lives. We fell in love with a miniature schnauzer called Izzy. She is playful, loving and beautiful. We could not be without her. Thank you Hugh.
---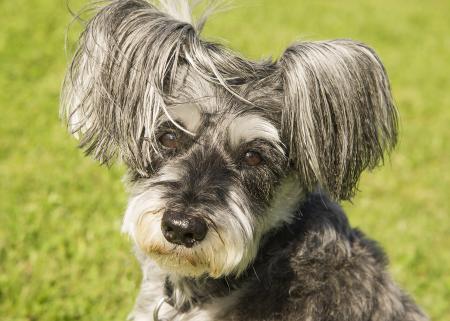 James - 2nd Feb '17
Worcestershire
In 2006, I took home Ellie the mini schnauzer home from brooknant kennels, she was really good on the long trip back home and settled in at home very quickly. She turned into such a pretty girl and very friendly with everyone. We have had great 10years+ together... She has won several 1st places in 'prettiest bitch' class at a couple of local fun dog shows I recommend Hugh and brooknant kennels. thankyou
.
---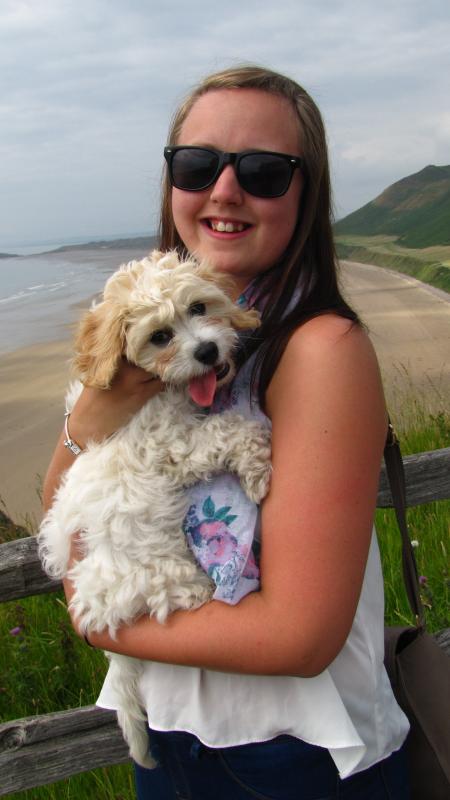 Hayley and Chris - 15th Dec '16
Newport
I can't believe it's been almost 2 months since we collected our little Toby from you! I thought I'd let you know that we're getting on excellently and Chris and I couldn't be happier with the new addition to our family. Toby settled in so well and within just 2 nights he was sleeping right through with no crying or accidents! He is such a little character who is always keeping us amused, I must say! Toby is popular with everyone and he can't get enough fuss and cuddles off the people he meets (including the vet)! As you can see from the more recent pictures i've attached, he has grown lots since he came home with us! We've got our final puppy training class and first visit to the groomers to look forward to this week. So many exciting milestones that we're just loving! I've found that a lot of people ask where we got our gorgeous puppy from and I am only too happy to recommend you as a breeder as we are so pleased with our healthy, happy and friendly little boy!
---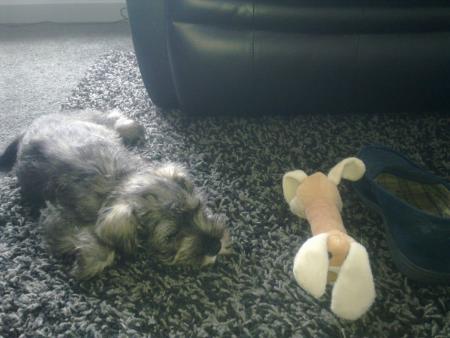 Julia Farnsworth - 17th Oct '16
Skipton in Lancs
Good afternoon Hugh
We just wanted to let you know how fantastic baby 'Eric' is getting on with his new family. We bought him from you on the 12th April, driving across from Skipton in Lancs.
We have now had Eric a month and he is a truly beautiful little dog. Very healthy, happy and intelligent. He is great with his walks and has a healthy appetite. Upon a health check recently, he was pronounced fit and healthy by the local vet. he sleeps all night long without a peep, is almost house trained and just wants to be around people.
We are absolutely delighted with him and want to thank you for your lovely, friendly and informative professional services.
Hope things are going well for you and will certainly recommend your business to anyone interested in purchasing puppies you specialise in.
Eric is on the left of the picture!
Julia Farnsworth
---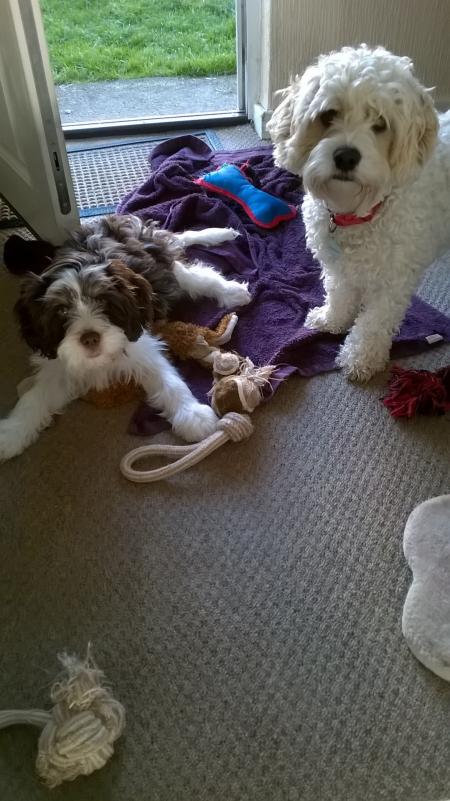 Andrea Hill - 16th Sep '15
Barry, South Wales
Hello Mr Davies
Just thought i'd drop you a little email to let you know how my new puppy Milo, (brown and white Cavalier x Lhasa Apso purchased from you on 23/8/15) is settling in. All i can say is fantastic!! As you can see from the photos i have attached, he is doing brilliantly, getting on very well with his big brother Vinnie (Cavalier x bichon i bought from you 2 yrs ago) although, i think he is going to be a bit bigger than his big brother when he is fully grown, he is growing like a weed!!
He is developing a great character and gives lovely cwtches, both to me and his brother. I took him to my vets for a check up as suggested by you, and as expected he was given a clean bill of health. Many thanks also for keeping him with you for an extra three weeks until my annual leave began, i think this made a massive difference with his house training as he is almost fully trained in that respect. I can't thank you enough for this wonderful addition to our family. Once again it was a pleasure doing business with you, best wishes to you and your family.
---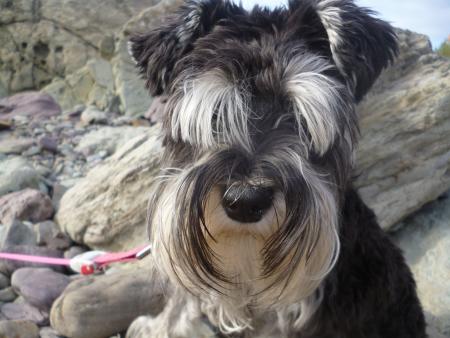 Ange & Andy Gregory - 9th Sep '15
Bristol
Hello Hugh, With Floss' first birthday coming up tomorrow, I thought you might like an update on how she's doing. In a nutshell, she's one of the best things that has ever happened to us! She's affectionate, funny, respectful, adaptable - all rolled into one. She's great with young children and knows instinctively who in the family is good for playing with, chasing, cuddling and who to be slightly wary of! We've taken her to stay in holiday homes in Devon and Cornwall, where she has adapted to new surroundings brilliantly and has never damaged or soiled in anyone's houses. She became house-trained very quickly and still uses her crate to sleep in. You may remember that our daughter was rather wary about the news we were getting a dog - well they are absolutely besotted with each other! Our 2 teenage boys love her to bits too - the feeling is mutual. She gets a lot of admiring comments wherever we go, both when she is smartly groomed and when we let her fur grow longer and scruffier. We don't expect she'll grow much bigger now, which is fine and probably reflects her tricky early weeks of being adopted by your spaniel. She has been healthy all year. The only minor worry we had was when she ate half a fruit scone and needed the vet to take action in case she became unwell. Oh, and she quite likes chewing plastic, e.g. arms of reading glasses, doll's legs!! If you hear from anyone else who bought pups from her litter, we'd be really grateful if you could forward our details to them so we can compare notes!
Many thanks and hope things are all good with you.
Best wishes
Ange & Andy Gregory
---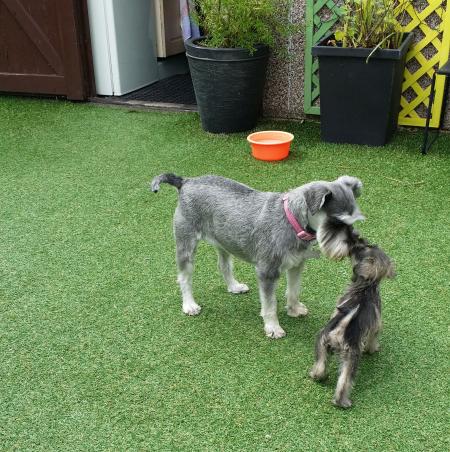 Karen Tebble - 28th Aug '15
Lancashire
This is me playing with Molly my big sister. I settled in straight away and I love my new home From Jess
Hi Hugh
Puppy was great travelling home, which took us around 6 hours and settled in straight away just as Molly did 3 years ago. It was good to see you again and all the happy puppies and totally content Mum and Dads. It's clear they still all adore you and plain to see you are the same with them. Please feel free to put this letter on your testimonials and should anyone have any doubts then give them my phone number for the reassurance that if they are looking to purchase a pup, then they are guaranteed to get a healthy happy sociable little family friend from you. It is a very long way to travel for us but that's what you do to get the best.
Kind regards
Karen Tebble
---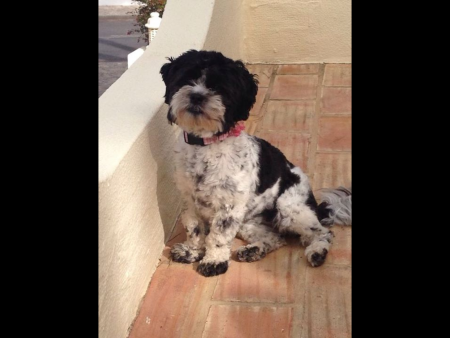 Kerry Jupp - 19th Aug '14
Somerset
Hi Huw , a year ago we came to collect Pandora from you , we thought you'd like to hear how she's getting on !
Firstly ,I could have sold her over and over again , everyone she meets (and we've just travelled to Portugal ,Spain and France with her ) wants her !
She is the sweetest natured little dog ever , although she does think she's a Labrador !
She comes with me every week when I visit a residential care home for the elderly , as I'm a volunteer with the WRVS .
She draws quite a crowd !
I just want to thank you again again for such a sweet natured ,gorgeous little dog that has touched our lives .
Best wishes,
Kerry Jupp
---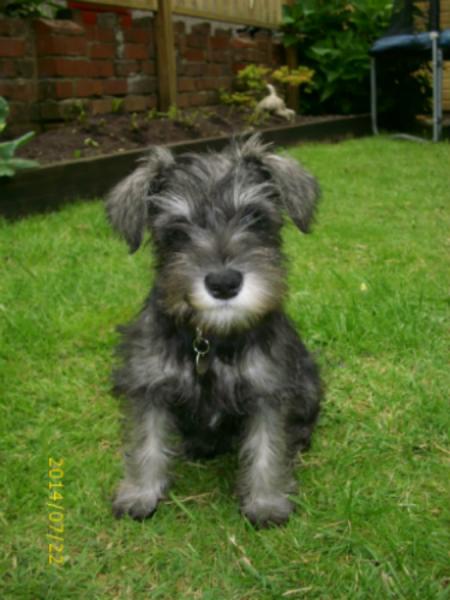 Heather Evans - 27th Jun '14
Bridgend
Dear Hugh, We wanted to let you know how delighted we are with our beautiful miniature schnauzer puppy we purchased from you on 27th June. We have named her Oti (meaning 'complete' as she has indeed completed our family). The bond she has formed with our 11 year old daughter is an absolute joy. Oti is very sociable, mischievious and has captured the hearts of everyone she has met. Although we have only had her for 4 weeks she has learned so much and is eager to please - she is fully toilet trained (only 2 mishaps in total!!!), can sit on command, give her paw, loves to fetch, and is excellent on the lead. However she loves chewing shoes (the smellier the better!!) and digging up the garden. We really cannot thank you enough for bringing such a bundle of happiness into our family. We would highly recommend your kennels and were very impressed to see all your happy, healthy dogs and puppies. Please feel free to add this e-mail and photos to your testimonials.
Many thanks Gary, Heather & Millie Evans (Bridgend).
---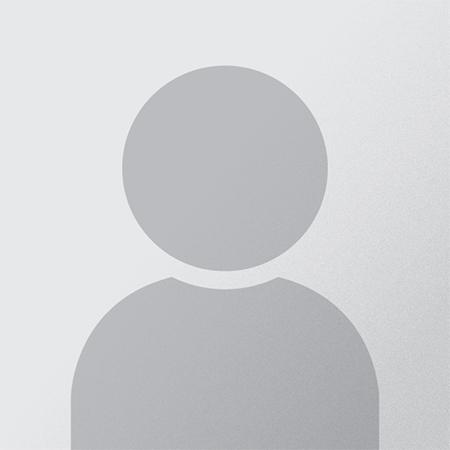 Kelvin & Rosemary Cooper - 4th Jan '14
Cambridgeshire
After another 5 hour journey home, Lacy slept for most of the trip but has settled in remarkably well ,she is not quite house trained but no matter, she has a boy friend in my sons golden Retriever Billy which we look after during the day and they have become the best of mates. Lacey has now doubled her weight and has had her full course of injections she loves going for walks and meeting other dogs and their owners. We am very glad to have found you and your kennel and would have no hesitation in recommending you as a responsible breeder who we will be in-touch with should we want to have another addition to the family, The reason for the last statement is the fact Lacey was for Rosemary but unfortunately she is a dads girl !! so a playmate for Lacey could be a possibility in the not too distant future. Many thanks for Lacey she is a credit to you, your kennel, and your breeding and we would recommend you to any one who wants a small breed which you had in your kennels. We will be in-touch should we need to acquire a playmate for Lacey
---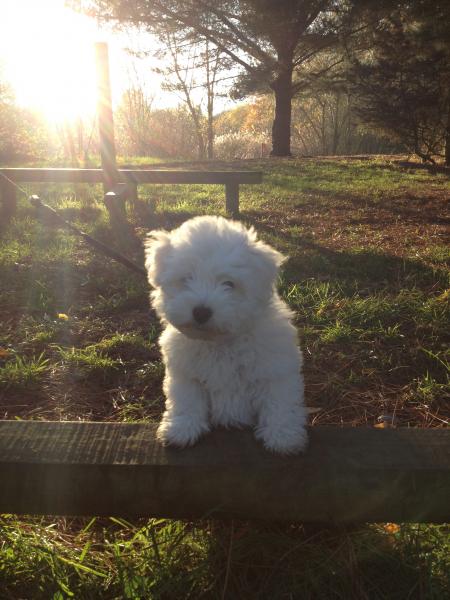 Nikki Kent - 8th Dec '13
Leighton Buzzard
Just a huge thank you for Bailey our wee chon pup he is amazing. In the few weeks we have had him he was well worth the 8 hour round trip to collect him. He has proved himself to be well socialised with other dogs and children and has quickly adapted to being a valuable part of our family, I can't now remember life without him! I would without hesitation buy another pup from you and recommend to any potential buyer.
---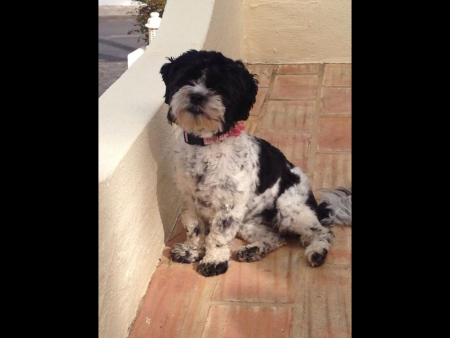 Kerry Jupp and family - 2nd Sep '13
Somerset
I just thought I'd let you know how Pandora is getting on; she's brought so much love and happiness not just our family but everyone she meets! She adores our youngest Jemima and has even turned our older two into dog lovers. The other dogs have been brilliant with her and she's best friends with the Labrador who constantly play with her. I must say although there's been bad press about online puppy purchasing, I couldn't have been more impressed with you and your set up. You may just have a few more visitors from this side of the suspension bridge! Once again thank you so much for making our experience so enjoyable and for responsibly breeding our latest addition to our pack. My phone number is with Hugh if you want to speak to me.
---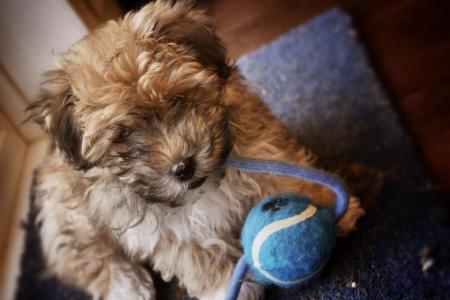 Adam - 16th Jan '13
Worcester
Hi Hugh, I would like to thank you for our little boy Ragu, from our first conversation through to picking him up your care and consideration made our first puppy experience a breeze and rested two very worried minds. Having searched and scoured the Internet with nothing but concern from who to purchase from we found your site and after reading your testimonials and seeing the care and effort you take we knew we were only going to buy a puppy from yourself. We were after a Yorkshire terrier x bichon frise and that meant waiting for months until one became available, a big ask from a very impatient couple :-) but we were set on only purchasing from your kennels! Ragu is such a well rounded and healthy dog! He is lively, adventurous and extremely loving. The 3 hour journey home was full of hugs and 8 weeks later we wouldn't be without him! Can't thank you enough for your advice and peace of mind you gave us through the whole experience! I can't recommend you enough to anyone looking to buy a puppy. We will be buying any future puppy from you. Certainly found a life long customer!
Adam, Jola and Ragu
---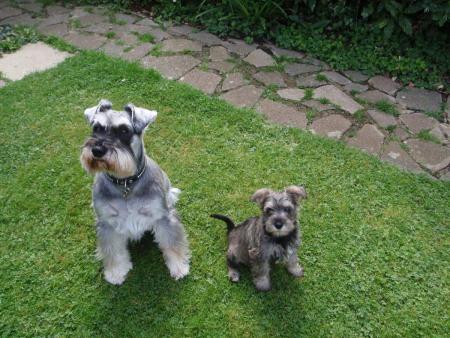 Hazel & Tony Andrews - 25th Aug '12
Essex
Dear Hugh, As you know we bought Freddie a miniature schnauzer from you in August 2005. Freddie has turned out to be a most wonderful dog. He is very obedient and was so easy to train. As Freddie is now seven years old Hazel an I decided to buy another puppy. Because we had been so impressed by the way that you kept your kennels we had no hesitation in contacting you again. Luckily when I contacted you in June you were expecting a litter. To cut a long story short you kept us informed as to the progress of the puppies, sending us photographs and. Regular updates. We asked you to pick a dog puppy for us which we were going to call Barney. We collected Barney from you on the 18th August and have now had him for a week. Freddie and Barney are already the best of friends. He is full of mischief as you would expect but is a lovely puppy. Hazel an I would like to thank you for all your help and also to compliment you on the outstanding condition of your kennels and the marvellous way your puppies are cared for. We have recommended friends to you in the past and will have no hesitation in doing so in the future. Hazel and I would not buy a puppy anywhere else. Thank you once again for breeding such a wonderful puppy.
Yours sincerely Hazel and Tony Andrews
---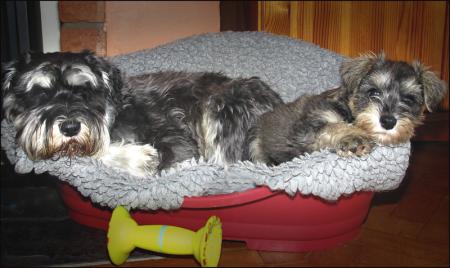 Dai & Caroline - 18th Aug '12
Fishgaurd
Hi Hugh and Family Just a few words to let you know that solo is growing into a fine and beautiful dog. He's full of mischief and gets on so well with Chewy and our cat Fudge, giving them 'hell' at times. We'd like to say how impressed we were with your kennels. Your standards, attention to hygiene, and the puppy's welfare is exceptional. We will not hesitate to recommend you to our friends. We are so glad that we saw your website after a long search for another Schnauzer. You are by far the most caring kennel person we have come across. You can be rest assured that Solo will be spoilt rotten.Many thanks, Dai, Caroline, Solo, Chewy and Fudge.
---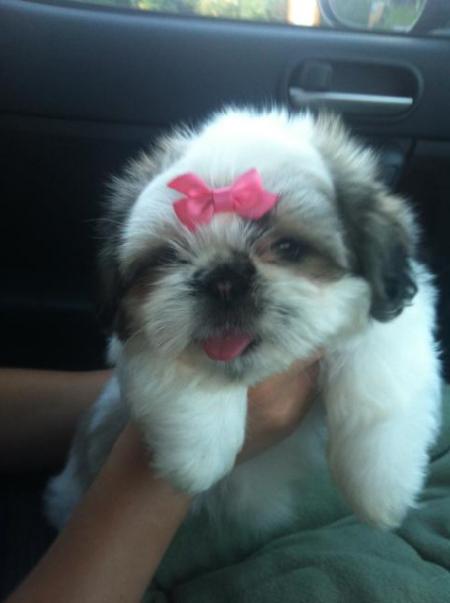 Sacha - 10th Aug '12
Bristol
Hi, just wanted to say a big thank you for my lovely new puppy she is doing great. She already uses paper for her toilet needs without any accidents (so proud). We have her booked in this saturday for her second jabs. She really is fantastic in every way especially with the children! My persian cat has adopted her and they play together throughout the day and she sleeps in her crate at night in her leopard print bed lol. I have attached some pics of her and will keep in touch as she gets bigger.
Thank you once again. Sacha
---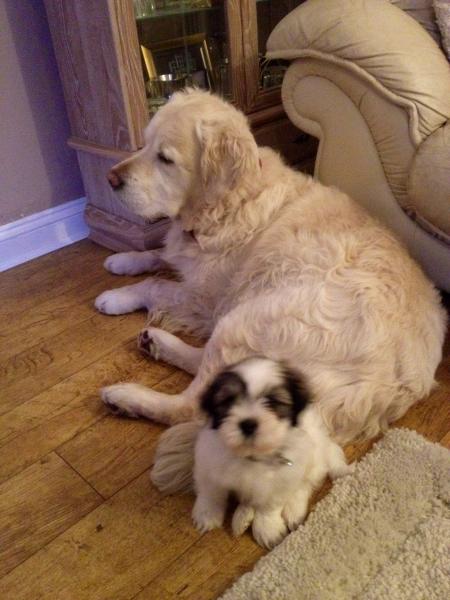 Geraint, Bev, Darien & Keely - 4th Mar '12
Torfaen
Just thought that we would let you know how we are getting on with our new Lhasa Apso pup (purchased on 28th January 2012).
Harley is doing really well and has settled in to our family, he is a happy little dog who loves his food and his walks. He absolutely loves our other dog a very large Golden Retriever and copies everything he does. For a little dog he has a big personality!!
My daughter found your website and chose the pup she liked the look of. We initially had some concerns due to some previous negative publicity regarding certain kennels in your area. However upon visiting your kennels we were immediately reassured once we had met you and your family, in such a lovely location. We were shown the puppies and their living conditions which were excellent and we met the parents of the pup. We were also impressed with how organised everything was, all the paperwork was ready, first few weeks insurance arranged, injections given and we were even provided with puppy food ,We would highly recommend you to anyone looking for a healthy happy puppy.
Our puppy Harley is a delight to have around and is full of life and a great new addition to our family.
---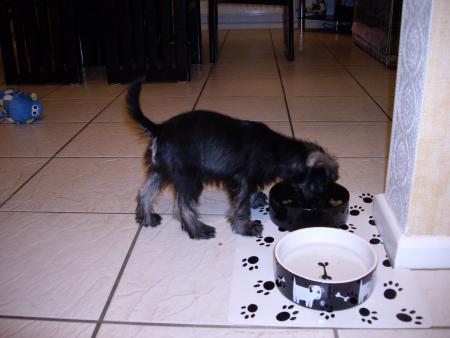 Karen Tebble - 22nd Feb '12
Lancashire
Hello Hugh
Look at my new home it's hard trying to find a particular toy when they are in every room! All these new friends and toys etc makes me tired.. I went to the vet for my second vaccination yesterday and got microchipped too, I was so good I did not even flinch. I am going back to the vets a week on Monday for a puppy party so I can get treats and meet other puppys. I will also be joining puppy class on wednesdays so I have a great social life.
Love from
Molly x
Hugh thank you so much for our little treasure she is delightful, I have recommended you to lots of people and whoever reads this please be reassured my pup was bought from a most caring kind owner. I viewed all the much loved and very well cared for dogs at Brooknant and can highly recommend it.
Kind regards
Karen Tebble
---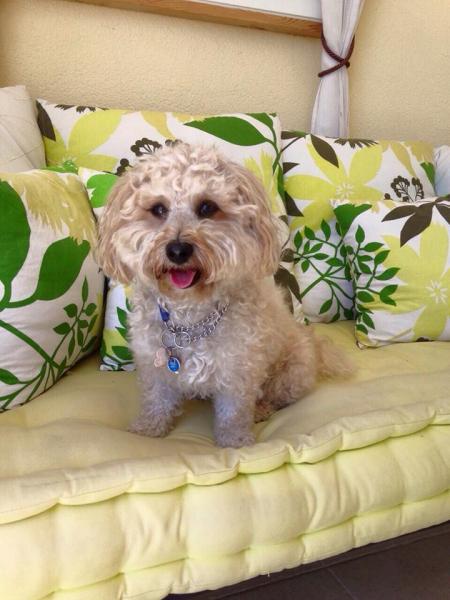 Astrid Danielle Morgan - 18th Feb '12
Cardiff
We were very impressed by the professionalism of your approach from the point of first contact, through to the collection of "Barti".
Your advice and follow-up were first class, along with the detailed information pack you provided, listing inoculations, feeding and subsequent vet visits. We should note that on Barti's first visit to the vet for a check-up, he remarked that he had clearly come from a caring and professional breeder.
Cleanliness and well-being is obvious for all to see at your kennels; so, on our experience thus far, we can only recommend Brooknant in the most positive terms.
Thank you very much Hugh it was a Pleasure to deal with you.
---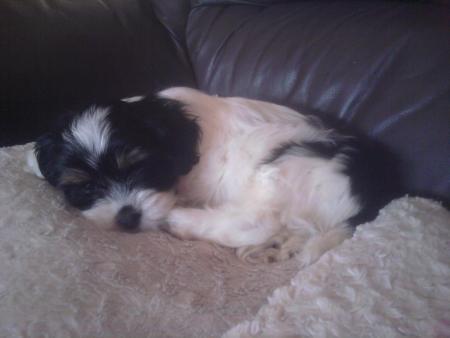 Tracie & David - 3rd Feb '12
Worcestershire
The breeder is very friendly and trustworthy.The Kennels are very clean and homely for the puppies.We travelled from worcestershire to Carmarthen to collect our little Megan.
I would recommend Hugh Davies (breeder) 100%.
---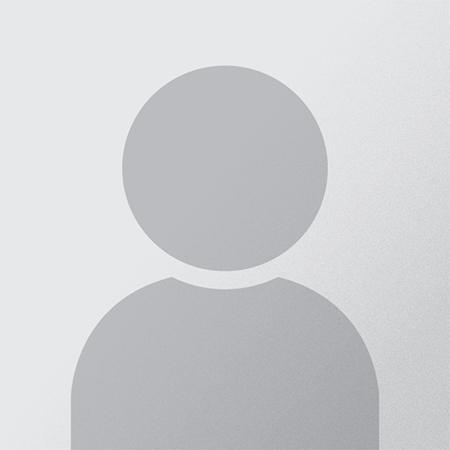 Robbie - 8th Jan '12
Just thought Id send you a quick email to let you know how "Sydney" is getting on. I've got to say that she is the best money I've spent in along time, and I know it's only been 4 weeks but we honestly couldn't be without her now! I've been taking her for walks and she's brilliant even off the lead! I'm amazed how quick she picks up commands.The only bad point is that when I was leaving the house on Thursday to go offshore I found it harder to leave Sydney than i did to leave my fiance! Ha ha she really is part of the family.
---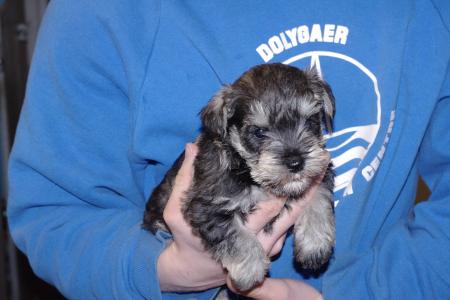 Karl Nash - 24th Dec '11
Shropshire
Dear Hugh and Family,
I just wanted to write to you to show my gratitude, for all the correspondence I have had with you prior to the purchase of my Miniature Schnauzer (Alfie), the great reception I had on collection and the fabulous after care, you gave to myself and Alfie.
Hugh thank you so much for breeding a fabulous Miniature Schnauzer puppy, which I was lucky enough to purchase from you on the 16/01/12. Prior to getting Alfie I was so grateful for all the correspondence you had with me over e-mails and very thankful for the photos which you also sent. This I found very pleasing and helpful as I lived so far away from you, in Ludlow Shropshire. I was so pleased after my decision to purchase Alfie from you to find that I was able to provide you with a deposit via pay pal; this gave me a lot of security.
On collection of Alfie on the 16/01/12, I was so pleased with how you greeted me and my friend. Can I say how we were both so impressed with the Kennels and with how the puppies are cared for. It was so nice that you showed us around, also introducing us to Alfie's parents. The kennels were very clean and dogs looked very happy.
The Warm welcome into your home after our long journey that day to collect Alfie was very much appreciated. It was so nice to finally sit and not feel rushed, going through the relevant paper work with you. Oh and meeting Gwen!
The Aftercare Sheet you provided has been of much help for me with Alfie. Also the large amount of food was far from enough, before I changed him over to a different type of puppy food.
Alfie is booked into the vets for his 2nd vaccination, and my vets were so pleased to see that you provided a vaccination card with him. They also use the same type of vaccine, which is a bonus.
Alfie is now ten weeks old and is doing fabulous, growing very fast.
A very big Thank you once again Hugh and I would defiantly recommend you to any one who is looking to purchase a puppy.
Yours Karl Nash and Little Alfie
---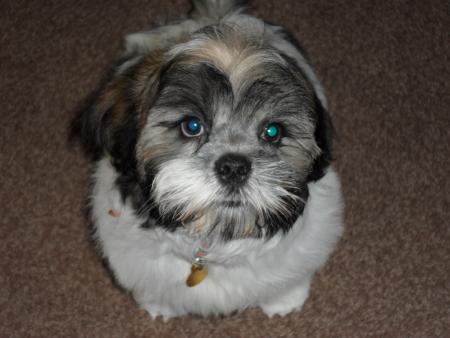 Claire, Mike, and Finley - 18th Dec '11
Thought I would write to let you know how the Lhasa pup was doing....Well we have named him Rufus and he is a right bossy boots, he likes to have the last word/bark, and grumbles when he sees his harness for walks. He is a very funny dog, my other dog chewy absolutely adores him as soon as we bought him home he was mum. He is fit and healthy and got all clear from vets, so I cannot recommend you enough when someone asks where I got him from. Photos are attached so you can see for yourself how big he has grown, and if I ever want another dog I will come straight to you, We are so happy with him and love him to bits, I hope you have a Merry Christmas and Thank you again for making my family complete.
---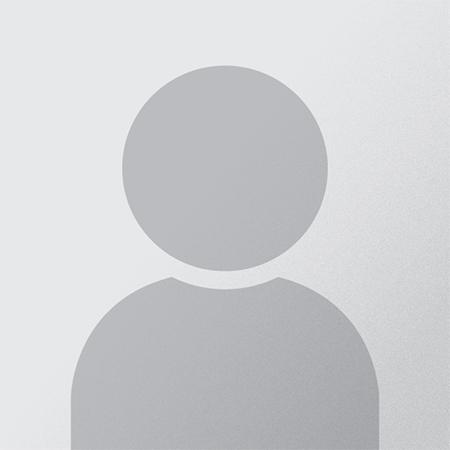 Jean & Brian Norris - 7th Jul '11
Heathrow
This is a recommendation for Mr Hugh Davies, Dog Breeder, of Nant, Carmarthen Jean & I are now retired, having dogs continually for well over 45 years. When our Westie Ben, left us very suddenly in March, we were lost with out him and decided that we should find a little girl. We trawled the Internet and located Mr Hugh Davies's web page. At first, we were concerned about Welsh puppy farms, but decided to give this breeding kennels, a ring, after obtaining a good report from the licensing authority, and how pleased we were to have done this! We enquired about a Wee-chon bitch and were told that Mr Davies did not have a pup for sale, but he was mating a pair at present and a bitch pup should be available in August. As this suited us, we asked if we could be placed on the order book which Mr Davies was pleased to do. We kept in touch and were told, mum was expecting, and should give birth, the end of May, which she did. We live near to Heathrow, but wanted to visit our little girl when she was four weeks old, an eleven hour train journey for us, and asked if we could come down. Mr Davies said that this would not be a problem and welcomed our visit, and an appointment was made for us. We were met, at the station, by Mr Davies and taken to his breeding kennels. What we found was an ideal setting with a purpose built, small, but very clean, kennel block. Mr Davies had other breeding families of mums and puppies of various small dog breeds and we were shown these. What very much impressed us the most, was the affection shown by Mr Davies to his families and this affection being returned by all his mums, who all seemed to know and trust him, very well. We were encouraged to handle our four week old little girl and to take as many photos as we wanted. We have another eleven hour journey to collect her and cannot wait. We thoroughly recommend any dog lovers wanting a small cute puppy, to get in touch with Mr Hugh Davies, you will not be disappointed.
---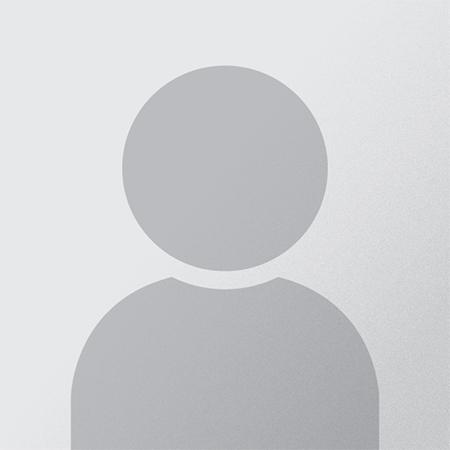 Anonymous - 1st Oct '03
I am writing to say how pleased i am with he Miniature Schnauzer i bought from you in October 2003. I could not of asked for a better dog.
She is a really beautiful dog and we get stopped and complementary remarks made about her wherever we go. Her colour markings and soft coat make her look so pretty.
She has a wonderful nature about her and just loves people and other dogs. She's always active and ready for anything i want to do.
I just took her on a weeks holiday with me, driving around touring, and although she is only 10 months old she behaved very well and enjoyed driving around meeting lots of people and staying in Lodgings.
I thank you for the wonderful companion i got from you. She's the best there is.
---
Submit a Testimonial