Testimonials
Submit a Testimonial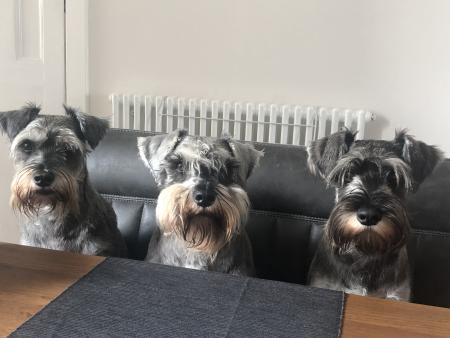 Donna Davies - 1st Sep '19
Swansea
Dear Hugh
We just wanted to say a big thank you for the wonderful 3 boys we have. Jack who is 7 this year, David who is 6 and Bobbie 6 months old all coming from your kennels. You breed such amazing puppies who are so happy, healthy and strong with amazing temperaments - we definitely would not go anywhere else, we were impressed from the time we picked up Jack 7 years ago and it was never a choice to go anywhere else when we decided to have another and then another!
Our 3 boys are amazing, all have different characters and personalities and all are very loving, they fill our lives with their unconditional love and affection. When we are out with them we often get complimented on how lovely they all are and we always tell people where they came from - we can't recommend you enough.
So thank you Hugh for our 3 gorgeous boys
Donna & Glyn Davies (Swansea)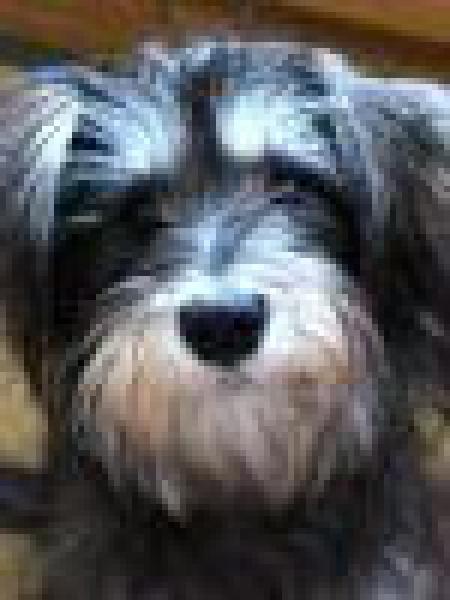 Lorraine and Ken Brown - 25th Feb '17
Carmarthenshire
Hi Hugh, just to let you know Blodwyn is 1 today , she has changed our lives totally , she's a lovely playfull dog, and friends with everyone a real pleasure to be around.
Your pups are a real credit to you and I would highly recommend you to everyone, thanks again Hugh
---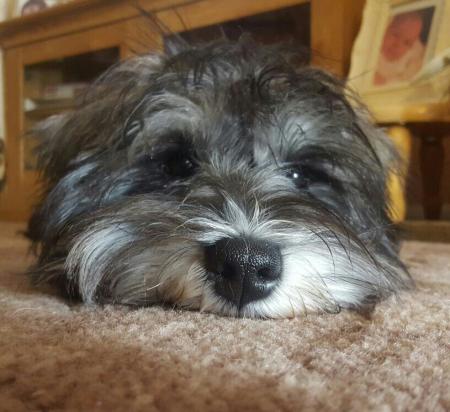 Marmite - 18th Feb '17
surrey
Hi Hugh
just thought you would like to know how I'm getting on..I'm now five months old weigh 7.64kg.
very happy in my home,get on with everyone..
Marmite will sit and stay on command, house trained by the third week of coming home. our vet is very happy with him. loves playing fetch.
definitely the best dission we made, has brought a lot of joy and happiness to the whole family.
---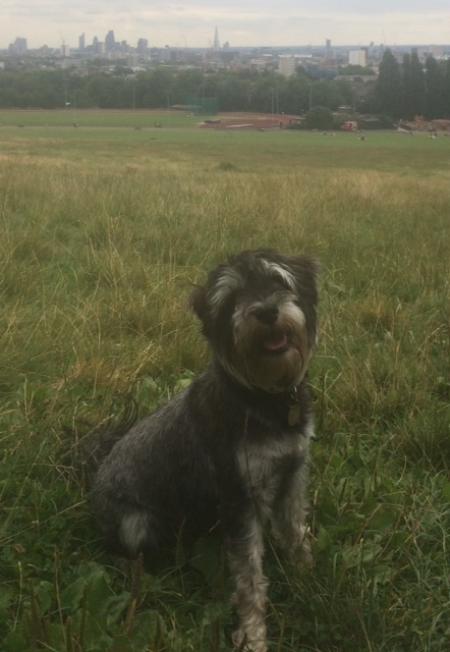 Jane Morley - 16th Feb '17
London
Dear Hugh,
We purchased Rudy from you in December 2015 and I just thought I would drop you a line to let you know how amazing he continues to be.
He is by far the most attractive Mini Schnauzer in these parts and continues to be the perfect dog - funny, intelligent, kind, sociable and very well behaved. He recently had his annual vaccination booster and was pronounced fit and well by our vet. He really is an absolute joy to have around. I would have absolutely no reservations about recommending you to anyone wishing to purchase a Miniature Schnauzer.
.
---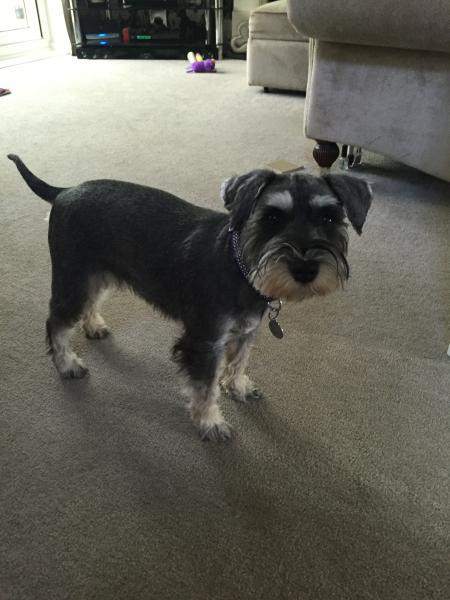 Karen and Andy - 4th Feb '17
Worcestershire
In August 2015 we met Hugh, who in an instant changed our lives. We fell in love with a miniature schnauzer called Izzy. She is playful, loving and beautiful. We could not be without her. Thank you Hugh.
---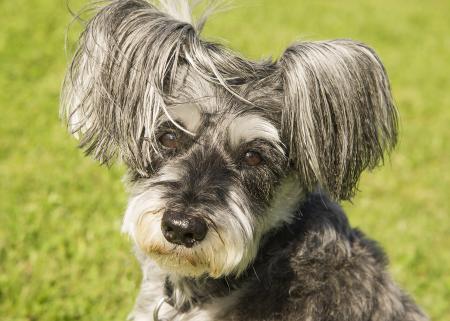 James - 2nd Feb '17
Worcestershire
In 2006, I took home Ellie the mini schnauzer home from brooknant kennels, she was really good on the long trip back home and settled in at home very quickly. She turned into such a pretty girl and very friendly with everyone. We have had great 10years+ together... She has won several 1st places in 'prettiest bitch' class at a couple of local fun dog shows I recommend Hugh and brooknant kennels. thankyou
.
---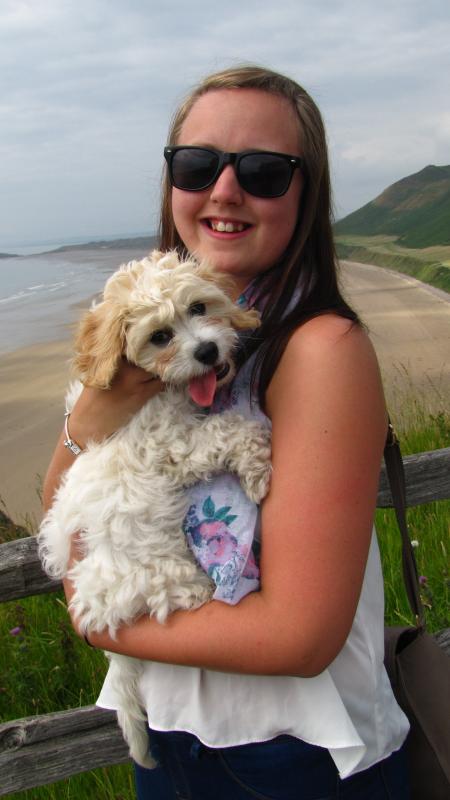 Hayley and Chris - 15th Dec '16
Newport
I can't believe it's been almost 2 months since we collected our little Toby from you! I thought I'd let you know that we're getting on excellently and Chris and I couldn't be happier with the new addition to our family. Toby settled in so well and within just 2 nights he was sleeping right through with no crying or accidents! He is such a little character who is always keeping us amused, I must say! Toby is popular with everyone and he can't get enough fuss and cuddles off the people he meets (including the vet)! As you can see from the more recent pictures i've attached, he has grown lots since he came home with us! We've got our final puppy training class and first visit to the groomers to look forward to this week. So many exciting milestones that we're just loving! I've found that a lot of people ask where we got our gorgeous puppy from and I am only too happy to recommend you as a breeder as we are so pleased with our healthy, happy and friendly little boy!
---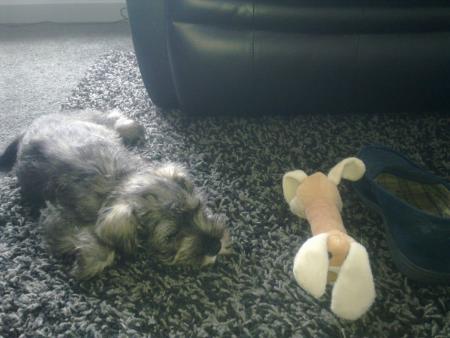 Julia Farnsworth - 17th Oct '16
Skipton in Lancs
Good afternoon Hugh
We just wanted to let you know how fantastic baby 'Eric' is getting on with his new family. We bought him from you on the 12th April, driving across from Skipton in Lancs.
We have now had Eric a month and he is a truly beautiful little dog. Very healthy, happy and intelligent. He is great with his walks and has a healthy appetite. Upon a health check recently, he was pronounced fit and healthy by the local vet. he sleeps all night long without a peep, is almost house trained and just wants to be around people.
We are absolutely delighted with him and want to thank you for your lovely, friendly and informative professional services.
Hope things are going well for you and will certainly recommend your business to anyone interested in purchasing puppies you specialise in.
Eric is on the left of the picture!
Julia Farnsworth
---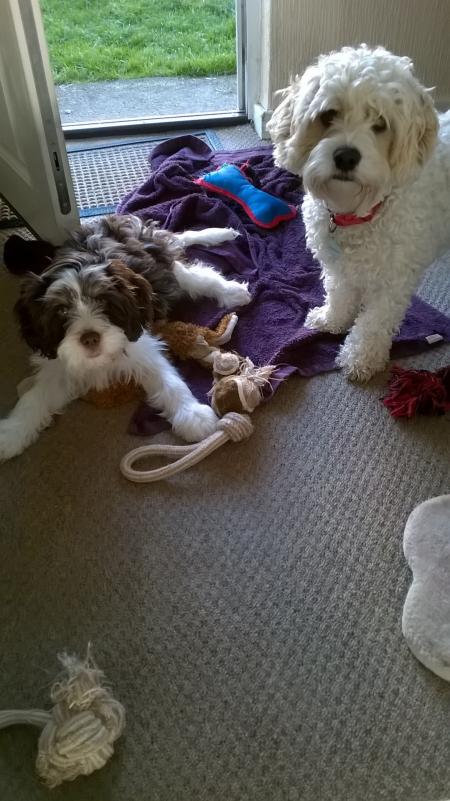 Andrea Hill - 16th Sep '15
Barry, South Wales
Hello Mr Davies
Just thought i'd drop you a little email to let you know how my new puppy Milo, (brown and white Cavalier x Lhasa Apso purchased from you on 23/8/15) is settling in. All i can say is fantastic!! As you can see from the photos i have attached, he is doing brilliantly, getting on very well with his big brother Vinnie (Cavalier x bichon i bought from you 2 yrs ago) although, i think he is going to be a bit bigger than his big brother when he is fully grown, he is growing like a weed!!
He is developing a great character and gives lovely cwtches, both to me and his brother. I took him to my vets for a check up as suggested by you, and as expected he was given a clean bill of health. Many thanks also for keeping him with you for an extra three weeks until my annual leave began, i think this made a massive difference with his house training as he is almost fully trained in that respect. I can't thank you enough for this wonderful addition to our family. Once again it was a pleasure doing business with you, best wishes to you and your family.
---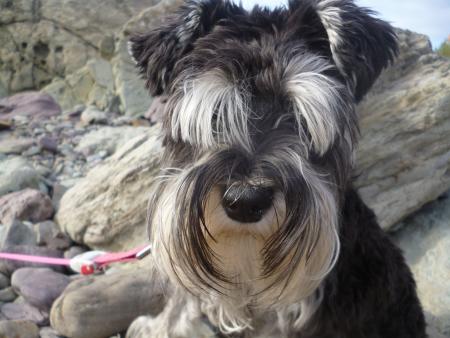 Ange & Andy Gregory - 9th Sep '15
Bristol
Hello Hugh, With Floss' first birthday coming up tomorrow, I thought you might like an update on how she's doing. In a nutshell, she's one of the best things that has ever happened to us! She's affectionate, funny, respectful, adaptable - all rolled into one. She's great with young children and knows instinctively who in the family is good for playing with, chasing, cuddling and who to be slightly wary of! We've taken her to stay in holiday homes in Devon and Cornwall, where she has adapted to new surroundings brilliantly and has never damaged or soiled in anyone's houses. She became house-trained very quickly and still uses her crate to sleep in. You may remember that our daughter was rather wary about the news we were getting a dog - well they are absolutely besotted with each other! Our 2 teenage boys love her to bits too - the feeling is mutual. She gets a lot of admiring comments wherever we go, both when she is smartly groomed and when we let her fur grow longer and scruffier. We don't expect she'll grow much bigger now, which is fine and probably reflects her tricky early weeks of being adopted by your spaniel. She has been healthy all year. The only minor worry we had was when she ate half a fruit scone and needed the vet to take action in case she became unwell. Oh, and she quite likes chewing plastic, e.g. arms of reading glasses, doll's legs!! If you hear from anyone else who bought pups from her litter, we'd be really grateful if you could forward our details to them so we can compare notes!
Many thanks and hope things are all good with you.
Best wishes
Ange & Andy Gregory
---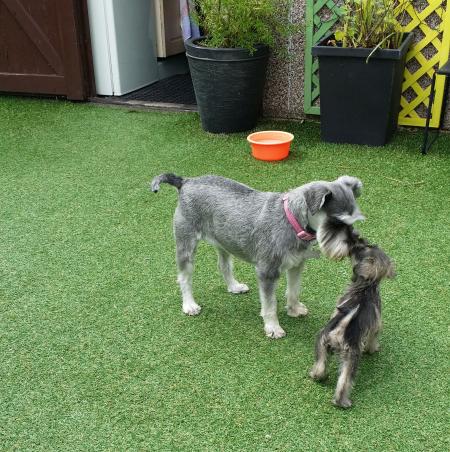 Karen Tebble - 28th Aug '15
Lancashire
This is me playing with Molly my big sister. I settled in straight away and I love my new home From Jess
Hi Hugh
Puppy was great travelling home, which took us around 6 hours and settled in straight away just as Molly did 3 years ago. It was good to see you again and all the happy puppies and totally content Mum and Dads. It's clear they still all adore you and plain to see you are the same with them. Please feel free to put this letter on your testimonials and should anyone have any doubts then give them my phone number for the reassurance that if they are looking to purchase a pup, then they are guaranteed to get a healthy happy sociable little family friend from you. It is a very long way to travel for us but that's what you do to get the best.
Kind regards
Karen Tebble
---
Show All Testimonials
Submit a Testimonial