Testimonials
Submit a Testimonial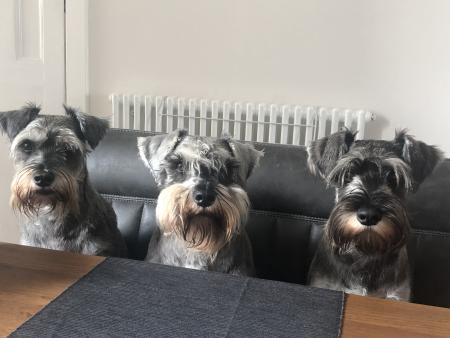 Donna Davies - 1st Sep '19
Swansea
Dear Hugh
We just wanted to say a big thank you for the wonderful 3 boys we have. Jack who is 7 this year, David who is 6 and Bobbie 6 months old all coming from your kennels. You breed such amazing puppies who are so happy, healthy and strong with amazing temperaments - we definitely would not go anywhere else, we were impressed from the time we picked up Jack 7 years ago and it was never a choice to go anywhere else when we decided to have another and then another!
Our 3 boys are amazing, all have different characters and personalities and all are very loving, they fill our lives with their unconditional love and affection. When we are out with them we often get complimented on how lovely they all are and we always tell people where they came from - we can't recommend you enough.
So thank you Hugh for our 3 gorgeous boys
Donna & Glyn Davies (Swansea)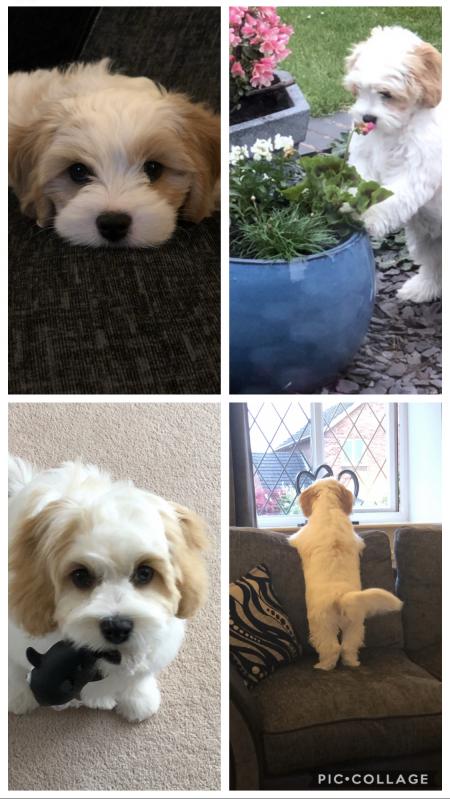 Lisa and Alan - 15th March 2019 - 16th Aug '19
Worcestershire
This is Rocky our Cavachon.
Well what a cheeky, loving, mischievous puppy we have. Rocky is everyone's friend, everyone stops to talk to him on walks commenting that he is like a teddy bear. He absolutely adores our Daughter (7) and he also loves her my little ponies and runs off with them. Everyday he makes us laugh. He loves looking out the window and the neighbours all wave to him. We have the best little puppy who is full of character and gets up to some sort of mischief most days...shoes are his thing lol.
We've had him groomed in the puppy cut and he is still as cute as when we first saw him.
I definitely recommend Huw to buy a puppy from and Rocky was so worth travelling for. The journey back was no problem, he sat on my lap all the way home and slept straight through the night from day 1.
---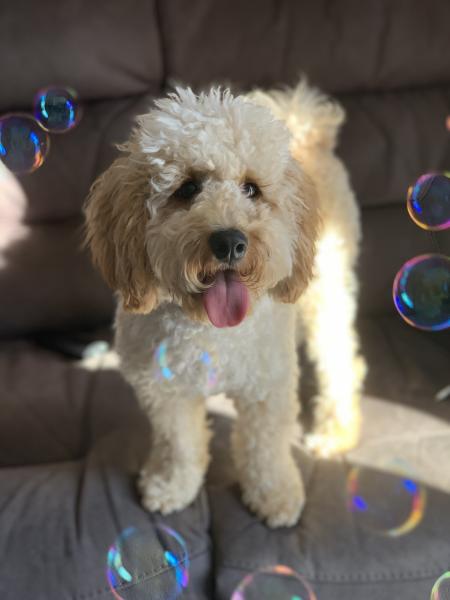 Louise - 11th Aug '19
Bristol
Rodney is a nearly 9 month old Cavapoochon and we can't imagine life without him! He is full of character and is extremely cheeky yet loves nothing more than a cuddle. Huw answered all our questions and provided all paperwork for our pup. Highly recommend!
---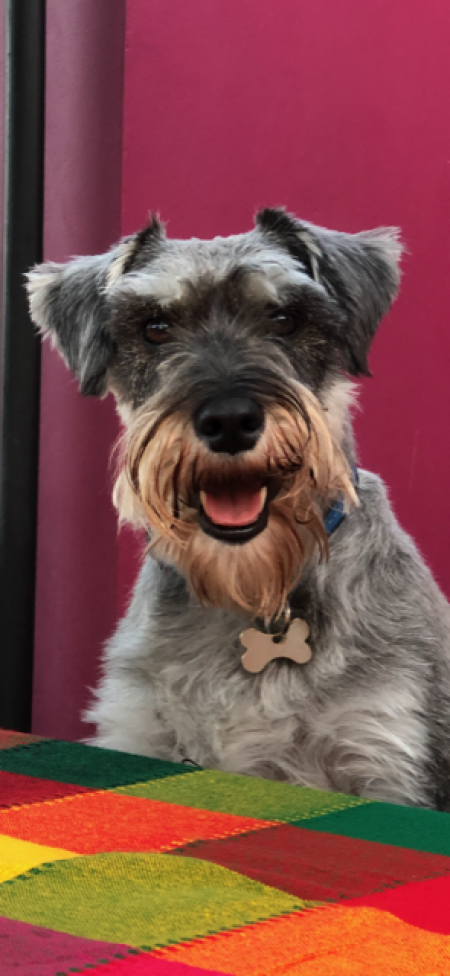 Paul Roberts - 30th Jul '19
Cardiff
Dear Huw, well it's almost 3 years since we collected 'Brooknant Bazilion' (Bazil) and I just wanted to let you know how's he's been getting on!
Bazil is awesome! He has brought my partner and I nothing but joy since the moment we collected him. He's funny, full of life and makes us laugh every day. We're never alone as he loves to be with us and has a tendency just before bed time to sneak upstairs and lie (as flat as possible) on the bed in the hope he can stay the night!
The regular walks help keep us all fit and he's proved relatively easy to train as he's quite good orientated.
I'd recommend a miniature schnauzer to anyone and everyone as the joy they bring is beyond measure. Without doubt the best thing we ever did..
Best wishes for the future and thanks for making our family complete...
Paul
---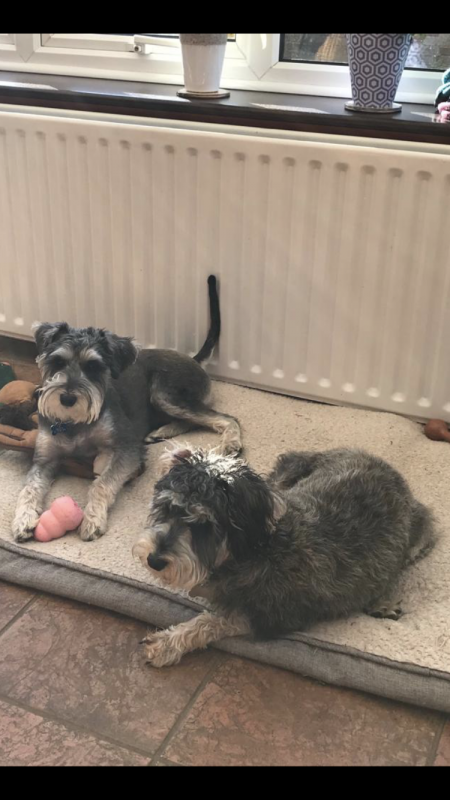 Liane marsh - 6th Jul '19
West Midlands/Bedfordshire
Hi huw, here is Jenson (on the left) and teddy his brother, celebrating their 1st birthday, they're full of character and energy but wonderful dogs (schnoodles), our families maybe be a few miles apart but we meet up every few months. Thank you again huw for our wonderful boys. Xx
---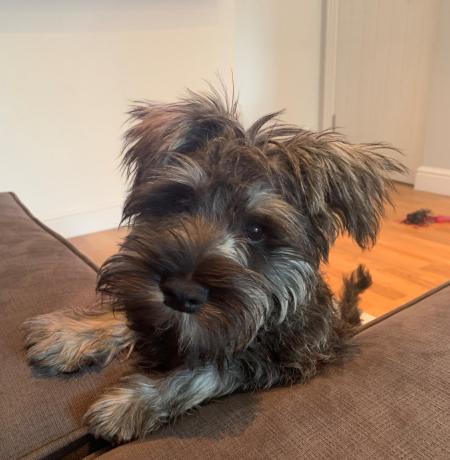 Bonnie Gibson - 3rd Jul '19
Hampshire
This is our new member of the family Bertie who is now 4 months old!
From the minute we collected him from Huw we new he was going to bring so much joy.
He is a loveable cheeky character who has brought so much love to our family. We can't imagine life without him.
---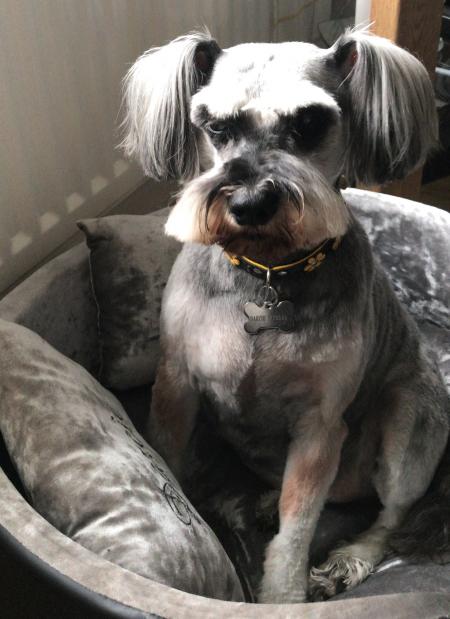 Sharran - 5th Jun '19
Lancashire
My little girl Darcie is 10 years old today ..... and 10 years of joy she has brought me
Thank you Huw
---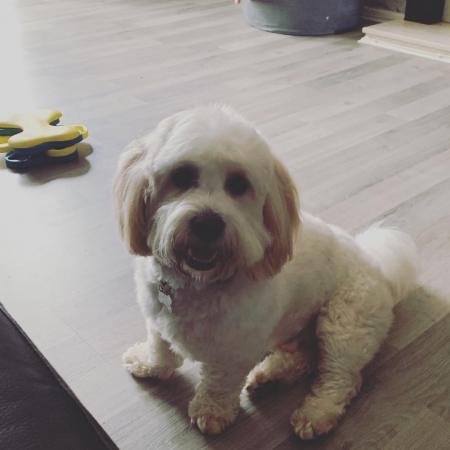 Jennifer - 14th Apr '19
Cardiff
We bought Elvis (Cavachon Puppy) in May 2018. Hugh was great and informative. Elvis was kept in great conditions and he was happy and healthy. Elvis is 1 now and we have had no issues with him. He is a happy playful dog who is friendly with kids and other dogs. He is a little character. I would recommend Brooknant Kennels.
---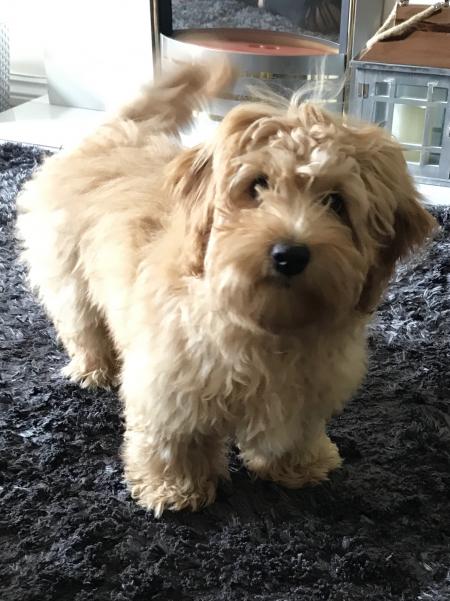 Lisa Clarke - 10th Mar '19
Merthyr Tydfil
This is Ollie the Cavapoochon who is now 4 months old and is doing very well. Ollie has settled in with the family and our daughters love him to bits. Ollie is very playful and loves nothing better than to play ball in the garden, run around with the many children in the family, and go for walks in the parks and fields. Ollie has bags of character and loves being the centre of attention and it's difficult to imagine family life without him.
Thank you Huw for your advice both before and after picking Ollie up. It was really important to us that we chose a good breeder who cared so much for the puppies.
---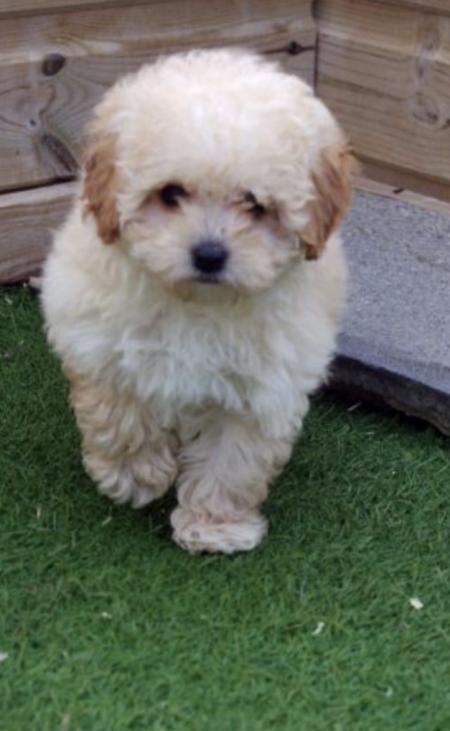 Jem Robbins - 8th Mar '19
South Glamorgan
Here he is WILSON. The gorgeous tiny cava poochon. He is absolutely fantastic, he has settled in so well, loves a cwtch.
Everyone he meets they all fall in love with him.
Hugh was great, excellent communication and an honest genuine man.
The kennels were spotless and paperwork with free insurance and puppy food was a lovely touch.
5* The Robbins family
---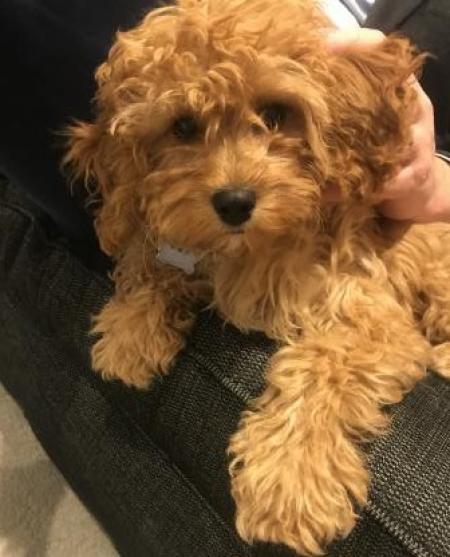 Sarah Hughes - 14th Feb '19
South Glamorgan
Here is Mabel at four months old! The whole family are loving our new member and we are all sharing the responsibility. She has been amazing and has been easy to settle her in. Thank you Huw for all of your help and advice and for answering all my emails over the last year! Sarah, Rich, Ronnie, Hilda and Arthur
---
Show All Testimonials
Submit a Testimonial