Testimonials
Submit a Testimonial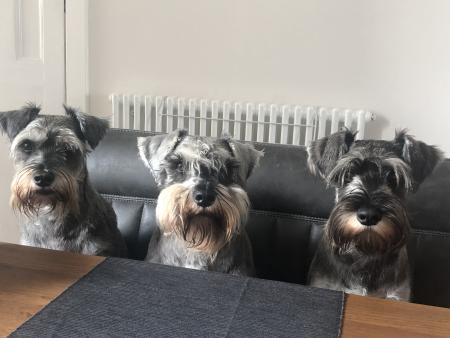 Donna Davies - 1st Sep '19
Swansea
Dear Hugh
We just wanted to say a big thank you for the wonderful 3 boys we have. Jack who is 7 this year, David who is 6 and Bobbie 6 months old all coming from your kennels. You breed such amazing puppies who are so happy, healthy and strong with amazing temperaments - we definitely would not go anywhere else, we were impressed from the time we picked up Jack 7 years ago and it was never a choice to go anywhere else when we decided to have another and then another!
Our 3 boys are amazing, all have different characters and personalities and all are very loving, they fill our lives with their unconditional love and affection. When we are out with them we often get complimented on how lovely they all are and we always tell people where they came from - we can't recommend you enough.
So thank you Hugh for our 3 gorgeous boys
Donna & Glyn Davies (Swansea)
Tracey Slee - 23rd Aug '20
Just wanted to say that we have had our cockapoo, Max now for nearly a year and this week he celebrated his 1st birthday. He is such a fabulous dog with an amazing character, thank you
---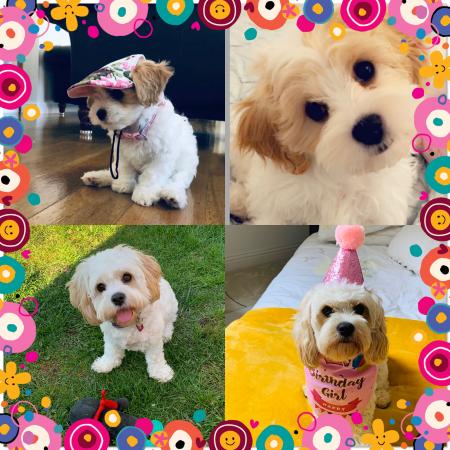 Charlie - 13th Aug '20
Kent
Hello Hugh,
This is Winnie, she celebrated her 1st birthday on the 8th of June! I can't believe we've had her for over a year now, wow how time really does fly! She is the best thing that has ever happened to me and my family. She has brought so much joy to our lives even if she is a little diva haha! Winnie has got so much energy, she loves playing ball, searching for sticks, stealing our socks and hiding them in the garden, going for walks and watching dog TV on YouTube! She is amazing with other dogs, shes so sociable, she absolutely loves people! Although Winnie can be a little pickle from time to time, she is always making us laugh and we wouldn't have her any other way! Thank you so much for everything, you really was amazing!
Best wishes,
Charlie
---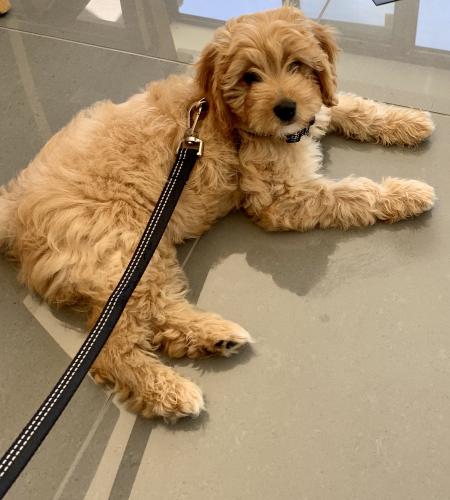 Rhys Williams - 31st Jul '20
Cardiff
Thank you so much, Hugh, we picked up our Cavapoochon Penny just over 2 weeks ago. She has such a lovely temperament and has settled into our family so well. This was our first puppy and have to say she has taken to toilet training with ease and sleeps through the night. She is a bundle of joy and we can't imagine life without her.
---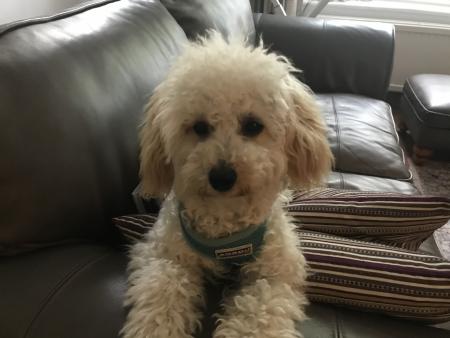 Chris Casey - 10th Jul '20
Weston-Super-Mare
This is Poppy, my ten month old Poochon. She has been the best company while I've been shielding. Everyone loves her and my neighbour was delighted to take her out for walks when I couldn't. Her children adore her. Poppy has the most lovely nature. She loves everyone. She is also a very funny little character who loves burying everything in the garden and often comes in with a black muddy nose. I can't imagine life without her. She's a delight. Thank you Hugh
---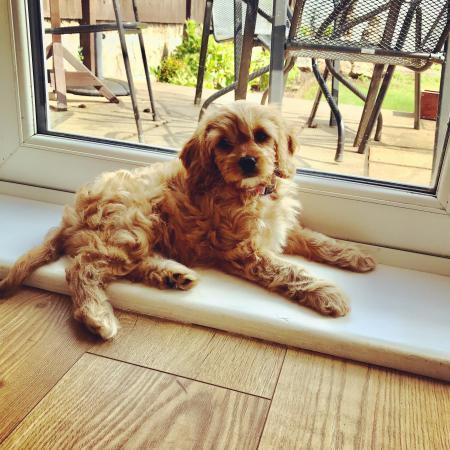 Andrew - 21st Jun '20
Cardiff
Just want to say a big thank you to Hugh! We picked up our Cavapoo puppy last week and she is absolutely gorgeous. She has the best temperament and has settled into our family perfectly. Hugh was really reassuring during the whole process, sending us weekly photos and videos of our puppy, given that we couldn't visit due to Covid-19. All paperwork was provided and Pepper has taken to house training really well. Thank you again!
---
Devan Hogan - 12th Jun '20
London
We could not be happier with our fur baby Buster the Cavapoo! He's the happiest pup in town and our family absolutely adores him. He's a well behaved and playful boy who took to toileting and crate training quite easily. He enjoyed his time at puppy school and absolutely loves meeting other dogs at the park. We could not recommend this breed and Brooknant Kennels enough!
---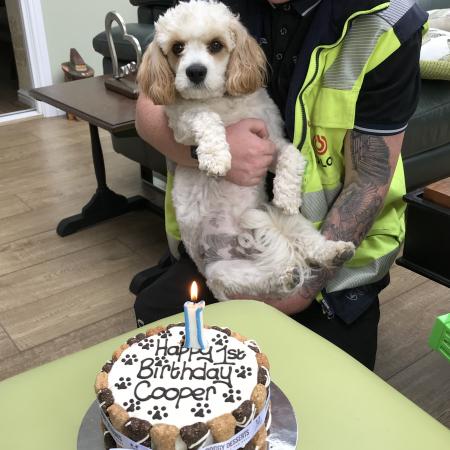 Keith & Claire Thomas - 8th Jun '20
Neath
Hi Hugh , Cooper is 1 year old today. How time has flown. Cooper has fitted into the family brilliantly and has changed our lives. He is so loving and affectionate and everyone absolutely adores him. Thank you for making it happen 12 months ago and we regularly recommend you to family and friends. Lots of love from us and Cooper. Diolch
---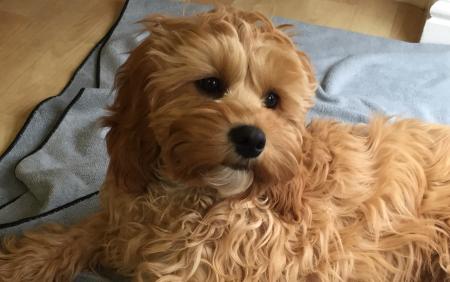 Claudine Meyrick - 17th Apr '20
Gwent
Hi Hugh,
Just wanted to say how well Milo has settled into our family he is a bundle of joy.This was our 1st ever puppy and have to say he as been so easy with toilet training and even slept the 1st night and is always happy and constantly wagging his tail at everyone we meet on our walks.Many Thanks the Meyrick Family.
---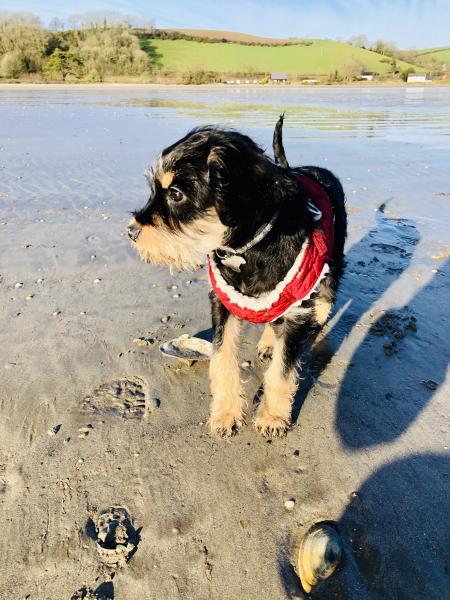 Angeliki Karatasiou - 1st Apr '20
Carmarthenshire
Dear Hugh
Our beautiful King Schnauzer boy, Django will soon be 6 months old!
He instantly became a member of the family and we love him to bits.
He is super cute, cuddly, playful and very smart.
We can't thank you enough for bringing him into our lives.
Love
Angela, Costas, Anna, Mary
Rhydargaeau
---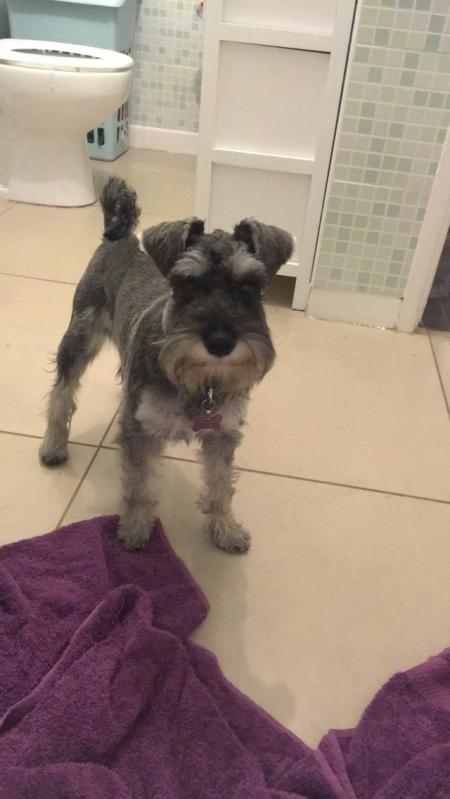 Cath Randell - 29th Feb '20
Mid Glamorgan
Dora our 6 month old mini schnauzer has changed our lives! An awesome pup from a top class breeder. Would throughly recommend Brooknant to anyone thinking of buying a pup. She had been weaned and well socialised when we picked her up. She enjoys every new experience and is of the most gentle but fun loving temperament. She is fit and healthy and we adore her!
Thank you Hugh
---
Show All Testimonials
Submit a Testimonial