Testimonials
Submit a Testimonial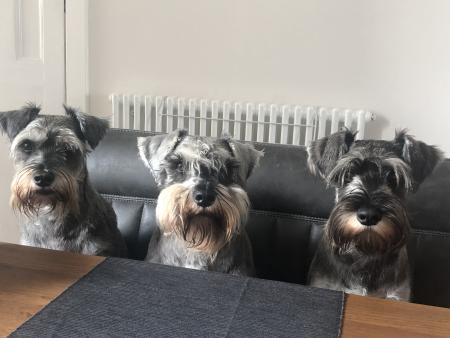 Donna Davies - 1st Sep '19
Swansea
Dear Hugh
We just wanted to say a big thank you for the wonderful 3 boys we have. Jack who is 7 this year, David who is 6 and Bobbie 6 months old all coming from your kennels. You breed such amazing puppies who are so happy, healthy and strong with amazing temperaments - we definitely would not go anywhere else, we were impressed from the time we picked up Jack 7 years ago and it was never a choice to go anywhere else when we decided to have another and then another!
Our 3 boys are amazing, all have different characters and personalities and all are very loving, they fill our lives with their unconditional love and affection. When we are out with them we often get complimented on how lovely they all are and we always tell people where they came from - we can't recommend you enough.
So thank you Hugh for our 3 gorgeous boys
Donna & Glyn Davies (Swansea)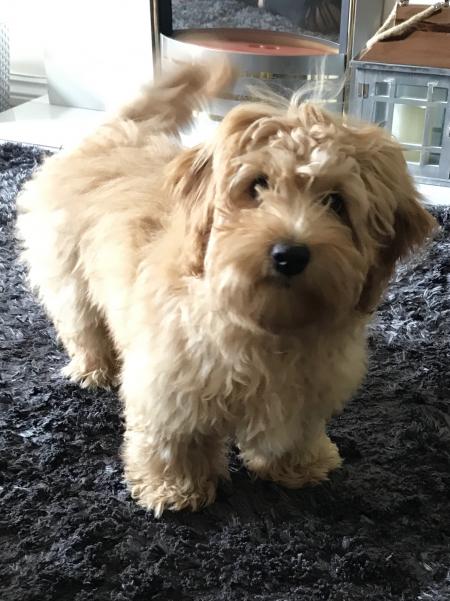 Lisa Clarke - 10th Mar '19
Merthyr Tydfil
This is Ollie the Cavapoochon who is now 4 months old and is doing very well. Ollie has settled in with the family and our daughters love him to bits. Ollie is very playful and loves nothing better than to play ball in the garden, run around with the many children in the family, and go for walks in the parks and fields. Ollie has bags of character and loves being the centre of attention and it's difficult to imagine family life without him.
Thank you Huw for your advice both before and after picking Ollie up. It was really important to us that we chose a good breeder who cared so much for the puppies.
---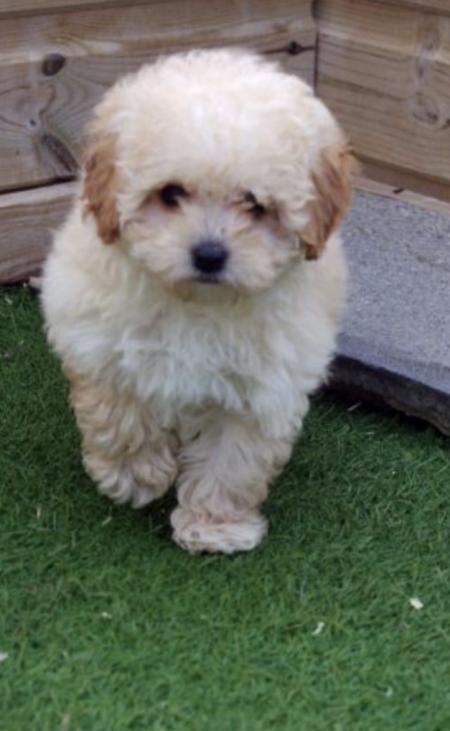 Jem Robbins - 8th Mar '19
South Glamorgan
Here he is WILSON. The gorgeous tiny cava poochon. He is absolutely fantastic, he has settled in so well, loves a cwtch.
Everyone he meets they all fall in love with him.
Hugh was great, excellent communication and an honest genuine man.
The kennels were spotless and paperwork with free insurance and puppy food was a lovely touch.
5* The Robbins family
---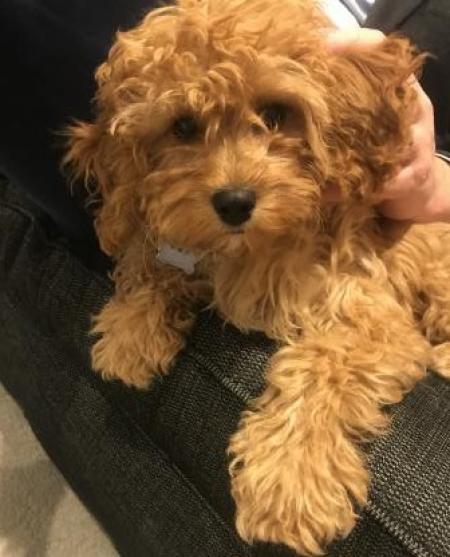 Sarah Hughes - 14th Feb '19
South Glamorgan
Here is Mabel at four months old! The whole family are loving our new member and we are all sharing the responsibility. She has been amazing and has been easy to settle her in. Thank you Huw for all of your help and advice and for answering all my emails over the last year! Sarah, Rich, Ronnie, Hilda and Arthur
---
Andy and Heidi - 28th Jan '19
Wiltshire
Can't believe that our beautiful puppies are 3 months old already! Bess and Burt have been little superstars right from the beginning and are doing great. They have settled into their forever home really well and love nothing more than running around the garden together chasing leaves. They are also partial to belly rubs and often sleep on their backs with their paws in the air. They knew and understood their names very early on and are just so content with being in our company. Training is also going well and they would just about do anything for a tasty treat. We just can't imagine life without them they certainly make our house a home.
So thank you Hugh, they are just perfect and you certainly played a huge part in that giving them the best possible start in the first 9 weeks of their lives until we picked them up early January. Thank you for all the advice too, we are very thankful to have found a breeder who not only is great at what they do but who also cares so much.
---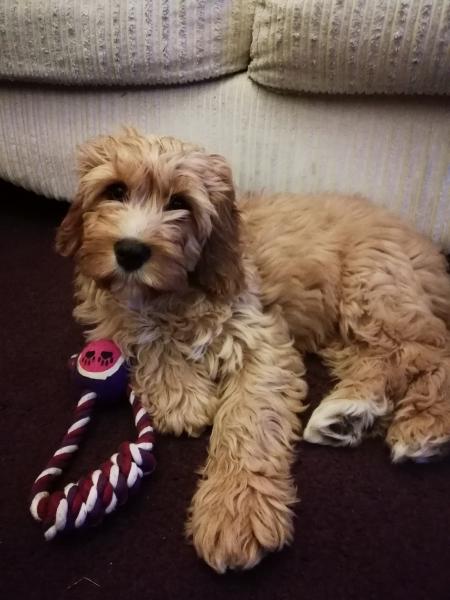 Gemma - 2nd Jan '19
Hampshire
We are totally smitten with our puppy Winston, we picked him up at 9 weeks on the 25th November and he has been a delight from day 1. He has settled in so well and has an excellent temperment, he always gets lots of attention wherever he goes! We wanted to thank you Hugh, for all of your help and advice throughout the whole process, you answered all our questions no matter how silly and made us feel completely relaxed at every stage. We don't think we could have found a better breeder or dog.
---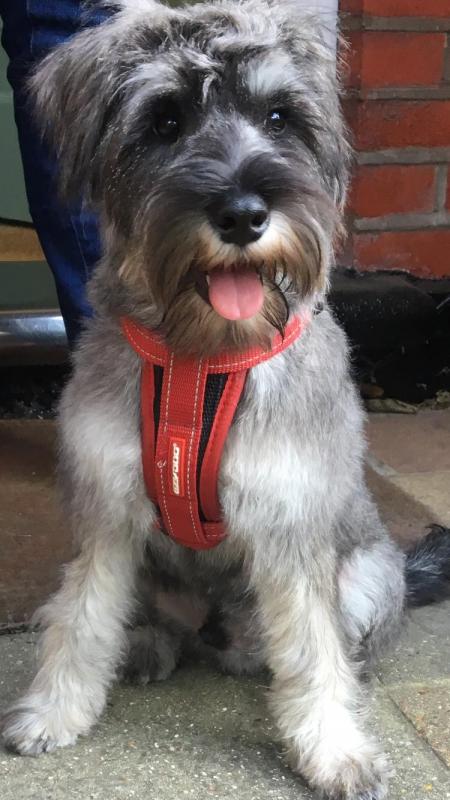 Jo and Mark Chapman - 26th Oct '18
London
Thank you Hugh for our lovely Pepper. He has settled in so well and was an instant part of the family. He has a lovely cheeky nature, is a very social dog and is settling into life in London. Thank you so much for all of your advice and help. The Chapmans
---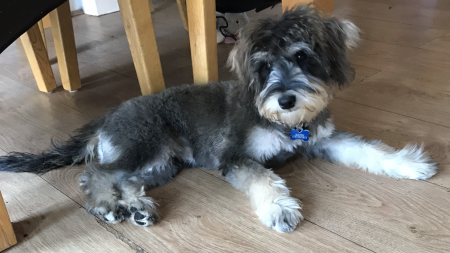 liane marsh - 19th Oct '18
Stourbridge, West Midlands
Dear Hugh,
Just wanted to show you how Jenson is doing, he's 19 weeks now, hes a cheeky chappy but very intelligent and not forgetting full of energy, he settled in straight away and fell in love with his big sister Ziggy, they go everywhere together, what a fantastic crossbreed (Schnoodle), We will recommend your kennels to all our friends when thinking of getting a puppy, we are so grateful that we found Brooknant Kennels, clean and well set up and ALL Puppies and Dogs were happy and healthy
Thank you once again Hugh xxx.
---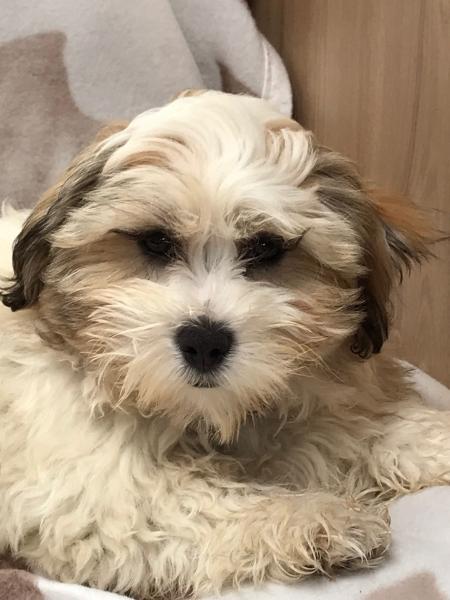 Bev & Geraint - 19th Sep '18
Gwent
Hi Hugh
Just thought we would update you on how our La Chon puppy is getting on, we finally chose a name and called him 'Archie'. We had previously bought a puppy from you nearly seven years ago, a Lhasa Apso, Harley. We decided to pay you a visit 05/08/2018 as we were in the area and had been thinking about getting another puppy. You introduced us to a beautiful litter of La Chon puppies, it was difficult to choose which one we wanted to take home but you were very patient and in the end there was something very special about the puppy we chose. Archie is a delight, he's so cute and he's like a celebrity wherever we go as there's always someone who wants to make a fuss of him and comments on his lovely long eyelashes! Archie a a playful, sociable puppy who has had a good start in his life with you and your family. Archie is getting on well with his big brother although he does tire him out as Archie is so curious about everything. We are very pleased with both of our dogs and I would highly recommend your kennels if anyone is thinking about getting a new addition to their family.
---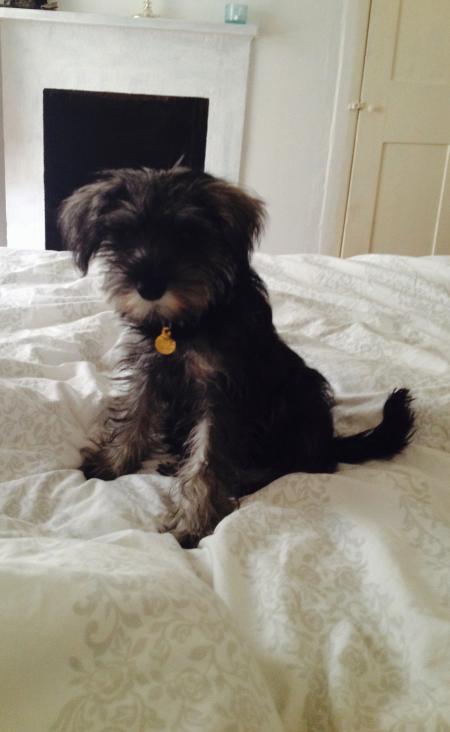 Eugene & Jennifer - 6th Sep '18
Hertfordshire
We picked up our little 'Lady' on the 7th July 2018 and we can't imagine what life was like before her. Lady was an absolute perfect angel on the 4.5hr drive home and settled in so well and easily once we got her home. She is the cutest, prettiest puppy in the world (we might be a little bias). She's healthy, happy confident and so very clever. She loves everyone she meets and even the 'not really a dog person' people think she's pretty special. We get complemented on how lovely she is wherever we go. We would totally recommend Brooknant Kennels to anyone seriously considering adding a four legged friend to the family. Lady had such a wonderful start to life at Brooknant Kennels. We are so grateful that we found Brooknant Kennels and Lady, thank you Hugh
---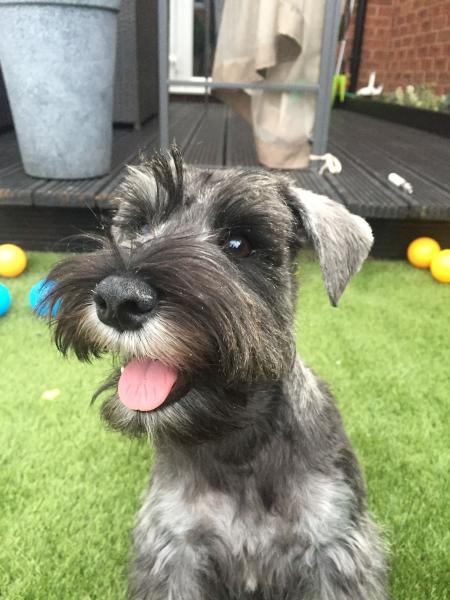 Jess Millington - 4th Sep '18
Nottinghamshire
My name is Dougie and I am now 16 weeks old. I am now living far far away from Hugh and my brothers and sister... but I am very happy and very healthy. I've been told I'm such a character and charmer and that I most definitely have a mind of my own. But my new Mum and Dad love me so very much (I'm spoilt rotten)
Hugh. Just want to say you are amazing very helpful and caring to all your extended family of pups and mummies and daddies. We are overjoyed with our new family member and cannot thank you enough for such a wonderful and happy puppy. After losing my Westie I never thought I could have another in my heart but Dougie the Miniature Schnauzer is the best medicine ever!!! Thank you and we have no objections to you giving our details to anyone wanting a second opinion on homing a puppy from you x
---
Show All Testimonials
Submit a Testimonial