Testimonials
Submit a Testimonial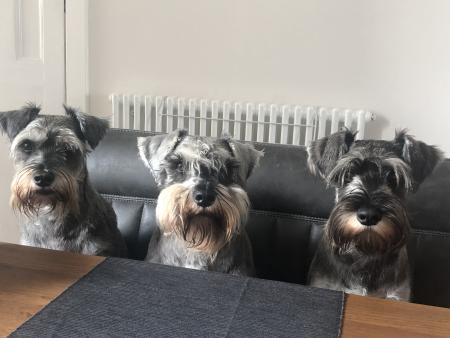 Donna Davies - 1st Sep '19
Swansea
Dear Hugh
We just wanted to say a big thank you for the wonderful 3 boys we have. Jack who is 7 this year, David who is 6 and Bobbie 6 months old all coming from your kennels. You breed such amazing puppies who are so happy, healthy and strong with amazing temperaments - we definitely would not go anywhere else, we were impressed from the time we picked up Jack 7 years ago and it was never a choice to go anywhere else when we decided to have another and then another!
Our 3 boys are amazing, all have different characters and personalities and all are very loving, they fill our lives with their unconditional love and affection. When we are out with them we often get complimented on how lovely they all are and we always tell people where they came from - we can't recommend you enough.
So thank you Hugh for our 3 gorgeous boys
Donna & Glyn Davies (Swansea)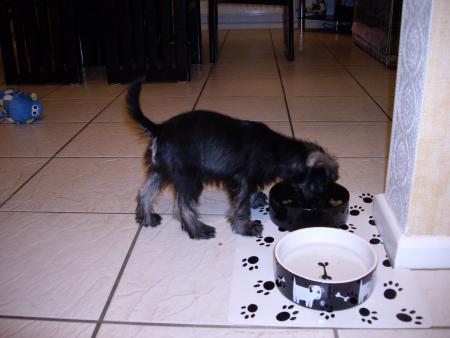 Karen Tebble - 22nd Feb '12
Lancashire
Hello Hugh
Look at my new home it's hard trying to find a particular toy when they are in every room! All these new friends and toys etc makes me tired.. I went to the vet for my second vaccination yesterday and got microchipped too, I was so good I did not even flinch. I am going back to the vets a week on Monday for a puppy party so I can get treats and meet other puppys. I will also be joining puppy class on wednesdays so I have a great social life.
Love from
Molly x
Hugh thank you so much for our little treasure she is delightful, I have recommended you to lots of people and whoever reads this please be reassured my pup was bought from a most caring kind owner. I viewed all the much loved and very well cared for dogs at Brooknant and can highly recommend it.
Kind regards
Karen Tebble
---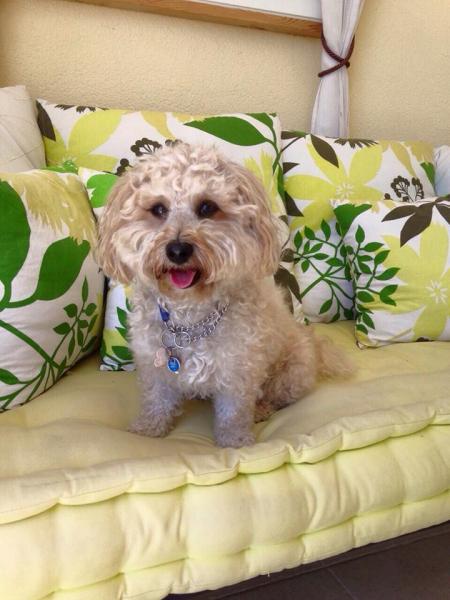 Astrid Danielle Morgan - 18th Feb '12
Cardiff
We were very impressed by the professionalism of your approach from the point of first contact, through to the collection of "Barti".
Your advice and follow-up were first class, along with the detailed information pack you provided, listing inoculations, feeding and subsequent vet visits. We should note that on Barti's first visit to the vet for a check-up, he remarked that he had clearly come from a caring and professional breeder.
Cleanliness and well-being is obvious for all to see at your kennels; so, on our experience thus far, we can only recommend Brooknant in the most positive terms.
Thank you very much Hugh it was a Pleasure to deal with you.
---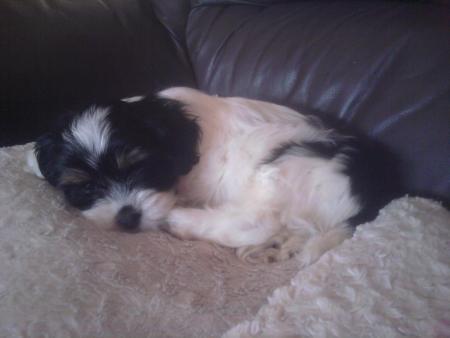 Tracie & David - 3rd Feb '12
Worcestershire
The breeder is very friendly and trustworthy.The Kennels are very clean and homely for the puppies.We travelled from worcestershire to Carmarthen to collect our little Megan.
I would recommend Hugh Davies (breeder) 100%.
---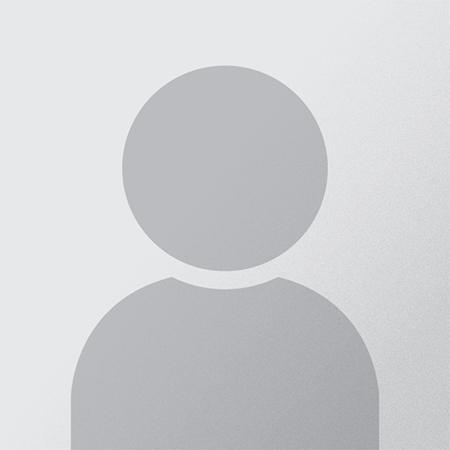 Robbie - 8th Jan '12
Just thought Id send you a quick email to let you know how "Sydney" is getting on. I've got to say that she is the best money I've spent in along time, and I know it's only been 4 weeks but we honestly couldn't be without her now! I've been taking her for walks and she's brilliant even off the lead! I'm amazed how quick she picks up commands.The only bad point is that when I was leaving the house on Thursday to go offshore I found it harder to leave Sydney than i did to leave my fiance! Ha ha she really is part of the family.
---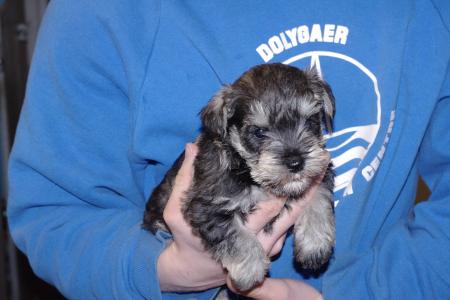 Karl Nash - 24th Dec '11
Shropshire
Dear Hugh and Family,
I just wanted to write to you to show my gratitude, for all the correspondence I have had with you prior to the purchase of my Miniature Schnauzer (Alfie), the great reception I had on collection and the fabulous after care, you gave to myself and Alfie.
Hugh thank you so much for breeding a fabulous Miniature Schnauzer puppy, which I was lucky enough to purchase from you on the 16/01/12. Prior to getting Alfie I was so grateful for all the correspondence you had with me over e-mails and very thankful for the photos which you also sent. This I found very pleasing and helpful as I lived so far away from you, in Ludlow Shropshire. I was so pleased after my decision to purchase Alfie from you to find that I was able to provide you with a deposit via pay pal; this gave me a lot of security.
On collection of Alfie on the 16/01/12, I was so pleased with how you greeted me and my friend. Can I say how we were both so impressed with the Kennels and with how the puppies are cared for. It was so nice that you showed us around, also introducing us to Alfie's parents. The kennels were very clean and dogs looked very happy.
The Warm welcome into your home after our long journey that day to collect Alfie was very much appreciated. It was so nice to finally sit and not feel rushed, going through the relevant paper work with you. Oh and meeting Gwen!
The Aftercare Sheet you provided has been of much help for me with Alfie. Also the large amount of food was far from enough, before I changed him over to a different type of puppy food.
Alfie is booked into the vets for his 2nd vaccination, and my vets were so pleased to see that you provided a vaccination card with him. They also use the same type of vaccine, which is a bonus.
Alfie is now ten weeks old and is doing fabulous, growing very fast.
A very big Thank you once again Hugh and I would defiantly recommend you to any one who is looking to purchase a puppy.
Yours Karl Nash and Little Alfie
---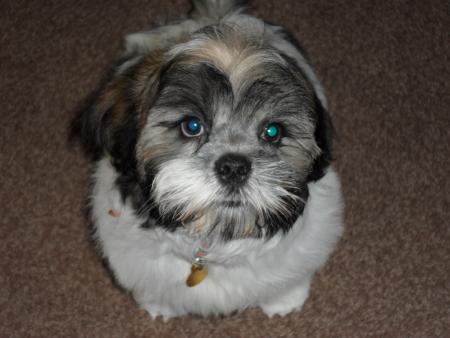 Claire, Mike, and Finley - 18th Dec '11
Thought I would write to let you know how the Lhasa pup was doing....Well we have named him Rufus and he is a right bossy boots, he likes to have the last word/bark, and grumbles when he sees his harness for walks. He is a very funny dog, my other dog chewy absolutely adores him as soon as we bought him home he was mum. He is fit and healthy and got all clear from vets, so I cannot recommend you enough when someone asks where I got him from. Photos are attached so you can see for yourself how big he has grown, and if I ever want another dog I will come straight to you, We are so happy with him and love him to bits, I hope you have a Merry Christmas and Thank you again for making my family complete.
---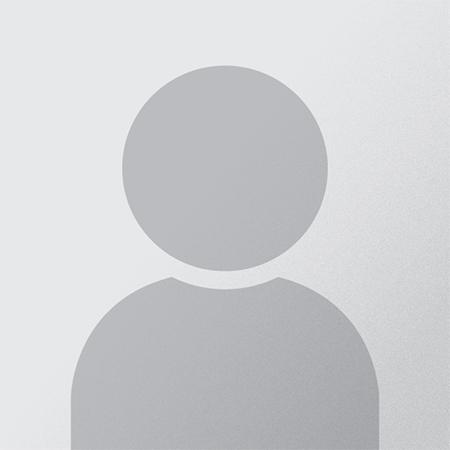 Jean & Brian Norris - 7th Jul '11
Heathrow
This is a recommendation for Mr Hugh Davies, Dog Breeder, of Nant, Carmarthen Jean & I are now retired, having dogs continually for well over 45 years. When our Westie Ben, left us very suddenly in March, we were lost with out him and decided that we should find a little girl. We trawled the Internet and located Mr Hugh Davies's web page. At first, we were concerned about Welsh puppy farms, but decided to give this breeding kennels, a ring, after obtaining a good report from the licensing authority, and how pleased we were to have done this! We enquired about a Wee-chon bitch and were told that Mr Davies did not have a pup for sale, but he was mating a pair at present and a bitch pup should be available in August. As this suited us, we asked if we could be placed on the order book which Mr Davies was pleased to do. We kept in touch and were told, mum was expecting, and should give birth, the end of May, which she did. We live near to Heathrow, but wanted to visit our little girl when she was four weeks old, an eleven hour train journey for us, and asked if we could come down. Mr Davies said that this would not be a problem and welcomed our visit, and an appointment was made for us. We were met, at the station, by Mr Davies and taken to his breeding kennels. What we found was an ideal setting with a purpose built, small, but very clean, kennel block. Mr Davies had other breeding families of mums and puppies of various small dog breeds and we were shown these. What very much impressed us the most, was the affection shown by Mr Davies to his families and this affection being returned by all his mums, who all seemed to know and trust him, very well. We were encouraged to handle our four week old little girl and to take as many photos as we wanted. We have another eleven hour journey to collect her and cannot wait. We thoroughly recommend any dog lovers wanting a small cute puppy, to get in touch with Mr Hugh Davies, you will not be disappointed.
---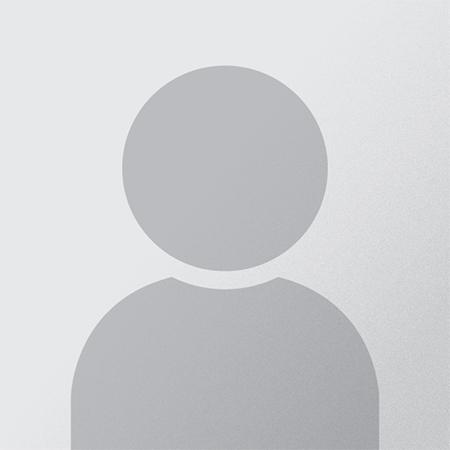 Anonymous - 1st Oct '03
I am writing to say how pleased i am with he Miniature Schnauzer i bought from you in October 2003. I could not of asked for a better dog.
She is a really beautiful dog and we get stopped and complementary remarks made about her wherever we go. Her colour markings and soft coat make her look so pretty.
She has a wonderful nature about her and just loves people and other dogs. She's always active and ready for anything i want to do.
I just took her on a weeks holiday with me, driving around touring, and although she is only 10 months old she behaved very well and enjoyed driving around meeting lots of people and staying in Lodgings.
I thank you for the wonderful companion i got from you. She's the best there is.
---
Show All Testimonials
Submit a Testimonial